SYNCHRONY 2 Cochlear Implant: Intuitive Surgical Handling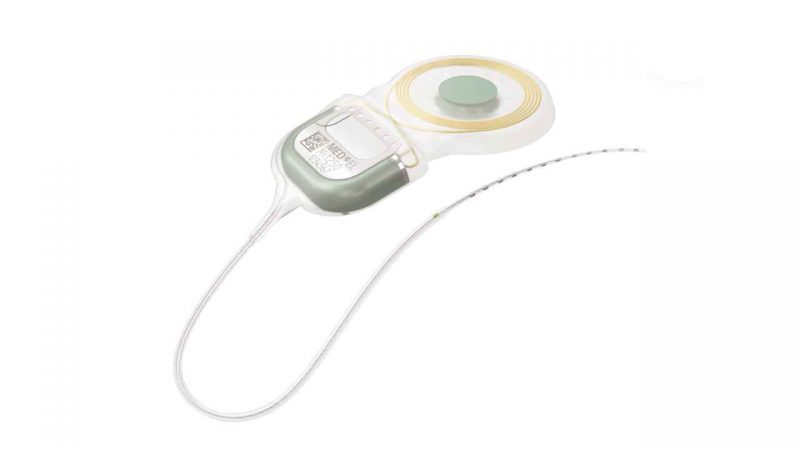 Live from ESPCI2019: We're excited to announce the launch of our new SYNCHRONY 2 Cochlear Implant!
When we were developing SYNCHRONY 2, we wanted to take the most advanced cochlear implant—SYNCHRONY—and take it to a whole new level of intuitive surgical handling.
We worked closely with surgeons and clinicians to create a design that offers simplified surgical planning, secure implant placement, and optimal lead management, while still delivering the smallest titanium implant on the market.
SYNCHRONY 2 uses a symmetrical "Central Electrode Lead" design. This new streamlined central electrode lead is what really sets SYNCHRONY 2 apart from the first generation of our SYNCHRONY implant.
Can't See This Video?
Having problems viewing this video? Watch it on YouTube.
But we also made sure to keep everything that made the first SYNCHRONY so popular—closest to natural hearing, highest MRI safety, and long-term stability.
Now, let's take a look at why with our new SYNCHRONY 2 cochlear implant, the best just got better.
Intuitive Surgical Handling
With the new central electrode lead, SYNCHRONY 2 has a symmetrical design. This simplifies surgical planning, because you can use the same approach for both the left and right side, and it makes SYNCHRONY 2 compatible with a range of modern surgical techniques.
We've streamlined the electrode lead between the implant and the active array for more intuitive surgical handling. This makes it easy to secure the lead in a bony electrode lead channel to shield the array against impacts for long-term reliability.
Based on input from surgeons, we also shortened the overall length of the electrode lead outside of the cochlea. This helps make it easier to secure the lead in the mastoid. Of course, the electrode arrays inside the cochlea are still our proven long, flexible arrays for complete cochlear coverage.

With SYNCHRONY 2, there is also a colored marker dot at the base of the electrode array, which gives you a high-visibility landmark for insertion depth during electrode insertion.
SYNCHRONY 2 uses our proven titanium implant platform. This robust, compact design makes SYNCHRONY 2 the smallest titanium cochlear implant. This allows you to use a small-incision approach and minimally invasive techniques.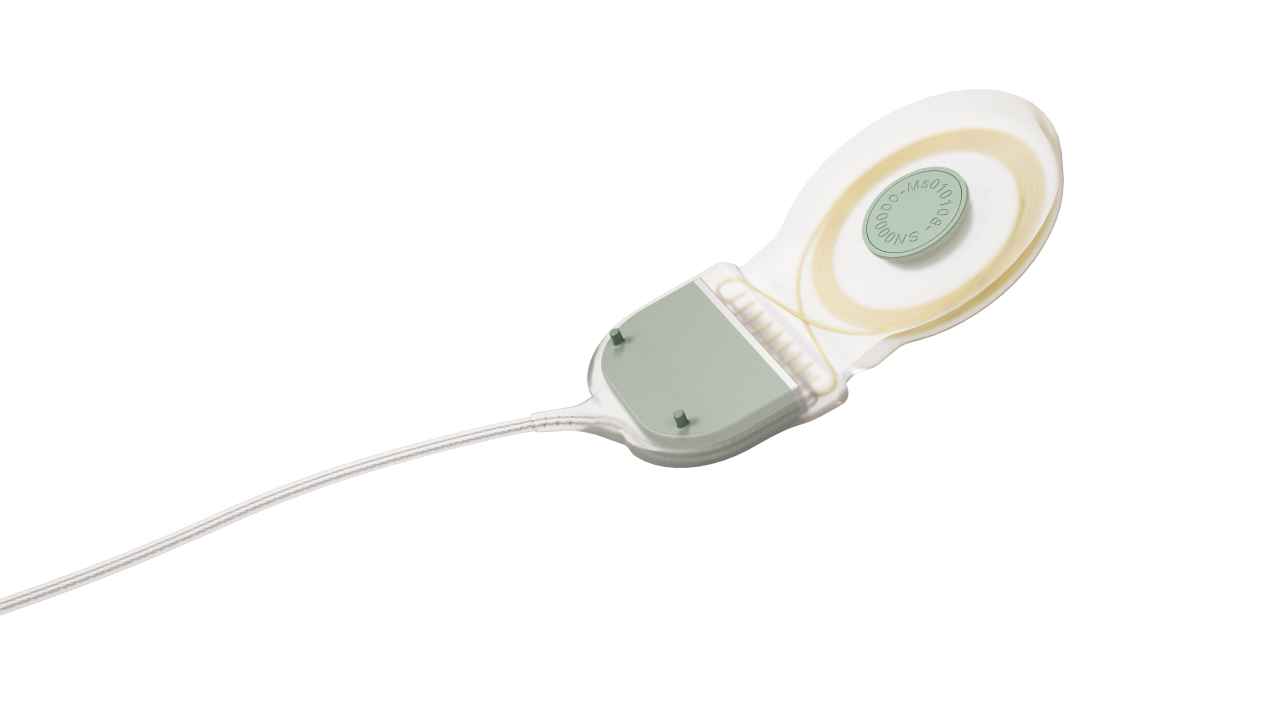 Plus, our unique PIN variant lets you fix the implant in just seconds by drilling two 1-millimeter holes in the temporal bone. The robust titanium pins rest in these holes, enabling stable lateral and rotational fixation in less than a minute.
Closest to Nature
Our philosophy is to follow nature as closely as possible—to provide the closest to natural hearing. That's why we combine atraumatic electrode arrays, complete cochlear coverage, and natural sound coding.
To protect the delicate neural structures and adapt to the natural shape of the cochlea, our implants use the most flexible and gentle electrode arrays. We start with our unique wave-shaped wires. This lets our arrays gently flex in any direction. But it's more than that. It's the proven combination of wave-shaped wires, round window insertion, optimal contact spacing, and FLEX-Tip technology.
This makes our free-fitting arrays the only arrays that reliably enable 100% scala tympani placement. And that's where our FLEX electrodes are really in a league of their own. But we didn't stop there.
And because MED-EL electrode arrays are so flexible, they can safely be inserted deeply into the second turn of the cochlea. This is important, because natural hearing uses the whole cochlea.
If you stimulate only the first turn, you can provide speech understanding, but this would create a serious place-pitch mismatch—so sounds through that implant would be much more robotic and unnatural.
So, if you want the most natural sound quality, you should use as much of the cochlea as possible. That's why we design our long arrays to cover up to twice as much of the cochlea as other arrays. For the best place-pitch match and hearing outcomes, you'd want to aim for about two full turns of cochlear coverage.
But it's important to remember that one size does not fit all. In fact, the length of the cochlear duct can vary by up to 50%. That's why we offer 5 different lengths for our FLEX electrode arrays—from 20 mm to 31.5 mm.
And of course, SYNCHRONY 2 uses our advanced FineHearing sound coding. This combination of precise rate and place coding mimics natural temporal and tonotopic sound coding and  is essential for enabling the closest to natural hearing.
Together, these unique MED-EL technologies provides a sound quality that no other cochlear implant can match.
Proven MRI Safety
We know that 3 out of 4 people will need an MRI in the next 10 years—and that need is continuing to grow. That means for any cochlear implant to be considered modern, it needs to deliver truly safe and easy access to high resolution 3.0 Tesla MRI.
With the launch of the first generation of SYNCHRONY in 2014, we introduced the world's first cochlear implant magnet design that could safely go through 3.0 Tesla MRI scans. The magnet can freely rotate and self-align inside its titanium housing, so there's no uncomfortable torque on the magnet from the scanner.
With more than 5 years of clinical experience across the world, we can confidently say that the SYNCHRONY magnet is a proven design for safe, comfortable 3.0 Tesla MRI scans without a head bandage or magnet removal.
What about MRI scans of the brain? Well, in many cases, even brain imaging is possible without magnet removal. But we design our implants to deliver the best for every single recipient. So if you need a clearer MRI of the brain area directly surrounding the implant, the SYNCHRONY magnet is easily removable. But what's unique to SYNCHRONY is the secure conical design of the titanium magnet housing.
Other implants use a "soft-silicone pocket", which can tear during magnet removal & replacement. This could then necessitate a full replacement of the implant. But with SYNCHRONY, the magnet can be securely removed and replaced multiple times.
This again sets the SYNCHRONY design on a level of MRI safety that no other implant can match.
Peace of Mind
Lastly, SYNCHRONY 2 uses our powerful and proven Ti100 electronics platform. At its core, there are 14 independent safety capacitors.
This means SYNCHRONY 2 can safely deliver incredibly precise stimulation across all 12 independent channels. This enables a wide range of options, including parallel stimulation, and precision triphasic stimulation. This "overbuilt" hardware also provides loads of electronic headroom, which is important, because it helps ensure recipients can easily upgrade to the latest technology in the future.
By combining long-term stability, the highest MRI safety, and future-ready technology in a compact and easy-to-handle design, SYNCHRONY 2 offers your patients peace of mind for years to come.
The content on this website is for general informational purposes only and should not be taken as medical advice. Please contact your doctor or hearing specialist to learn what type of hearing solution is suitable for your specific needs. Not all products, features, or indications shown are approved in all countries.