Hearing Preservation Surgical Case Study: Prof. Shin-ichi Usami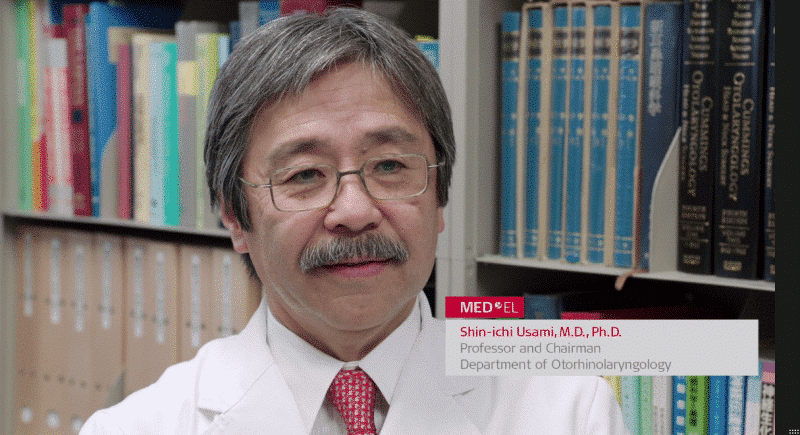 The MED-EL Surgical Video Library offers complete surgical case studies from leading ENT surgeons. Created in cooperation with ARRI, these high-resolution videos capture precise movements and detailed structures with incredible clarity. Access is free and the easy-to-use library is optimized for desktop or mobile viewing.
Today, we're sharing a surgical case study that focuses on preserving residual hearing with a MED-EL Electric-Acoustic Stimulation (EAS) system. This case study is part of our MED-EL Surgical Video Library, so it's presented in full HD video.
EAS Hearing Preservation Surgical Case Study
In this case study, Prof. Shin-ichi Usami demonstrates his techniques for preserving residual hearing during EAS implantation. Prof. Usami is the chairman of the Department of Otorhinolaryngology at Shinshu University School of Medicine in Japan.
In this high-definition case study, Prof. Usami's patient is a 40-year old female with bilateral high-frequency hearing loss. Her hearing in the lower frequencies is relatively normal. She has had hearing loss for the past 10 years. She has used hearing aids, but has not experienced satisfactory benefit. The etiology is unknown, but genetic factors are a possible cause. The pre-operative CT shows there are no inner ear abnormalities.
For this patient, Prof. Usami utilizes the CONCERTO PIN implant with FLEX 24 electrode array. This flexible electrode array enables the preservation of cochlear structures and residual hearing. His structure preservation techniques include round window approach and slow, steady electrode array insertion.
Adult female, 40 years, right ear
High-frequency hearing loss
Structure preservation techniques
CONCERTO PIN
FLEX 24 (24 mm) electrode array
Round window insertion
Length: 20 minutes

Watch now: Prof. Shin-ichi Usami demonstrates his structure preservation techniques during EAS implantation. (20 minutes)
Highlights to watch for in this case study:
Patient overview, including pre-op audiogram
Preparing implant bed
Drilling mastoidectomy
Identifying short process of incus
Posterior tympanotomy
Endoscopic view of round window
Opening round window membrane
Steady round window electrode insertion
Securing the electrode lead with bone pate
Post-op imaging showing electrode placement
Post-op audiogram demonstrating hearing preservation
Looking for more surgical case studies on structure preservation? Watch Prof. Paul Van de Heyning demonstrate his surgical techniques in this HD case study.
Want to learn more about EAS for your patients with high-frequency hearing loss? Check out this introduction to candidacy and benefits of EAS from MED-EL.
*Not all products, indications, and features shown are available in all areas. Please contact your local MED-EL representative for more information.
The content on this website is for general informational purposes only and should not be taken as medical advice. Please contact your doctor or hearing specialist to learn what type of hearing solution is suitable for your specific needs. Not all products, features, or indications shown are approved in all countries.