BONEBRIDGE Instead of BAHA: Case Study and Surgical Video
After receiving several hearing solutions that had no lasting success, a 13-year-old from Spain received bilateral active, transcutaneous BONEBRIDGE implants. In this case report, surgeons Dr. Estefanía Berrocal and Dr. Francisco Javier Aguilar explain the challenges associated with replacing an old implant and why the BONEBRIDGE implant is their "first choice for children."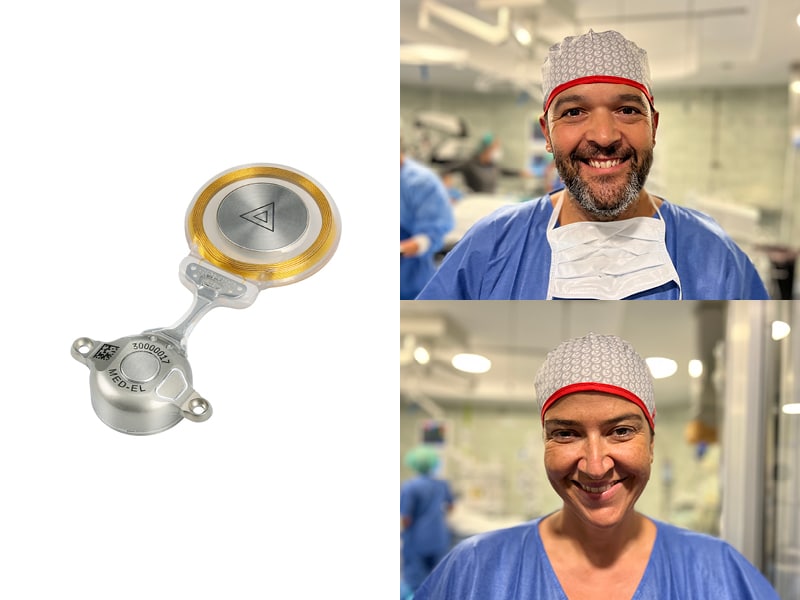 BAHA1 out, BONEBRIDGE in. A young patient with conductive hearing loss went on a long journey with many ups and downs, and his story includes a happy ending. Explantation of his BAHA implant, as well as implantation of BONEBRIDGE, took place at the University Hospital Virgen Macarena in Sevilla, Spain. The surgical video below shows Dr. Francisco Aguilar performing the operation on patient's left side.
Details about the implantation:
Patient 13 years old at the time of the operation
Diagnosis: bilateral conductive hearing loss with microtia
Later reconstruction of the pinna planned
Medical history: percutaneous BAHA, passive BAHA, bone conduction headband
Difficult Patient History
The patient is a 13-year-old adolescent with bilateral microtia and moderate hearing loss (50 dB). At the age of three, he received bilateral, percutaneous bone conduction implants (Baha© Connect2) in Barcelona. He then developed osteonecrosis and had a spontaneous extrusion on the right side, and on the left side, he had severe dertamological complications. When he was seven, he was implanted with a passive, transcutaneous bone conduction solution (Baha© Attract2) and had plastic surgery at the University Hospital Virgen Macarena in Sevilla.
"Despite good hearing results, the patient had increasing skin irritation with pain, hair loss, and extreme thinning of the skin," reports Dr. Berrocal. This ultimately led to him no longer wearing his audio processor and wearing a bone conduction headband instead. "When he was 12, he refused to wear the headband for aesthetic reasons, which limited his social interaction," adds Berrocal. This was the main reason for taking a new active, transcutaneous implant into consideration.
Surgical Challenges
Factors such as appearance, dealing with atrophic skin, explantation of the existing implant, as well as pinna reconstruction planned for a later date influenced the decision-making process in favor of BONEBRIDGE—and that's not to mention the surgical approach. To preserve the skin in the area of the mastoid for pinna reconstruction, the medical team decided to implant the BCI 602 in the fossa media.
While making the curved incision and preparing the subperiosteal pocket, they were careful to avoid injuring the atrophic skin. For the same reason, Aguilar removed the implant magnet but not the bone-anchored screw of the BAHA implant. "In any other case, one could consider removing the screw and, during the same operation, place BONEBRIDGE where the screw was," explains Aguilar. But for this patient, "minimizing manipulation in the area in which there was atrophic skin with a high risk of perforation" was a top priority.
Signifcant Improvement With BONEBRIDGE
Both doctors are very satisfied with the results of the bilateral BONEBRIDGE implantation: "The performance is exceptional, and the patient doesn't experience any discomfort during use. And from an aesthetic point of view, he and his family have noticed a significant improvement over his previous hearing solutions."
"Embedding BCI 602 increases stability with less skin protrusion."
"For this patient, minimizing manipulation of the atrophic skin with a high risk of perforation was a priority."
BONEBRIDGE's hearing performance, safety, and appearance impressed the experienced surgeons—their center has been implanting bone conduction systems for more than ten years, primarily percutaneous and passive up to now. Berrocal is convinced that because BONEBRIDGE is active and transcutaneous, dermatological problems can be avoided more often without having to compromise on hearing quality. Additionally, she also appreciates the BCI 602's bendable transition that makes it possible to "adapt the flexible implant to the patient's anatomy."
First Choice
Embedding the transducer has two main advantages: "On the one hand, this increases the contact area with the bone, which increases the stability. And on the other hand, embedding also minimizes skin protrusion," explains Berrocal and emphasizes how important it is—especially for children and adolescents—to affect the child's physical appearance as little as possible. Considering all of these advantages, Berrocal says BONEBRIDGE is "without a doubt my first choice for children that fit the audiological indications of this hearing solution."
Short Video About the Case Study
Watch the video summary of Dr. Aguilar's operation here (Baha© Explantation und BCI 602 Implantation). This video was not created by MED-EL. All rights belong to the surgeon.
Click here to watch the surgical video.
Surgical steps in this video:
Incision
Removal of the Baha© magnet
Preparation of implant bed
Drilling of the implant bed
Placement of BCI 602
Fixation with self-drilling screws
Closure of the wound
Further Reading and Watching
Percutaneous implants are frequently explanted and replaced with active, transcutaneous implants. Here you can see a case from Germany similar to the one described above: Prof. Robert Mlynski, director of the ENT Clinic of the Rostock University Medical Center, delivers a lecture describing a boy whose percutaneous Baha© Connect was removed and replaced with an active, transcutaneous BCI 602 implant.
>> To Prof. Mlynski's video case study
Surgical Video Library
Would you like to see more hearing implant surgery videos? In the MED-EL Surgical Video Library, you'll find lots of comprehensive case studies from leading ENT surgeons. These high-resolution videos were made in cooperation with ARRI and show even the most delicate structures and movements in unmatched clarity. With your free myMED-EL account you get unlimited access to the MED-EL Surgical Video Library.
Subscribe for Updates From MED-EL
Are you interested in reading more articles about topics like hearing implants, otological surgery, and audiology? Subscribe to the MED-EL Professionals Blog and receive regular updates from MED-EL directly to your inbox.
Bone-anchored hearing aid
This implant is a product of Cochlear Ltd.
The content on this website is for general informational purposes only and should not be taken as medical advice. Please contact your doctor or hearing specialist to learn what type of hearing solution is suitable for your specific needs. Not all products, features, or indications shown are approved in all countries.