Unparalleled Surgical Planning at Your Fingertips: OTOPLAN®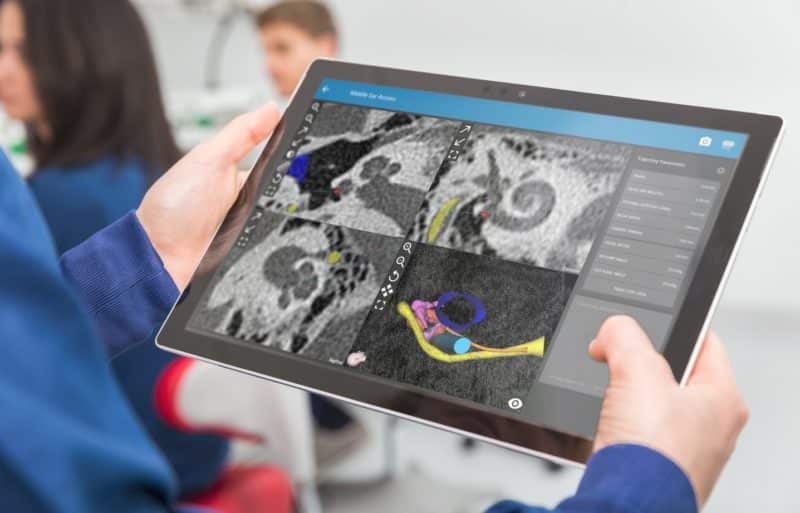 Coming to you live from the 32nd Politzer Society Meeting in Warsaw: We're excited to announce brand-new features for OTOPLAN!
With intuitive user interface and powerful performance, OTOPLAN is the ideal surgical planning software for otological procedures. Since launching OTOPLAN last year, there has been a fantastic response from the field. This tool empowers surgeons, audiologists, and radiologists by putting incredibly detailed 3D visualization and detailed information at their fingertips.
This latest version of OTOPLAN is packed with usability enhancements and great new features.
Comprehensive PACS integration

Enhanced 3D reconstruction of anatomy

Individualized audiogram & electrode visualization

Virtual trajectory planning

Enhanced post-op analysis
Let's get started!
Intuitive Interface
OTOPLAN is fully portable and tablet-based, giving you exceptional mobility and flexibility. The responsive touch-screen controls put the power in your fingertips. With a guided workflow, it's easy to master all the features. This makes it easy to generate detailed 3D reconstructions and measure anatomical parameters with minimal effort.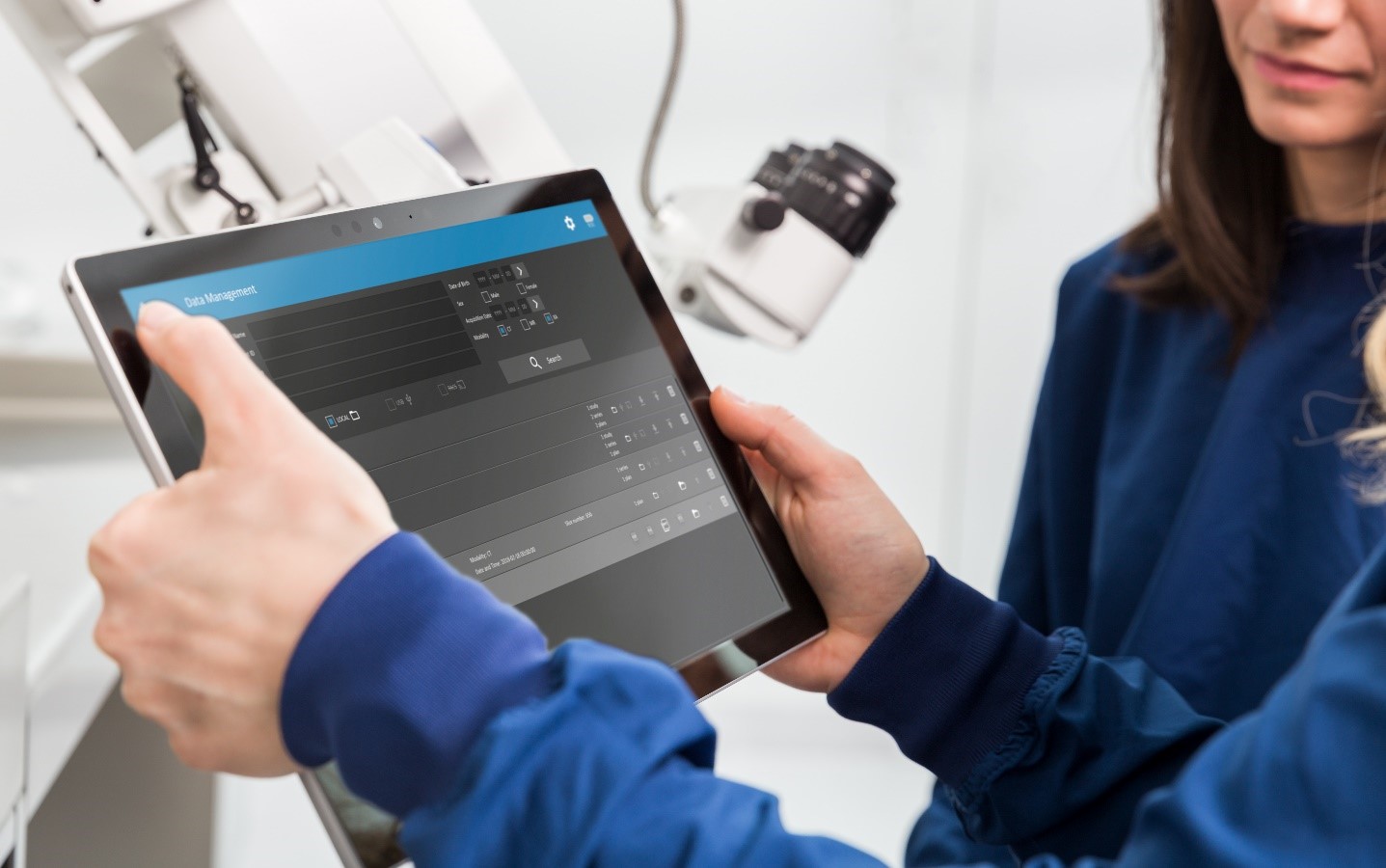 And with the new upgrade user-interface, it's easier than ever to rotate, drag, and zoom in on key anatomical structures.
Plug & Play Data Management
OTOPLAN utilizes standard radiology imaging, including MRI, CT, CBCT. With a simple data management interface, OTOPLAN makes it easy to securely access DICOM images directly from USB, external hard drives, or PACs network.
And now, you can integrate OTOPLAN to your PACS, so you can easily query and retrieve the data you're look for. You can now also save [.oto] files to securely share OTOPLAN cases.
3D EAR
OTOPLAN gives you incredibly detailed 3D reconstruction of the anatomical structures in just seconds, including the stapes and the cochlear basal turn. Key anatomical structures—including facial nerve, chorda tympani, and ossicular chain, and basal turn of the cochlea—are highlighted both in 3D and in each imaging plane.
Think of the possibilities: You can easily navigate through the temporal bone, chorda tympani, facial nerve. Rotate 360° in any direction, zoom, change transparencies—touch screen controls make it simple to see incredibly detailed patient-specific 3D reconstructions.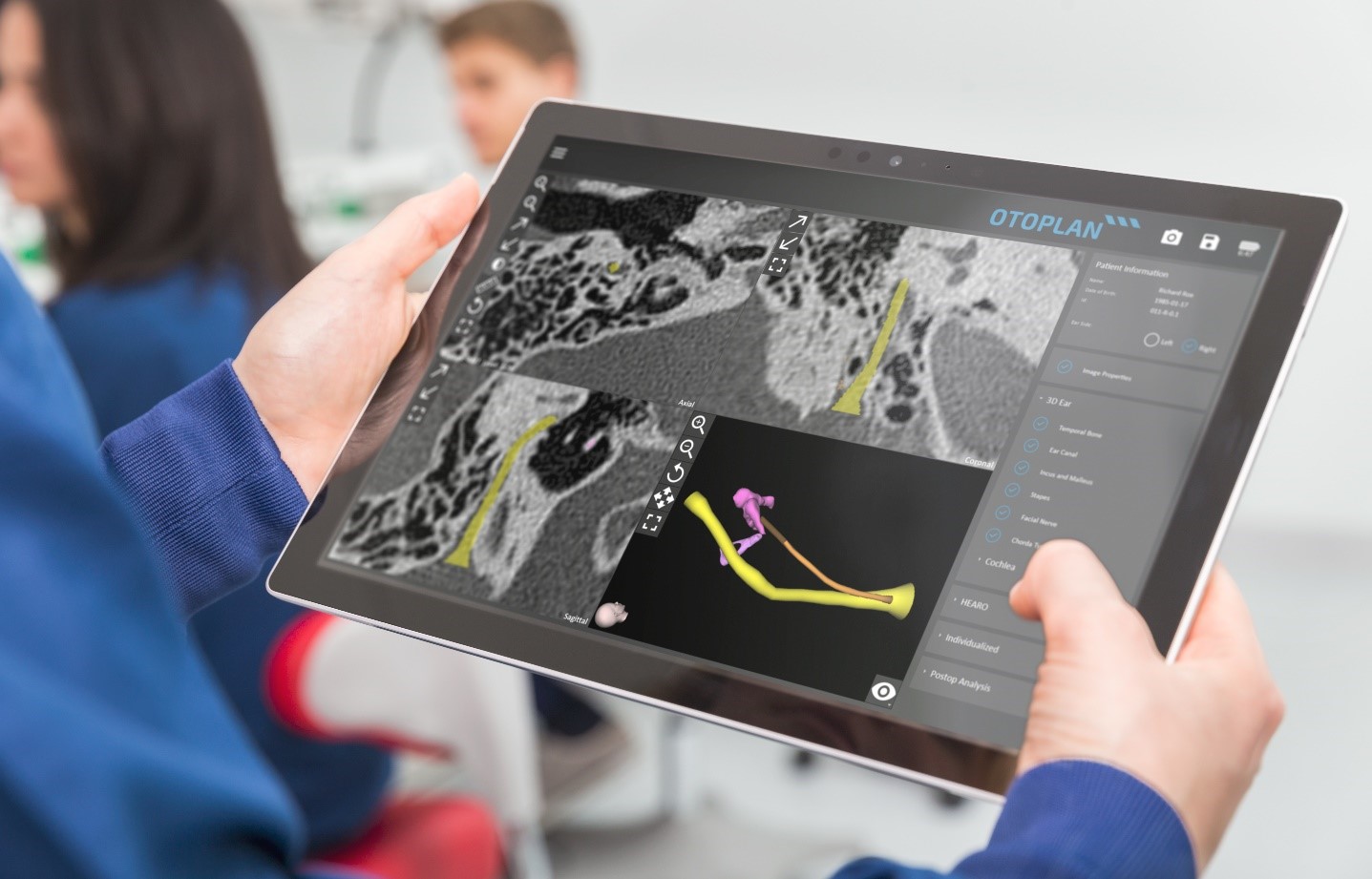 By highlighting anatomy in each viewing plane, OTOPLAN makes it easy to quickly visualize the location of key anatomical structures.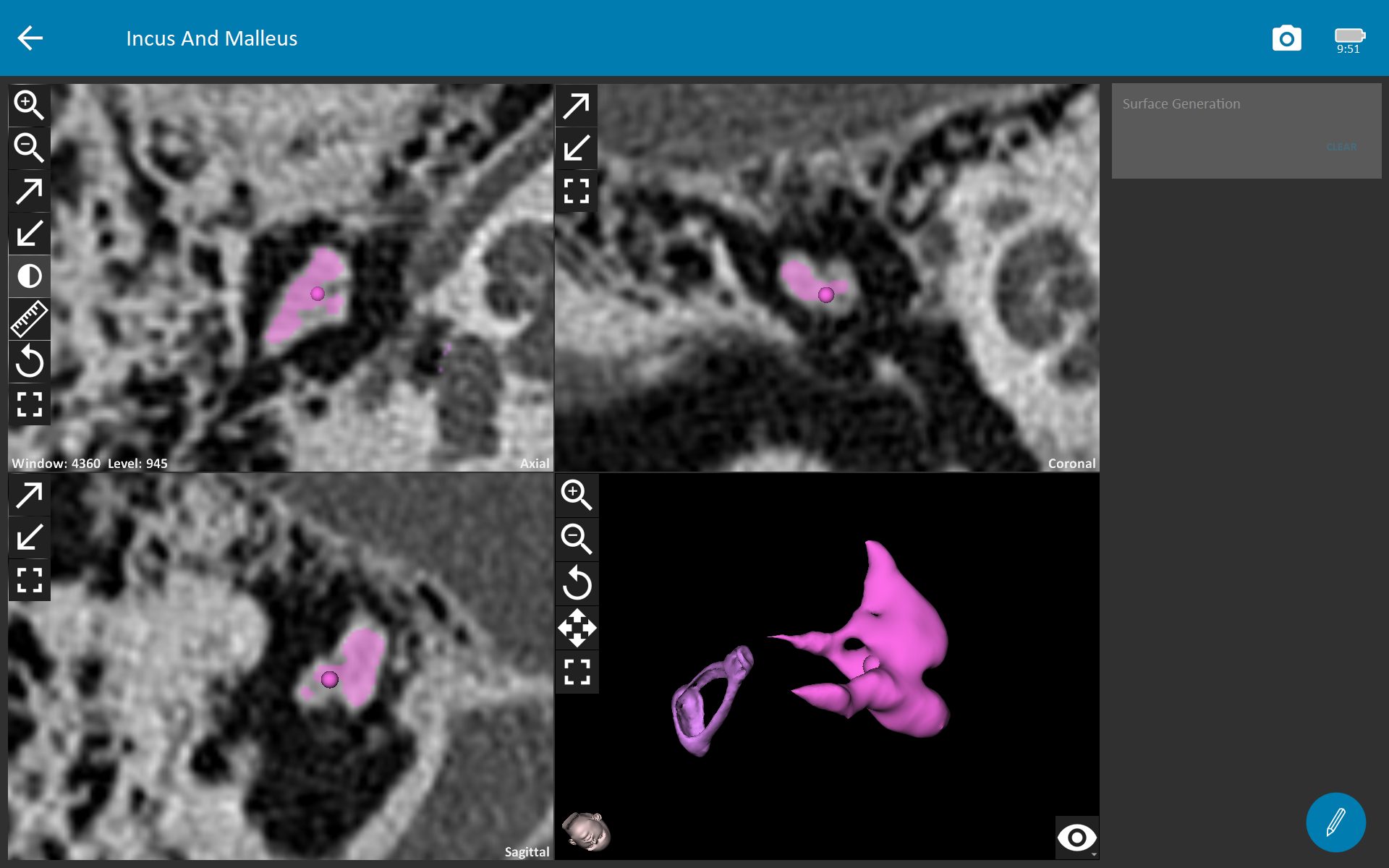 You can also now measure stapes parameters, including the height & length of the stapes footplate.
Virtual Trajectory Planning
This is a fantastic new feature in OTOPLAN that lets you simulate and plan an individualized surgical approach pre-operatively in few simple steps. The virtual trajectory planning starts by selecting a target anatomical structure and defining the ideal and actual surgical trajectory. OTOPLAN then provides detailed information on trajectory parameters, such as trajectory angles and safety margin to the critical structures. This lets you easily plan for patient-specific anatomical structures, such facial recess size, before making the incision.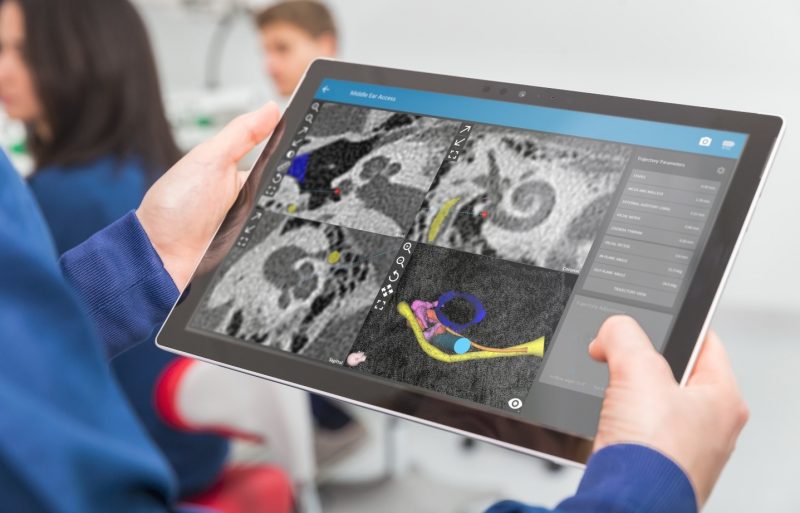 Virtual trajectory planning lets you individualize your surgical approach for the best outcomes for each individual patient.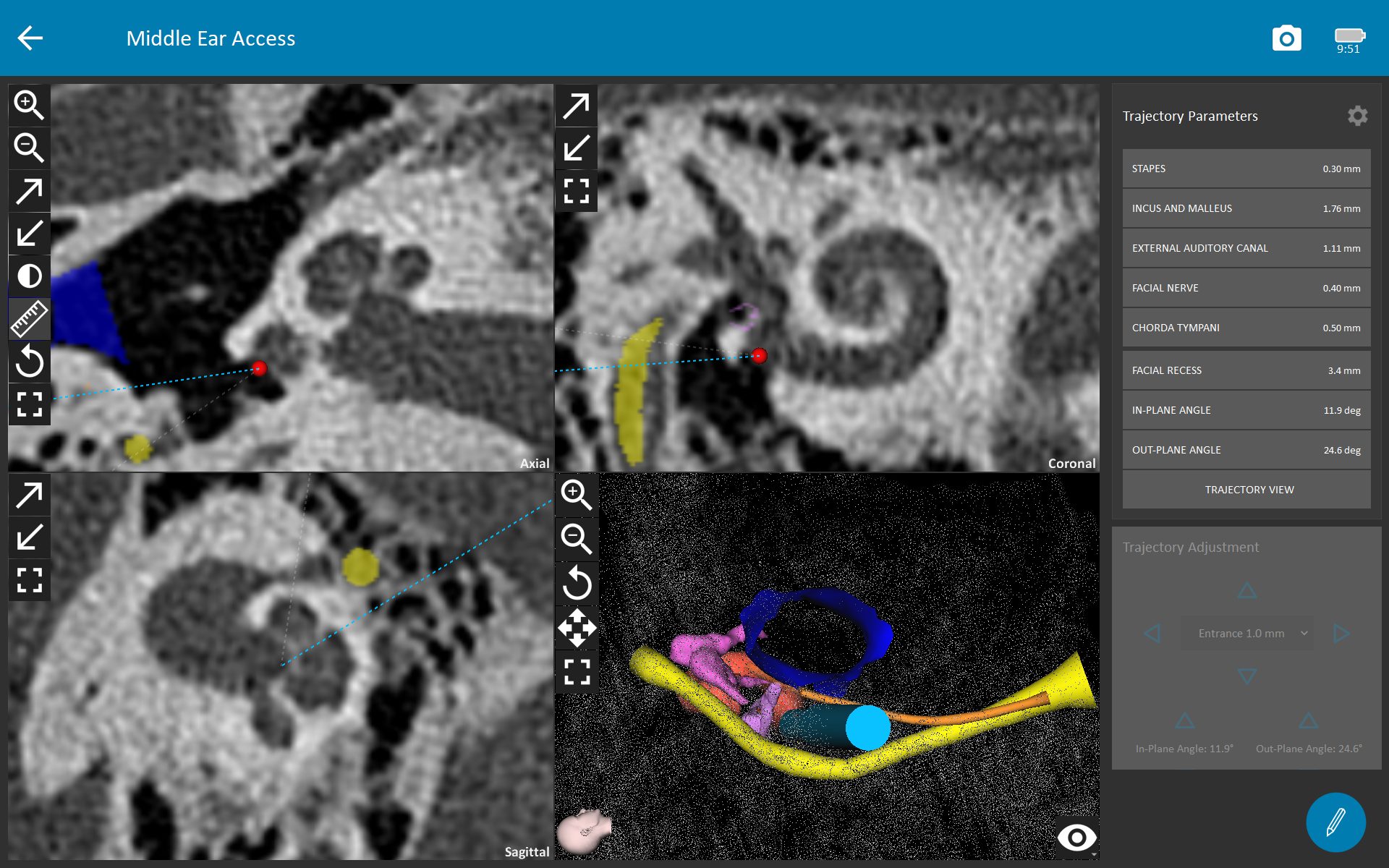 With a 3D visualization of the basal turn of the cochlea, you can visualize the ideal approach angle for atraumatic electrode array insertion.
Optimal Cochlear View
With OTOPLAN, you can easily rotate the imaging planes to achieve an ideal oblique view of the cochlea.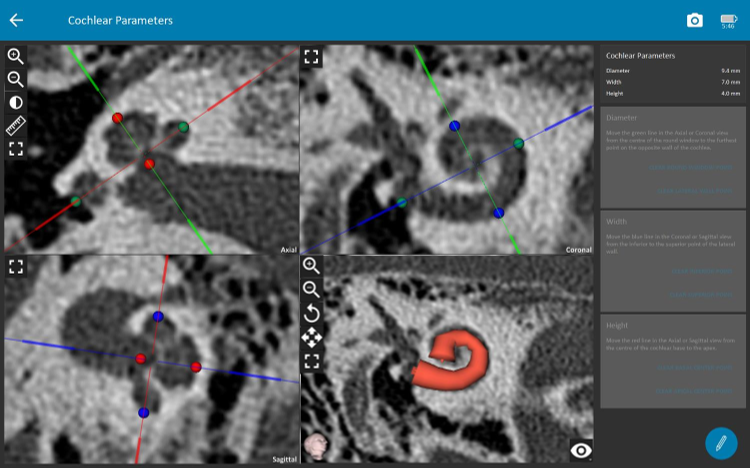 Optimal cochlear view enables more accurate and consistent measurements, for better surgical quality and electrode selection.
Electrode Visualization Audiogram
This enhanced electrode visualization tool lets you combine the anatomical and audiological information in one intuitive view. Now, you can easily visualize how each electrode fits each cochlea with respect to angular insertion depth, tonotopic frequency, and audiological information.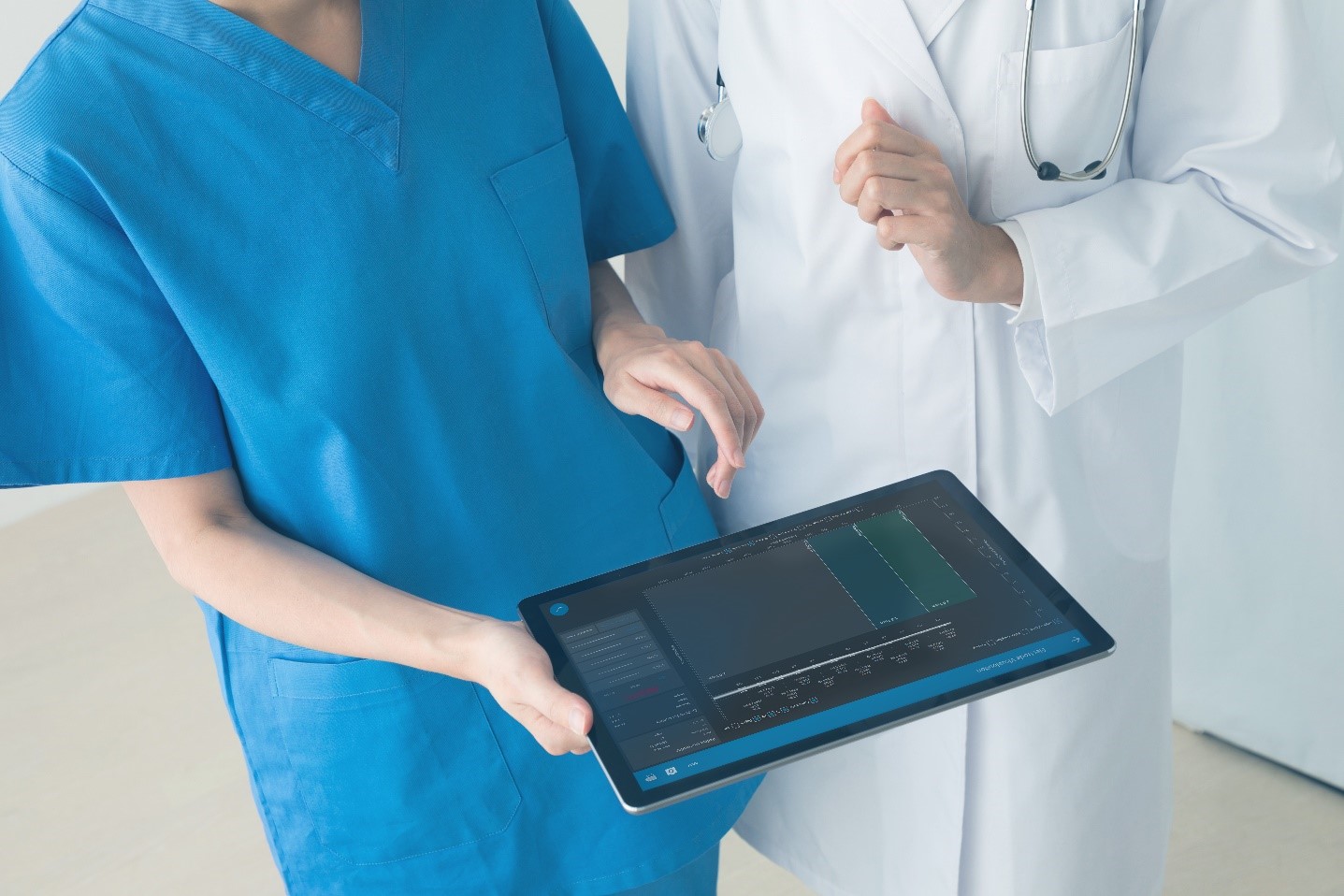 You can easily add and manage pre-op & post-op audiometry data for each patient.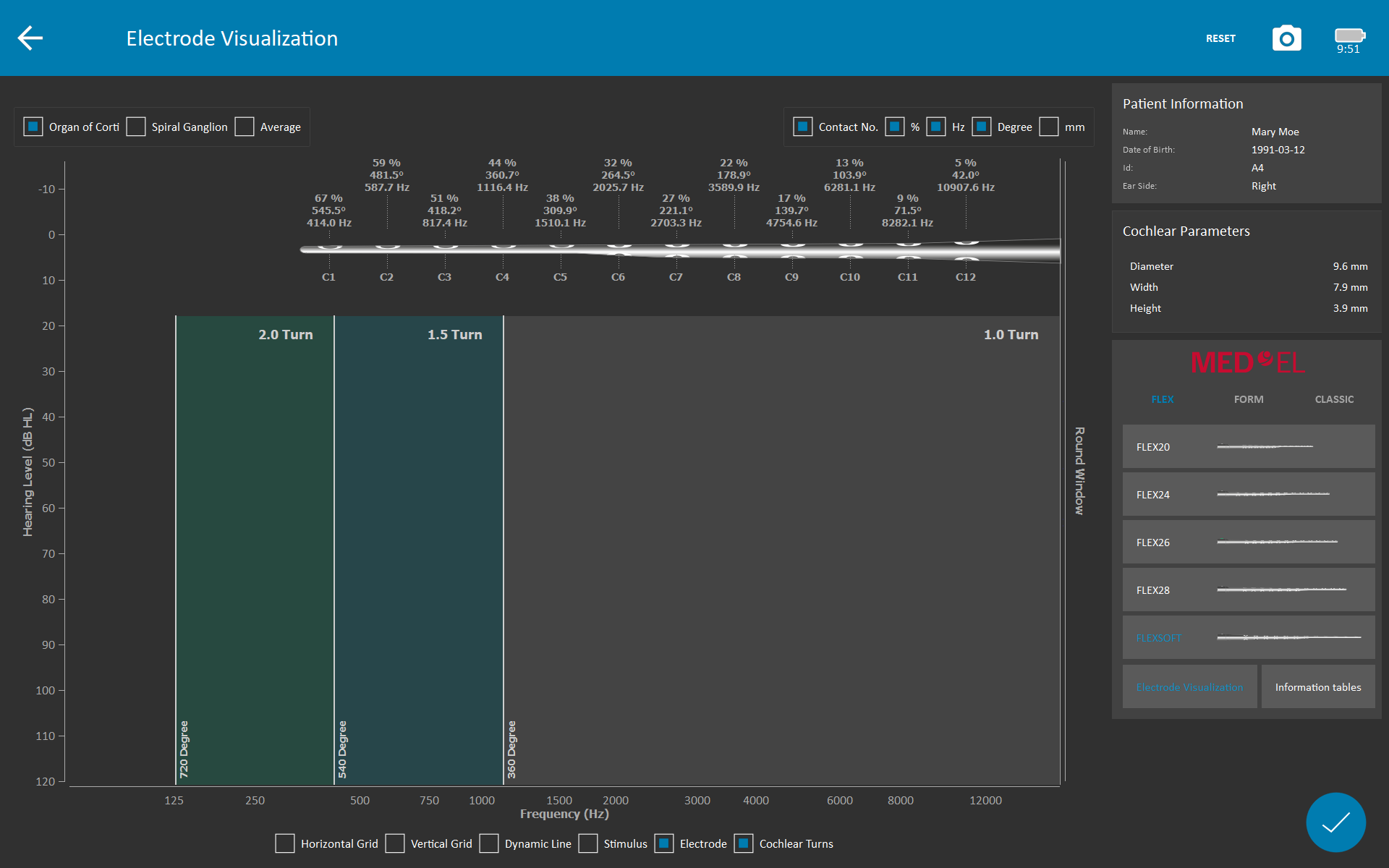 Now more than ever, OTOPLAN makes it easy to visualize the ideal electrode array for each individual cochlea. You can instantly see patient-specific angular insertion depth and cochlear coverage for each electrode array.
Post-Op Analysis
You can utilize post-operative imaging data to confirm electrode insertion status. This post-op quality check lets you confirm the angular insertion depth and tonotopic center frequency of each electrode contact toward a more individualized fitting.
With integrated reporting, OTOPLAN lets you easily manage and document each case.  You can quickly export reports as pdf or PowerPoint slides, making it easy to consistently report cases.
Collaboration Built on Passion
The development of the OTOPLAN software is the results of great collaboration between MED-EL and CAScination AG (Bern, Switzerland), a leading company in the field of image guided and robotic surgery.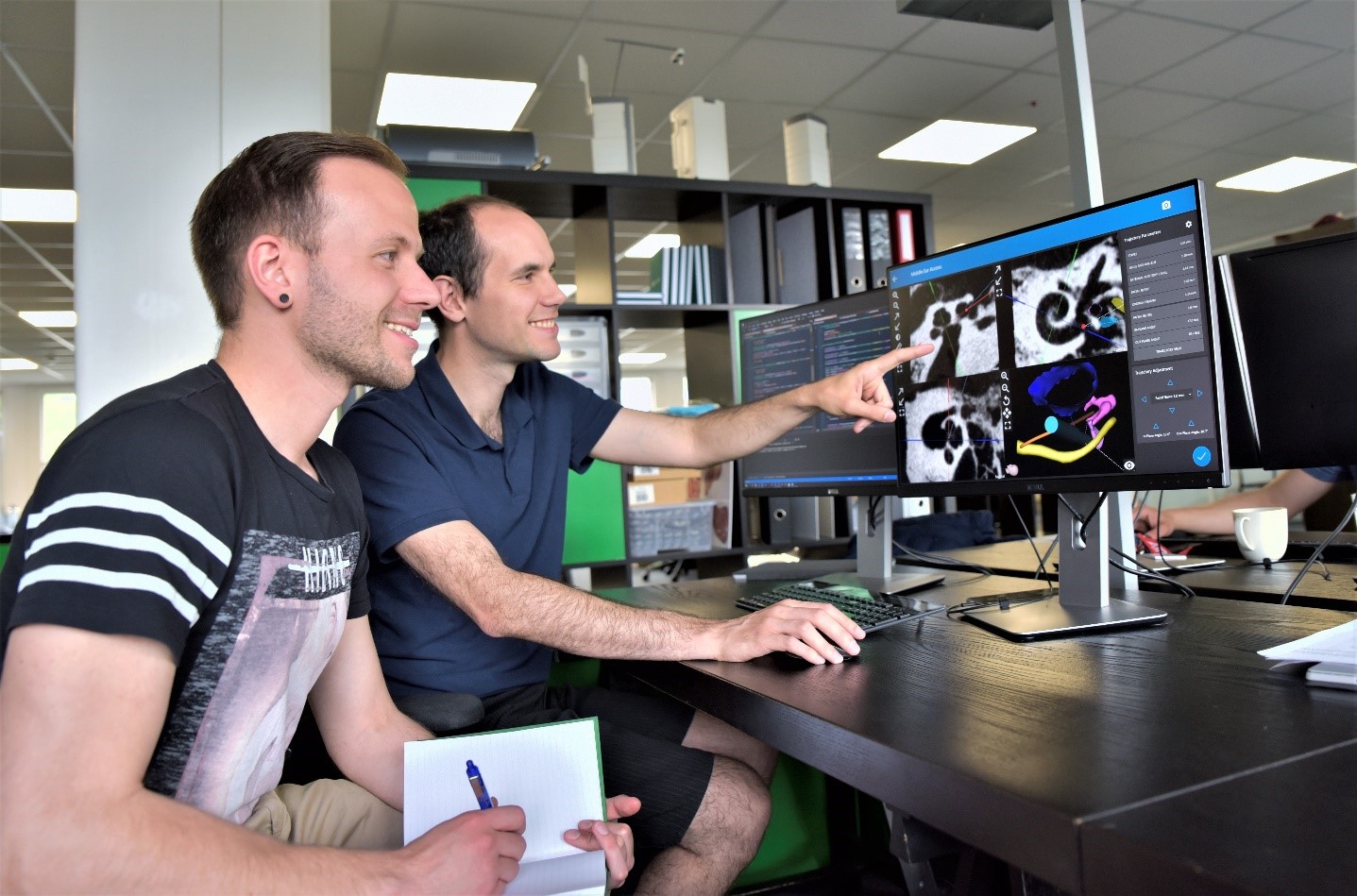 We want to take this chance to specially thank Antoine, Daniel and Tihomir from CAScination's OTOPLAN team who worked hard over the past year to bring all the new exciting developments.
Next Steps
Ready to get started with OTOPLAN in your clinic? Contact us!
*Not all products, indications, and features shown are available in all areas. Please contact your local MED-EL representative for more information.
The content on this website is for general informational purposes only and should not be taken as medical advice. Please contact your doctor or hearing specialist to learn what type of hearing solution is suitable for your specific needs. Not all products, features, or indications shown are approved in all countries.