Fitting Tips: Microphone Directionality for SONNET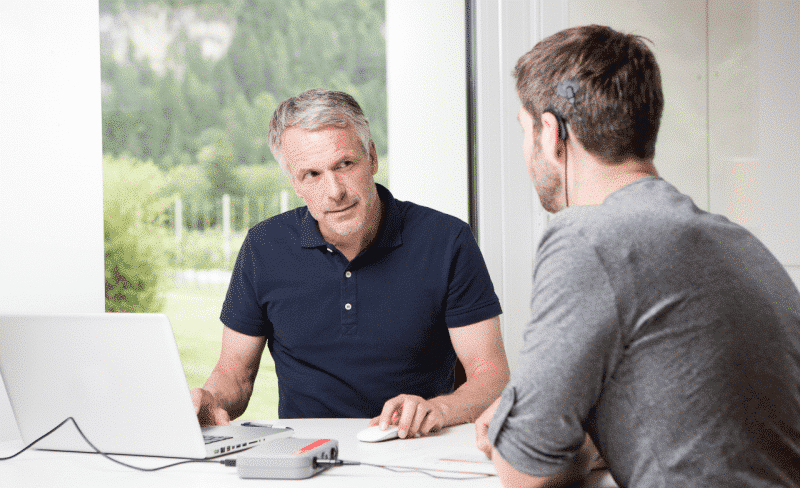 Noise is everywhere—at the office, at lunch with friends, or at a busy family gathering. Last week, we looked at how a wireless microphone can be an excellent way to stream audio to SONNET to minimize background noise.
What about hearing in everyday noise without a wireless microphone? Let's take a look at how SONNET's directional microphone technology and front-end processing can offer significantly better hearing in noise.1,2
SONNET has three different Microphone Directionality settings: Omni, Natural, and Adaptive. Each setting can be assigned to one or more of each recipient's maps.
So which SONNET Microphone Directionality settings should you be fitting for each recipient, and when?
Omni Microphone Directionality
Omnidirectional treats all signals uniformly, regardless of the location of the incoming sound. This omnidirectional processing is used in the OPUS 2 and other audio processors from MED-EL.
Ideal for: Omni should be used when your patient wants to be able to hear sounds from all directions, including from behind. This can be especially useful while driving with passengers in the back seat. Omni can also be helpful for reducing wind noise.
Omni should be fitted when using BabyWear, because the processor is worn on clothing. It is also the best map to use with WaterWear, as it prevents sound distortion.
Natural Microphone Directionality
The Natural mode mimics the natural focusing effect of the human pinna. It uses omnidirectional in the low frequencies and a forward directional pattern in the high frequencies. This closely mirrors the natural frequency patterns of the human pinna.
Ideal for: Natural mode is the best fit for most everyday situations, so we recommend using Natural directionality as your first choice for fitting for both children and adults. It highlights sounds to the front of the listener, such as a speaking partner in a noisy environment.
Natural mode provides extra benefit in noisy environment, just like the human pinna, while also helping users to notice sound signals from all directions, like natural hearing. With Natural directionality, many users will not need to change programs at all.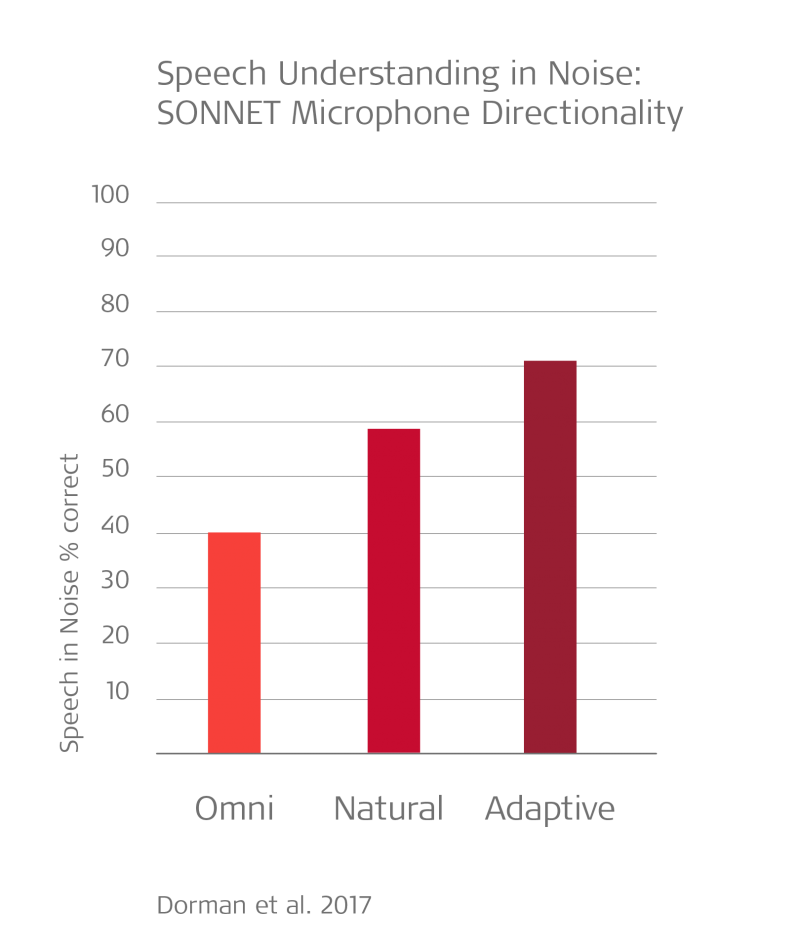 With SONNET, both Natural and Adaptive Microphone Directionality can provide significantly better speech perception in noise.2
Adaptive Microphone Directionality
The Adaptive directional mode utilizes an adaptive directional listening pattern. This pattern changes depending on the location of noise behind and to the side of an individual. The balance between the two microphones actively adjusts to minimize the level of noise from behind and to the sides.
Ideal for: Adaptive directionality is a good option when recipients want an additional boost in challenging listening situations with changing noise sources, such as a crowded restaurant or social gathering.
Auto-Adaptive
The Auto-Adaptive setting is an additional feature available under the Adaptive setting. When activated, it automatically switches between Omni in quiet and Adaptive directionality in noise. Above a moderate input level (55–60 dBA), the Auto-Adaptive setting will switch from Omni to Adaptive when noise is detected. When the input signal drops back to or below this range, SONNET switches back to Omni.
Ideal for: The Auto-Adaptive setting helps provide noise reduction with completely hands-free control. It is useful for recipients who want adaptive noise control, but don't want to change programs.
Subscribe & Share
Together with Triformance—structure preservation, long electrode arrays, and FineHearing technology, SONNET offers our recipients the best possible hearing in any listening environment.
Have another question about fitting SONNET? Ask us in a comment below for an answer from our fitting experts! And make sure you get articles like this sent right to your inbox by subscribing now!
Looking to boost speech understanding in noise for your patients with SONNET even further? Check out the RogerTM 21 from PhonakTM for seamless connectivity to Roger wireless microphones.
References
Wimmer, W., Weder, S., Caversaccio, M., & Kompis, M. (2016) Speech intelligibility in noise with a pinna effect imitating cochlear implant processor. Otol Neurotol. 37(1):19–23.
Dorman, M. Natale, S., & Louiselle, L. (2017) Speech understanding and sound source localization by cochlear implant listeners using a pinna-effect imitating microphone and an adaptive beamformer. Journal of the American Academy of Audiology. doi: 10.3766/jaaa.16126
*Not all products, indications, and features shown are available in all areas. Please contact your local MED-EL representative for more information.