SYNCHRONY Cochlear Implant Surgical Case Study: Prof. Dr. Joachim Müller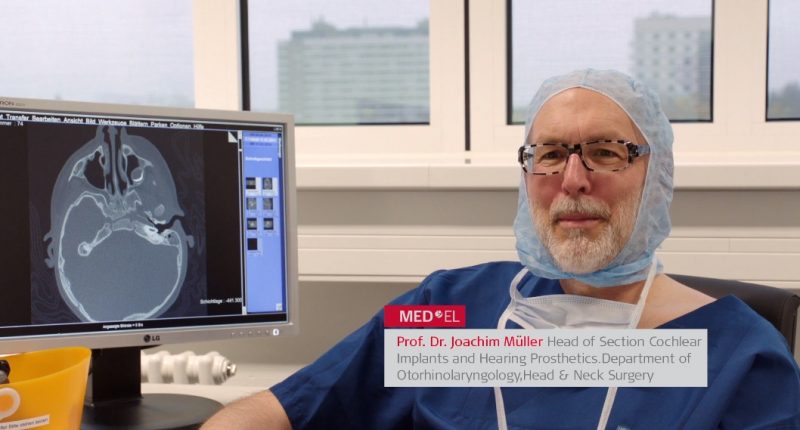 The MED-EL Surgical Video Library offers complete surgical case studies from leading ENT surgeons. Created in cooperation with ARRI, these high-resolution videos capture precise movements and detailed structures with incredible clarity. Access is free and the easy-to-use library is optimized for desktop or mobile viewing.
SYNCHRONY Cochlear Implant Surgery
In this step-by-step surgical case study, Prof. Dr. Joachim Müller guides us through his techniques for implanting the SYNCHRONY Cochlear Implant. Prof. Müller is the Head of the Cochlear Implants and Hearing Prosthetics Section, Department of Otorhinolaryngology, Head & Neck Surgery at the University of Munich.
In this case, Prof. Müller's patient is a 2-year-old female with profound bilateral sensorineural hearing loss. This is the second surgery of a sequential bilateral implantation; the patient had already been implanted 9 months earlier with a cochlear implant in her contralateral (right) ear.
In this high-definition surgical video, Prof. Müller utilizes a SYNCHRONY Cochlear Implant with Standard electrode array for the patient's left ear. The 31.5 mm Standard array enables apical stimulation while allowing for preservation of delicate cochlear structures. Prof. Müller also utilizes the MED-EL Fixation Clip to further secure the placement of the electrode array.
Pediatric female, 2 years, left ear

Profound bilateral hearing loss

Sequential bilateral implantation

Slight variation of facial nerve anatomy

Round window insertion

SYNCHRONY Cochlear Implant

Standard Electrode Array

Electrode Fixation Clip

Watch now: Prof. Joachim Müller demonstrates his surgical techniques for implanting the SYNCHRONY Cochlear Implant and Standard electrode array. [24 minutes]
What to watch for:
Layered post-auricular incision

Identifying surgical landmarks including spine of Henley

Creating subperiosteal pocket

Preparing 1-2 mm deep bony bed for implant

Creating anterior rim for fixation

Drilling 5-point fixation for implant sutures

Exposing of short process of incus

Opening the facial recess

Identifying facial nerve

Exposing round window & removing bony overhang

Extracochlear cortisone application

Round window electrode insertion

Sealing electrode with fascia

Performing interoperative measurements

Utilizing electrode fixation clip

Smoothing implant profile with bony pate

Closing incision in layers

Post-operative imaging confirming electrode placement
 Subscribe & Share
Want to see more videos from Prof. Müller? Check out his surgical techniques for the BONEBRIDGE Active Bone Conduction Implant.
Make sure you get all the latest updates from the MED-EL Professionals Blog—subscribe now!
Have a question about surgical techniques for SYNCHRONY? Let us know with our contact form or leave a comment below.
*Not all products, features, and indications shown are available in all areas. Please contact your local MED-EL representative for more information.