FLEX Series: Most Atraumatic Cochlear Implant Electrode Arrays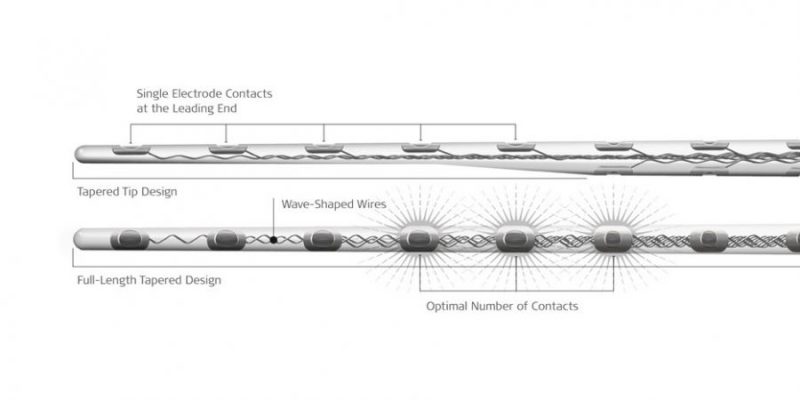 When it comes to choosing a cochlear implant electrode array, atraumaticity should always be a priority. Even for a candidate with no residual hearing, intact cochlear structures are an important factor in hearing performance.
Earlier, we looked at how damage to the cochlea during insertion can significantly affect hearing outcomes. Electrode array deviation into the scala vestibuli can cause loss of natural hearing function, damage to neural structures, pitch confusion, and significantly lower speech perception scores.1,2,3,4,5,6
The cochlea is an incredibly delicate organ, which makes atraumatic electrode arrays an essential consideration for every patient. For more than 25 years, we've worked to create the most atraumatic cochlear implant electrode arrays possible.1
Today, we're going to look at how our FLEX series of electrode arrays offers unparalleled flexibility and atraumaticity that no other electrode array can match.1,4,5,6  
FLEX Electrode Arrays
First, let's look at the general design of our FLEX arrays. Like all MED-EL arrays, the FLEX series are free-fitting lateral wall arrays that can freely adapt to the shape and curvature of each unique cochlea. This free-fitting versatility makes FLEX arrays an excellent option for almost any cochlear implant candidate.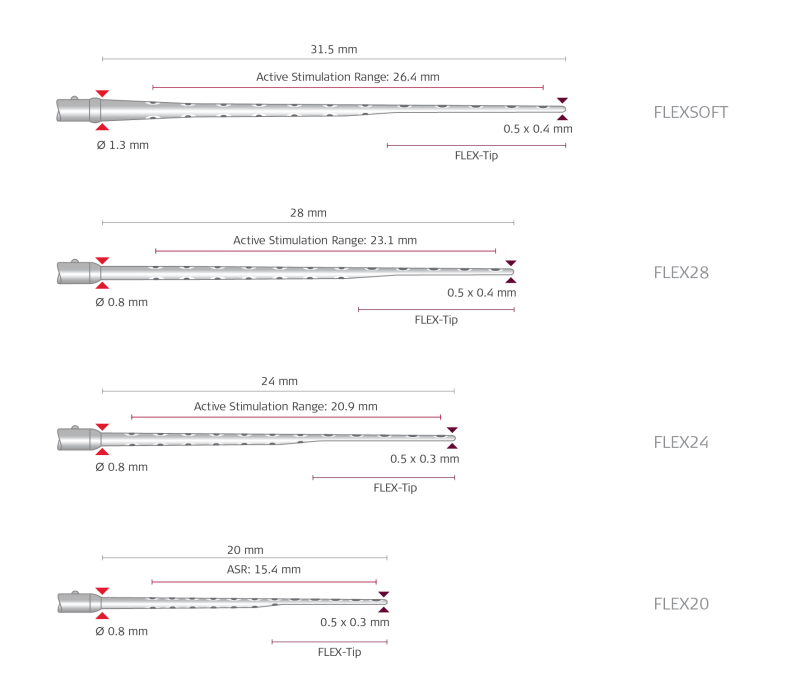 Currently, there are 4 electrodes in the FLEX series.
FLEXSOFT: A 31.5 mm electrode array designed for Complete Cochlear Coverage; longest FLEX array.

FLEX28: A 28 mm electrode array designed for Complete Cochlear Coverage; suitable for 96% of normal cochlear anatomies.7,8
FLEX 24: A 24 mm electrode array designed for Electric Acoustic Stimulation (EAS)
FLEX 20: A 20 mm electrode array designed for EAS or for other specific needs.
There are 5 key design factors that make FLEX electrode arrays the most atraumatic cochlear implant electrode arrays available.
Lateral wall array

Optimized for round window insertion

Wave-shaped wires

Optimal contact spacing

FLEX-Tip technology
No other cochlear implant array available offers this combination. Let's look at why each factor is so important for overall flexibility and atraumaticity. 
Lateral Wall Electrode Arrays
We've always used flexible lateral wall arrays, because they're a key factor in atraumaticity. Several recent studies have found that electrode array scalar deviation is far more likely with perimodiolar or mid-scala electrode arrays.1,5,6,9
Pre-curved perimodiolar or mid-scala arrays are designed to curve inward, which can damage delicate structures of the cochlea. These one-size-fits-all perimodiolar electrode arrays are not designed to freely adapt to each unique cochlea. 
Round Window Insertion
Surgical approach is also an important factor in hearing preservation. A cochleostomy can lead to a higher likelihood of electrodes in the scala vestibuli. Round window technique has demonstrated much better prospects of having electrodes fully in the scala tympani.5,6,10 
Round window insertion has benefits beyond correct scalar placement. In addition to more consistent placement, round window insertion has also been significantly associated with the absence of hydrops and fibrosis of the inner ear, in comparison to cochleostomy. A cochleostomy may also cause more acoustic drilling trauma.17,18
Our FLEX electrode arrays are designed for round window insertion. On the FLEX28, FLEX24, and FLEX20, the basal diameter of the electrode is only 0.8 mm, enabling atraumatic insertion without the need for drilling.
Of course, these electrodes can also be inserted using traditional cochleostomy or extended-round window approach. Surgical flexibility is important, as every patient's anatomy is unique.
Wave-Shaped Wires
All MED-EL arrays use our unique platinum-iridium wave-shaped wires. Why are wave-shaped wires so important? The waves allow the wires to bend much more easily, which significantly reduces rigidity in comparison to a straight-wire design.

This reduces insertion force, and helps minimize the risk of deviating into the scala vestibuli or damaging other cochlear structures.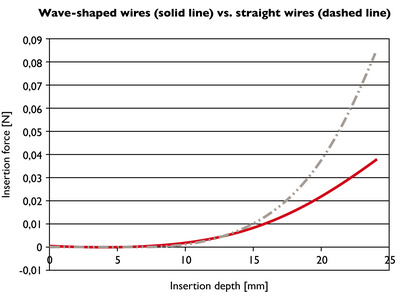 Wave-shaped wires are designed to reduce electrode array insertion force in comparison to straight wires. This approximation shows how wire design may potentially affect insertion forces.
Optimal Contact Spacing
For superior flexibility and sound quality, our electrode arrays use 12 channels spaced evenly along a long electrode array. This minimizes channel interaction and improves mechanical flexibility.
Electrode arrays from other manufacturers use a short electrode array that is densely packed with electrode contacts. This reduces flexibility and also does not offer a natural pitch-place match across the full cochlea.11,14
As we've seen before, the most important considerations for sound quality are achieving full cochlear coverage and delivering accurate sound coding. If electrode contacts are spaced too closely together, there's a chance that two adjacent contacts would stimulate the same set of nerve fibers in the cochlea.
FLEX-Tip Technology
All MED-EL electrode arrays utilize lateral-wall design, optimal contact spacing, & wave-shaped wires. That's what makes all MED-EL arrays an excellent choice for atraumatic surgery.
So, what makes FLEX arrays the most atraumatic cochlear implant electrode arrays? That's where FLEX-Tip technology comes in. Our FLEX arrays have a FLEX-Tip, which uses single contacts at leading end. Our other electrode arrays use 12 paired electrode contacts along the entire array.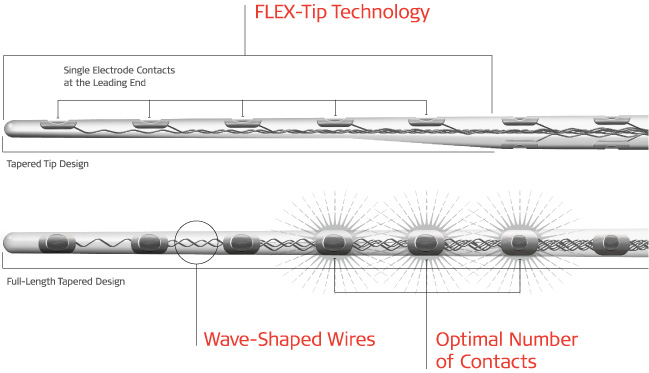 The first 5 apical contacts are single contacts, with the rest of the FLEX array using paired contacts. By using single contacts, the FLEX-Tip of the array is more flexible and can taper down to 0.5 x 0.4 mm (FLEX28). This makes FLEX-Tip exceptionally flexible and atraumatic.
Unlike perimodiolar or mid-scala arrays, the FLEX-Tip is smoothly rounded to avoid catching on intracochlear structures. This flexible tip can gently glide along the scala tympani, avoiding damage to the basilar membrane and other delicate cochlear structures. This makes FLEX electrode arrays an excellent choice for hearing preservation surgery.
Atraumatic Cochlear Implantation
By combining the proven benefits of lateral wall arrays, round window insertion, wave-shaped wires, optimal contact spacing, & FLEX-Tip technology, the FLEX series offers the most flexible and atraumatic cochlear implant electrode arrays available. No other electrode array can match these key design elements.
And the benefits of atraumatic electrode insertion and structure preservation for your patients?
Accurate electrode mapping 1,2
Significantly better speech understanding 4,5
Potential for hearing preservation 10

Intact cochlear potential for future therapies
And, with atraumatic FLEX electrodes, you're able to deeply insert electrode arrays safely. The benefits of being able to safely insert long electrode arrays?
"Vocals much more clear and resonant" and "Deeper, more resonant, more natural sound" 11
Significantly better speech understanding in quiet and noise 12,13
More natural frequency mapping 14,15
Significant improvement in speech understanding in a short time 12,16
With a versatile design and exceptional hearing outcomes, FLEX arrays are an ideal choice for nearly every cochlear implant candidate.
Subscribe & Share
Want to learn more about structure preservation surgical techniques with FLEX arrays? Check out this HD video surgical case study from Prof. Dr. Paul Van de Heyning.
Have a question about structure preservation techniques with cochlear implants? Contact us!
Make sure you get all the latest articles right to your inbox—subscribe now!
*Not all products, indications, and features shown are available in all areas. Please contact your local MED-EL representative for more information.
References
O'Connell, B.P., Hunter, J.B., & Wanna, G.B., (2016). The importance of electrode location in cochlear implantation. Laryngoscope Investigative Otolaryngology, 1: 169–174.
Holden, L.K, Finley, C.C., Firszt, J.B., Holden, T.A., Brenner, C, Potts, L.G., Gotter, B.D., Vanderhoof, S.S., Mispagel, K., Heydebrand, G., & Skinner, M.W. (2013) Factors affecting open-set word recognition in adults with cochlear implants. Ear Hear. 34(3):342–360.
Nin, F., Hibino, H., Doi, K., Suzuki, T., Hisa, Y., & Kurachi, Y. (2008) The endocochlear potential depends on two K+ diffusion potentials and an electrical barrier in the stria vascularis of the inner ear. Proc Natl Acad Sci USA. 105(5):1751–1756.
Wanna, G.B., Noble, J.H., Gifford, R.H., Dietrich, M.S., Sweeney, A.D., Zhang, D., Dawant, B.M., Rivas, A., & Labadie, R.F. (2015) Impact of intrascalar electrode location, electrode type, and angular insertion depth on residual hearing in cochlear implant patients: Preliminary results. Otol Neurotol. 36(8):1343–1348.
Wanna, G.B., Noble, J.H., Carlson, M.L., Gifford, R.H., Dietrich, M.S., Haynes, D.S., Dawant, B.M., & Labadie, R.F. (2014) Impact of electrode design and surgical approach on scalar location and cochlear implant outcomes. Laryngoscope. 124(6):1–7.
O'Connell, B.P., Cakir, A., Hunter, J.B., Francis, D.O., Noble, J.H., Labadie, R.F., Zuniga, G., Dawant, B.M., Rivas, A., & Wanna, G.B. (2016) Electrode location and angular insertion depth are predictors of audiologic outcomes in cochlear implantation. Otol Neurotol. 37(8):1016–1023.
Hardy, M. (1938). The length of the organ of Corti in man. J. Anat., 62, 291–311.
Ni, Y. Dai, P., Dai, C., & Li, H.. (2017) Cochlear implant-related three-dimensional characteristics determined by micro-computed tomography reconstruction. Clin Anat., 30(1), 39–43.
Boyer, E., Karkas, A., Attye, A., Lefournier, V., Escude, B., & Schmerber, S. (2015) Scalar localization by cone-beam computed tomography of cochlear implant carriers: A comparative study between straight and periomodiolar precurved electrode arrays. Otol Neurotol. 36(3):422–429.
Nordfalk, K., Rasmussen, K., Hopp, E., Bunne, M., Silvola, J.T., & Jablonski, G.E., (2016). Insertion Depth in Cochlear Implantation and Outcome in Residual Hearing and Vestibular Function. Ear Hear. 37(2):e129–137.
Harris, R.L., Gibson, W.P. Johnson, M., Brew, J., Bray, M., & Psarros, C. (2011) Intra-individual assessment of speech and music perception in cochlear implant users with contralateral Cochlear and MED-EL systems. Acta Otolaryngol., 131(12), 1270–1278.
Buchman, C.A., Dillon, M.T., King, E.R., Adunka, M.C., Adunka, O.F., & Pillsbury, H.C. (2014). Influence of cochlear implant insertion depth on performance: a prospective randomized trial. Otol Neurotol., 35(10), 1773–1779.
O'Connell, B.P., Hunter, J.B., Haynes, D.S., Holder, J.T., Dedmon, M.M., Noble, J.H., Dawant, B.M., & Wanna, G.B. (2017) Insertion depth impacts speech perception and hearing preservation for lateral wall electrodes. Laryngoscope. Epub ahead of print.
Rader, T., Döge, J., Adel, Y., Weissgerber, T., & Baumann, U. (2016). Place dependent stimulation rates improve pitch perception in cochlear implantees with single-sided deafness. Hear Res., 339, 94–103.
Vermeire, K., Landsberger, D.M., Van de Heyning, P.H., Voormolen, M., Kleine Punte, A., Schatzer, R., & Zierhofer, C. (2015) Frequency-place map for electrical stimulation in cochlear implants: Change over time. Hear Res., 326,8–14.
Helbig, S., Helbig, M., Leinung, M., Stöver, T., Baumann, U., & Rader, T. (2015). Hearing preservation and improved speech perception with a flexible 28-mm electrode. Otol Neurotol. 36(1):34-42.
Ishiyama, A., Doherty, J., Ishiyama, G., Quesnel, A.M., Lopez, I., & Linthicum, F.H. (2016). Post Hybrid Cochlear Implant Hearing Loss and Endolymphatic Hydrops. Otol Neurotol. 37(10):1516–1521.
Causon, A. Verschuur, C., & Newman, T.A. (2015) A retrospective Analysis of the contribution of reported factors in cochlear implantation on hearing preservation outcomes. Otol Neurotol. 36 (7) 1137–1145