Case Study: Brain MRI with SYNCHRONY Cochlear Implant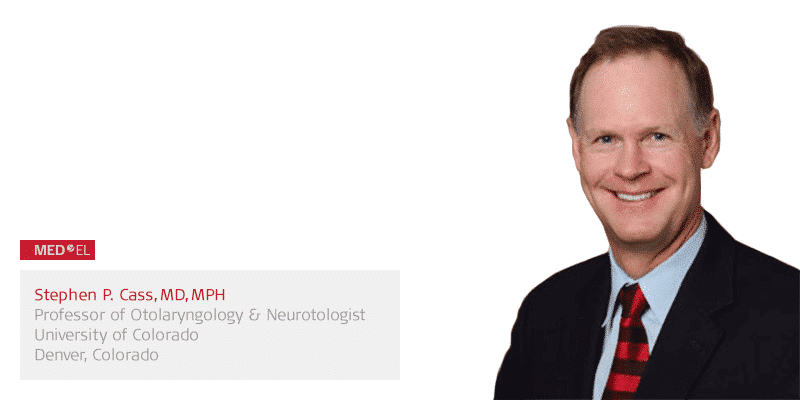 Whether it's a slip on an icy sidewalk or a routine diagnostic scan, it's safe to say we'll all need an MRI someday. In fact, in the Unites States alone, more than 100,000 MRI scans are performed daily.
For cochlear implant recipients, MRI safety is especially important, because every cochlear implant has an internal magnet. However, not every implant magnet is created equal.
Both Advanced Bionics™ and Cochlear™ implants use a basic axial magnet held in a soft silastic pocket. The powerful static magnet of the MRI scanner will create a concentrated torque force on the implant magnet as it attempts to align to the static magnetic field.
This thin silastic pocket cannot effectively resist the powerful magnetic torque of an MRI scanner, so a rigid splint and tight head bandage are required for any 1.5 Tesla scan with these implants.1,2 Even with these precautions, complications such as pain, discomfort, or magnet dislocation are still common.3,4,5,6 The magnet must also be surgically removed for every 3.0 Tesla MRI scan—including knee scans and other routine procedures. And even after magnet removal, a significant image artifact can persist.1,2,7
In contrast, the SYNCHRONY Cochlear Implant has a rotatable, self-aligning magnet that nearly eliminates magnetic torque. SYNCHRONY enables comfortable 1.5 and 3.0 Tesla MRIs without any need for a head bandage or surgical magnet removal.8 This includes head and neck imaging—contralateral brain structures are generally not affected by an image artifact with SYNCHRONY.9
In rare cases (<1%), clear imaging is needed of the area of the brain directly surrounding the implant. That's why the SYNCHRONY magnet can be optionally removed to minimize image artifact. The magnet is held in a secure titanium housing that can be quickly and easily removed with a precise process.
Can't See This Video?
Having problems viewing this video? Watch it on YouTube.
The simple procedure for removing a SYNCHRONY magnet enables complete control. This allows the magnet to be removed and replaced without damaging the implant.
After magnet removal, there's minimal artifact, which enables useful diagnostic imaging with good image quality of brain structures ipsilateral to the implant.9,10
In the three years since SYNCHRONY was launched, there's been only a handful of SYNCHRONY magnet removal cases. That's what makes today's case study so unique.
Today, we're speaking with Dr. Stephen Cass, Professor of Otolaryngology and staff Neurotologist at the University of Colorado in Denver, Colorado. He recently performed a magnet removal for ipsilateral brain imaging on an adult patient with SYNCHRONY.
Let's go over to Dr. Cass for a first-hand perspective of his experiences.
Dr. Stephen Cass: Brain MRI & SYNCHRONY Magnet Removal
The patient is a 33-year-old male who developed sensorineural hearing loss following treatment of brain cancer in childhood.
His brain cancer treatment required both surgery and whole brain radiation. This caused severe sensorineural hearing loss over time. He was successfully implanted with a SYNCHRONY cochlear implant 2 years ago. He is an excellent user and works full-time. The radiation treatment also has resulted in very thin, atrophic skin over the implant.
The patient developed seizure activity that was localized by EEG to the temporal lobe ipsilateral to the CI. An MRI scan of the area of concern was requested by his neurologist. We decided to do the MRI first with the magnet in place. There was no discomfort or skin reaction from the 1.5 Tesla MRI procedure. I found this remarkable as he had very thin atrophic skin over the CI magnet.
Unfortunately, the area of artifact obscured the area of interest and we elected to remove the magnet hoping to lessen the area of artifact. On re-imaging after magnet removal, the artifact was substantially reduced; it was described by the neuroradiologist as mild artifact. Useful imaging of the temporal lobe was obtained.
The magnet removal procedure was different from what I had experienced with other CI manufacturers so a few minutes of training was needed and the demonstration toolkit did the job. The main difference is the availability of a precision tool to remove and replace the magnet. The tool is well designed and easy to use. Once the implant is exposed, the magnet removal took only seconds to complete.
I have lots of experience removing magnets from other manufacturers' implants. The skin incisions and soft tissue dissection to expose the implant are similar. From there, the procedures diverge as the SYNCHRONY implant uses a precision tool to remove and replace the magnet, whereas the other implants depend on a careful "dissection" of the magnet from its thin silastic pocket.
The tool procedure creates a confident "pop" when the magnet is removed or replaced, providing a confident sensation of proper positioning of the magnet. I would have no concerns repeating the procedure on the same implant should that be needed in the future.
Thank you for sharing your experience Dr. Cass, we appreciate your insight and we look forward to hearing more from you in the future.
Great Protection. Guaranteed.
Because of our long and positive experience with MRIs and cochlear implants, we're the only hearing implant company to offer a life-long MRI guarantee. We promise to replace the implant in the very unlikely event that it's damaged during an MRI scan.*
Valid for all MED-EL multichannel cochlear implants since 1994
Life-long and worldwide
The first and only to be offered by any hearing implant producer
Last updated on January 28, 2021.
Get in Touch
Ready to get SYNCHRONY in your clinic? Contact us to get started!
Want to see more on brain MRI with SYNCHRONY? Check out this case study to see detailed brain imaging with SYNCHRONY magnet in place.
Looking for the MRI instructions for SYNCHRONY? Check out this article for radiologists, or visit medel.com/isi for detailed MRI scanning conditions.
*Recipients with a SYNCHRONY Cochlear Implant may be safely MRI scanned at 1.5 and 3.0 Tesla following the conditions detailed in the instructions for use.
**Not all products, indications, and features shown are available in all areas. Please contact your local MED-EL representative for more information.
References
Cochlear Nucleus® Implants Magnetic Resonance Imaging Guide. http://www.cochlear.com/wps/wcm/connect/shared-library/downloads/cam-downloads/new-candidate-pdfs/mri-guidelines-us.pdf

Magnetic Resonance Imaging (MRI) for HiRes 90K™ and HiRes 90K™ ADVANTAGE Cochlear Implants. https://www.advancedbionics.com/content/dam/advancedbionics/Documents/libraries/Audiologists-&-Surgeons-Library/MRI-for-the-HiRes-90K-Implant/mri-for-hires-90k-implant.pdf 

Hassepass, F., Stabenau, V., Arndt, S., Beck, R., Bulla, S., Grauvogel, T., & Aschendorff, A. (2014) Magnet dislocation: an increasing and serious complication following MRI in patients with cochlear implants. Rofo. 186 (7) 680–685

Kim, B.G., Kim, J.W., Park, J.J., Kim, S.H., Kim, H.N., & Choi, J.Y. (2015). Adverse events and discomfort during magnetic resonance imaging in cochlear implant recipients. JAMA Otolaryngol Head Neck Surg. 141(1), 45–52.

Carlson, M.L., Neff, B.A., Link, M.J., Lane, J.I., Watson, R.E., McGee, K.P., Bernstein, M.A., & Driscoll, C.L. (2015) Magnetic resonance imaging with cochlear implant magnet in place: safety and imaging quality. Otol Neurotol. 36(6):965–971.

Young, N.M., Rojas, C., Deng, J., Burrowes, D., & Ryan, M. (2016) Magnetic resonance imaging of cochlear implant recipients. Otol Neurotol. 37(6):665–671.

Migirov, L. & Wolf, M. (2013). Magnet removal and reinsertion in a cochlear implant recipient undergoing brain MRI. ORL J Otorhinolaryngol Relat Spec. 75(1):1–5.

Todt, I., Tittel, A., Ernst, A., Mittmann, P., Mutze, S. (2017) Pain free 3 T MRI scans in cochlear implantees. Otol Neurotol. 38(10) e401–e404.

Wagner, F., Wimmer, W., Leidolt, L., Vischer, M., Weder, S., Wiest, R., Mantokoudis, G., & Caversaccio, M. (2015) Significant artifact reduction at 1.5T and 3T MRI by the use of a cochlear implant with removable magnet: an experimental human cadaver study. PLoS One. 10(7): e0132483.

Helbig, S., Stoever, T., Burck, I., Kramer, S. (2017) Cranial MRI in a young child with cochlear implants after bilateral magnet removal. Int J Pediatr Otorhinolaryngol. 103:1-4.
The content on this website is for general informational purposes only and should not be taken as medical advice. Please contact your doctor or hearing specialist to learn what type of hearing solution is suitable for your specific needs. Not all products, features, or indications shown are approved in all countries.