Case Study: MRI With SYNCHRONY Auditory Brainstem Implant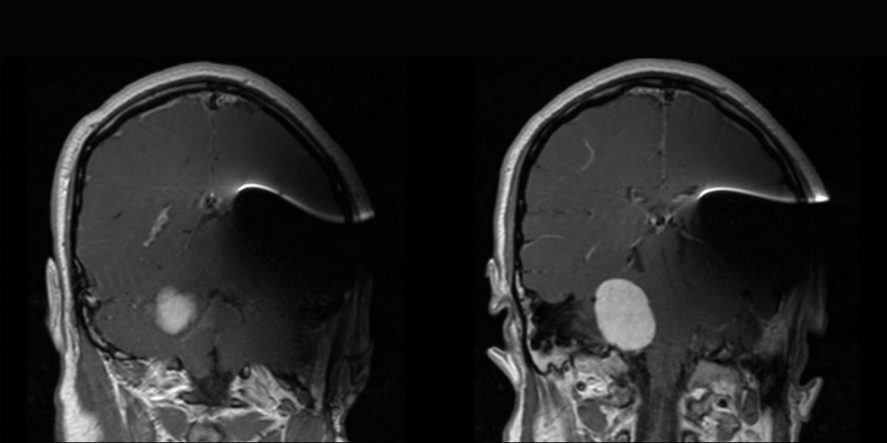 Today, we're sharing an interesting case study on MRI scans with the SYNCHRONY Auditory Brainstem Implant for a patient with neurofibromatosis type 2.
Safe, reliable access to MRI is important for everyone, but it's especially vital for individuals with neurofibromatosis type 2 (NF2). Neurofibromatosis type 2 is a genetic disorder that is characterized by the development of non-cancerous tumors along the nervous system.
With NF2, magnetic resonance imaging is essential to monitor the development of acoustic schwannomas and other nerve schwannomas.
ABI & Neurofibromatosis Type 2
This case study from the University of Kansas Medical Center details the results of MRI for a 27 year old female with NF2 and bilateral vestibular schwannomas.
After increased growth of the left vestibular schwannoma, she underwent left translabyrinthine resection with sacrifice of the vestibulocochlear nerve complex, causing complete hearing loss in her left ear. Later, after an increased growth of the right vestibular schwannoma, she also experienced profound hearing loss in her right ear.
In order to restore a degree of hearing ability, she elected to have a SYNCHRONY Auditory Brainstem Implant (ABI) placed on her left side. An auditory brainstem implant bypasses the auditory nerve by directly stimulating the cochlear nucleus of the brainstem.
Speech understanding with an ABI is generally not comparable to performance with a cochlear implant, but after receiving her ABI, the patient reported improved perception of environmental sounds and improved understanding of others.
The SYNCHRONY ABI from MED-EL is currently not FDA approved for use in the United States. However, in this case exemption was sought because of the need for repeated MRI access to monitor her right vestibular schwannoma, right jugular foramen schwannoma, and other spinal schwannomas.
SYNCHRONY uses a self-aligning implant magnet, allowing MRI scans without painful pressure or other magnet-related complications. This enables comfortable MRI scans without the need for a tight head bandage, splint kit, or surgical magnet removal. The secure implant magnet can optionally be removed if imaging of area directly surrounding the implant is needed.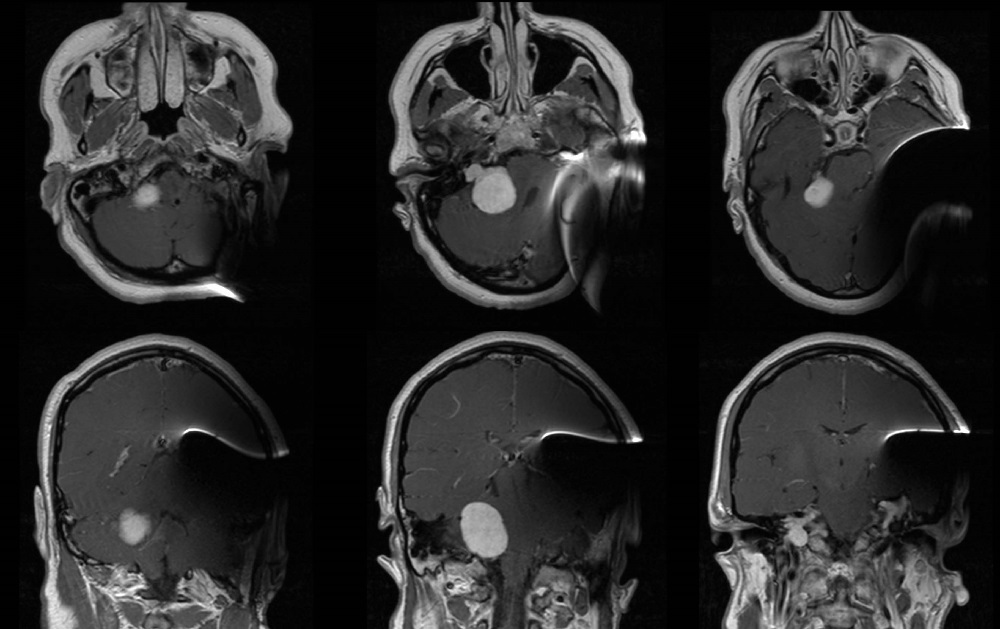 Fig. 1 MRI with MED-EL SYNCHRONY Auditory Brainstem Implant (ABI) demonstrates clear and quality images of the contralateral homogenously enhancing cerebellopontine mass. The ABI [with implant magnet in place] creates moderate metallic artifact distortion that limits evaluation of the ipsilateral cerebral and cerebellar hemispheres. (Top row) Axial view sequence from inferior to superior (left to right). (Bottom row) Coronal view sequence from anterior to posterior (left to right). Images courtesy of University of Kansas Medical Center.
In this case, the magnet was not removed, as SYNCHRONY enables clear contralateral imaging without magnet removal.
Twelve months after implantation, 1.5 Tesla MRI scanning was used to monitor the development of other tumors. Despite having the implant magnet in place, clear and useful imaging was possible (Fig. 1).
"MRI with the ABI in place clearly demonstrated the right jugular foramen and upper cervical spinal schwannomas without distortion . . . Our patient and device have undergone seven MRIs of the head, C spine, and T spine without any issues or demagnetization to the device while still providing quality images."
We'd like to thank the authors for sharing this case study. If you have a hearing implant case study you would like to share, contact us to get started.
Looking for MRI conditions for MED-EL implants? Check out this post on MRI conditions, or visit medel.com/isi for the latest safety information.
Great Protection. Guaranteed.
Because of our long and positive experience with MRIs and cochlear implants, we're the only hearing implant company to offer a life-long MRI guarantee. We promise to replace the implant in the very unlikely event that it's damaged during an MRI scan.*
Valid for all MED-EL multichannel cochlear implants since 1994
Life-long and worldwide
The first and only to be offered by any hearing implant producer
Last updated on January 28, 2021.
Want our latest case studies and articles sent right to your inbox? Subscribe now!
Case Study:
Shew, M., Bertsch, J., Camarata, P., & Staecker, H. (2017). Magnetic Resonance Imaging in a Neurofibromatosis Type 2 Patient with a Novel MRI-Compatible Auditory Brainstem Implant. J Neurol Surg Rep. 78, e12–e14. https://www.thieme-connect.com/products/ejournals/pdf/10.1055/s-0036-1597588.pdf
*Please note, the SYNCHRONY Auditory Brainstem Implant (ABI) is not approved by the FDA for use in the United States.
**Not all products, features, and indications shown are available in all areas. Please contact your local MED-EL representative for more information.
The content on this website is for general informational purposes only and should not be taken as medical advice. Please contact your doctor or hearing specialist to learn what type of hearing solution is suitable for your specific needs. Not all products, features, or indications shown are approved in all countries.