Bonus Rehabilitation Lesson Kit #26: Fairy Tales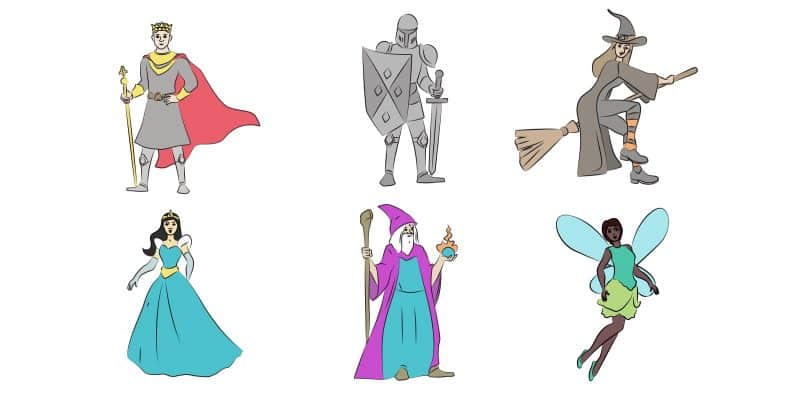 Wizards, knights, and witches—oh my! We've got a bonus "Fairy Tales" rehabilitation lesson kit just in time for Halloween! This bonus lesson kit has two fairy tale themed aural rehabilitation activities with therapy notes and printable resources with matching illustrations.
This free lesson kit is a professional resource for listening & spoken language specialists, audiologists, speech & language pathologists, rehabilitation specialists, and any other professional that works with children with hearing loss.
There are professional lesson plans with 2 interactive listening activities that come with printable illustrations and detailed therapy goals. Each activity has three levels, so you can use them for children across a wide range listening skills and vocabulary developments.
Download Now
Ready to get your free printable copy of the Fairy Tales Lesson Kit? Click here to download!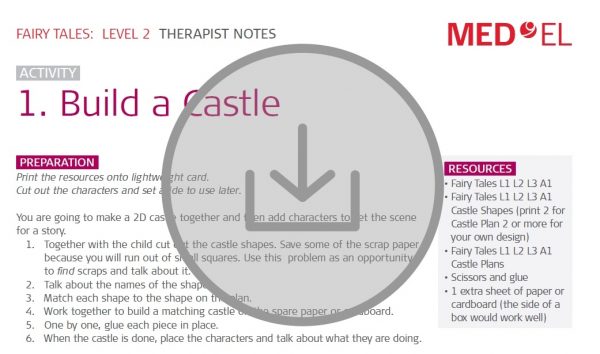 New to our lesson kits? There are 25 more great kits, and they're all for free! Download all 25 complete lesson kits:
Lesson Kit #1  Lesson Kit #2  Lesson Kit #3  Lesson Kit #4  Lesson Kit #5  Lesson Kit #6  Lesson Kit #7  Lesson Kit #8  Lesson Kit #9 Lesson Kit #10 Lesson Kit #11 Lesson Kit #12 Lesson Kit #13 Lesson Kit #14 Lesson Kit #15 Lesson Kit #16 Lesson Kit #17 Lesson Kit #18 Lesson Kit #19 Lesson Kit #20 Lesson Kit #21 Lesson Kit #22 Lesson Kit #23 Lesson Kit #24 Lesson Kit #25
Bonus Resources: How To Rehabilitation Webinars
November is Rehabilitation Month on the MED-EL Academy!
Every week, we're hosting a live webinar on rehabilitation, assessment, and intervention for hearing implant recipients of all ages.
First, you'll need to make sure you're registered for a free membership to the MED-EL Academy.
Then go to Rehabilitation Month How To Webinars and sign up for the live sessions!
November 5: How to Manage Challenging Acoustic Environments
In this 'How To,' we discuss the challenging environments for adults and discuss strategies to improve their listening in these situations (e.g. telephone, group settings).
Learning objectives:
Identify difficult listening situations for adults

What should the conversation partner be aware of?

Tips to improve listening in different daily life situations
November 12: How to Get Ready for Reading
Learning to read is a child's most important academic achievement. In this 'How to,' we define the factors that affect children with hearing loss when learning to read and develop skills to help any young child get ready for reading.
Learning objectives:
Identify the factors that affect children with hearing loss learning to read.

Learn how to stimulate any child's general awareness of written language

Develop skills to facilitate any child's phonological awareness skills
November 19: How to Support Children Learning Dual Languages
Here, we review some key considerations for supporting families who speak a non-majority language (or multiple languages) in the home and offer a resource to support assessment and intervention.
Learning objectives:
Key factors to consider when determining the language of intervention

List prognostic indicators that support a dual language approach to intervention

Identify one resource to support assessment and intervention for children learning dual languages
November 26: How to Foster Beneficial Collaboration between Audiology and Rehabilitation
In this webinar, we focus on the benefits of collaboration between rehabilitation and audiology and ways to move towards more successful collaboration.
Learning objectives:
Identify outcomes of positive interactions between audiologists and therapists

List useful information therapists can share with audiologists

List useful information audiologists can share with therapists
Subscribe & Share
Like these lesson kits?  Let us know what you think in the comments below.
Know someone who would love these lesson kits? Help them out and share today!
Have a question about our themed lesson kits? Use our simple contact form to send us a message.
Don't forget to subscribe to get all the latest updates from the MED-EL Professionals Blog!
*We'd like these kits to help as many people as possible, so the Themed Lesson Kits may be shared openly for fair usage. However, MED-EL retains full rights to the material, so the content may not be altered, rebranded, or repurposed for commercial use.
**Not all products, features, or indications for age shown are available in all areas. Please contact your local MED-EL representative for more information.
The content on this website is for general informational purposes only and should not be taken as medical advice. Please contact your doctor or hearing specialist to learn what type of hearing solution is suitable for your specific needs. Not all products, features, or indications shown are approved in all countries.