Free Educational Resources for Hearing Professionals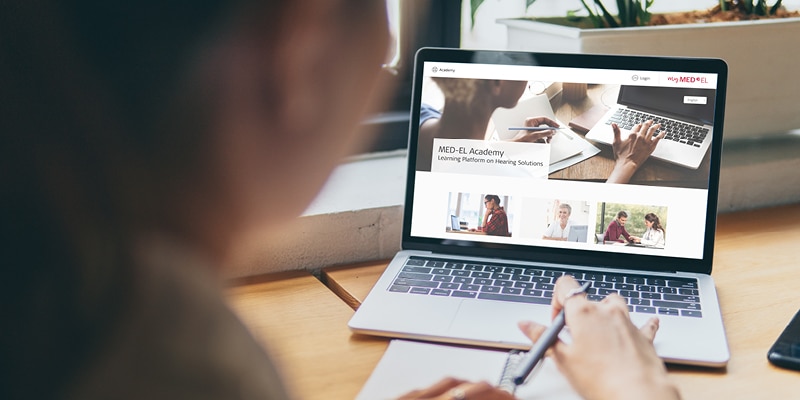 Whether you are an audiologist, surgeon, ENT physician, or rehabilitation professional, MED-EL has a wide variety of educational resources for you.  In this article, we will highlight some selected learning materials MED-EL provides hearing professionals free of charge. These include engaging, informative, and timely e-learning materials:
MED-EL Webinars: Recent Research & Best Practices for Professionals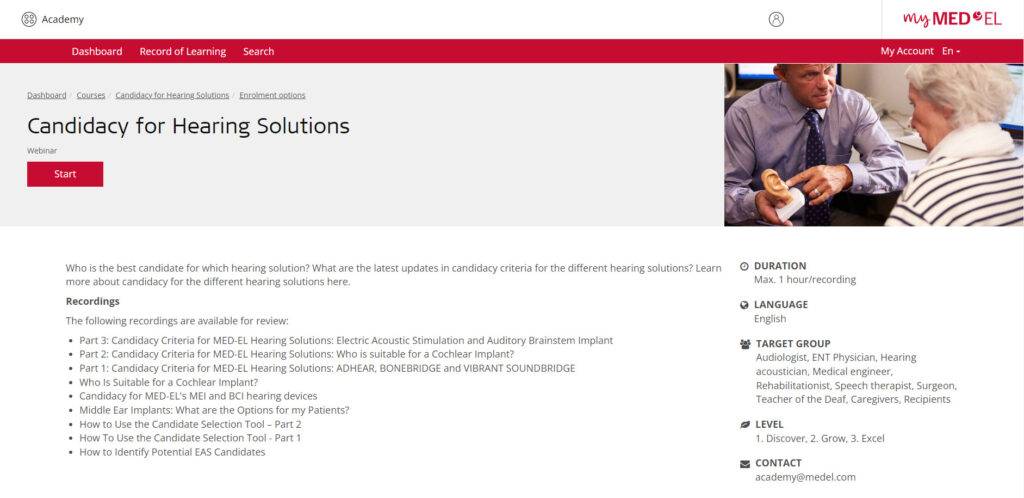 For professionals interested in webinars to stay up to date on the latest research and best practices, we recommend checking out our latest webinars on the MED-EL Academy.
All you need to do is log in to your myMED-EL account—it's free to register for a myMED-EL professionals account if you need one. Once your registration is confirmed, you can follow the links below to one of these selected webinars:
Addressing the Missing Element in Cochlear Implant Fitting – Pitch
This webinar briefly touches upon aspects of sound already considered in cochlear implant fitting, and highlights a relatively overlooked element: pitch. The ground-breaking Anatomy Based Fitting feature of MED-EL systems, as a means of addressing this missing element, will be introduced and reviewed.
Cochlear Implant (CI) Electrode Array Design For An Effective CI Treatment
This webinar showcases the latest published evidence which demonstrates the importance of the flexible cochlear implant electrode in postoperative CI hearing. This will help clinicians choose the safest electrode for their patients.
Technologies for Better Performance from Bimodal Stimulation with a Hearing Aid and a Cochlear Implant
Learn about technologies that can help to improve performance from bimodal stimulation by better matching the cochlear implant to the contralateral hearing aid. Review evidence on the benefits of cochlear implants based on these technologies for users with a contralateral hearing aid.
SAMBA 2 – Professionals' Perspective
Many SAMBA 2 audio processor features can be activated and adjusted in the SYMFIT 8.0 software. The sequence in the software is unique with SAMBA 2, but what's behind this? Specific features will be explained, and you'll learn in which situations they are especially important.
An Analysis of MED-EL Recipients' Musical Ability – The Complexity of Music
Music is a complex signal and consists of various elements and dimensions that we still have to explore and investigate. Join us to review new data demonstrating MED-EL CI users' musical ability and discuss open questions to understand the underlying potential.
Candidacy Criteria for MED-EL Hearing Solutions
This webinar series provides an overview of the current selection criteria of ADHEAR, BONEBRIDGE, and VIBRANT SOUNDBRIDGE; international differences in cochlear implant candidacy criteria in the world's major markets; and the suitability of candidates for an auditory brainstem implant (ABI).
Difficult Inner Ear Anatomical Types and Optimal Electrode Choices
A cochlear implant electrode is intended to provide electrical stimulation to the auditory neuronal elements. This webinar will address various inner ear anatomical types as reported in the literature, how to identify them from pre-operative images, and the electrode choices that MED-EL offers to each of the anatomical types.
Selected Courses for Rehabilitation Professionals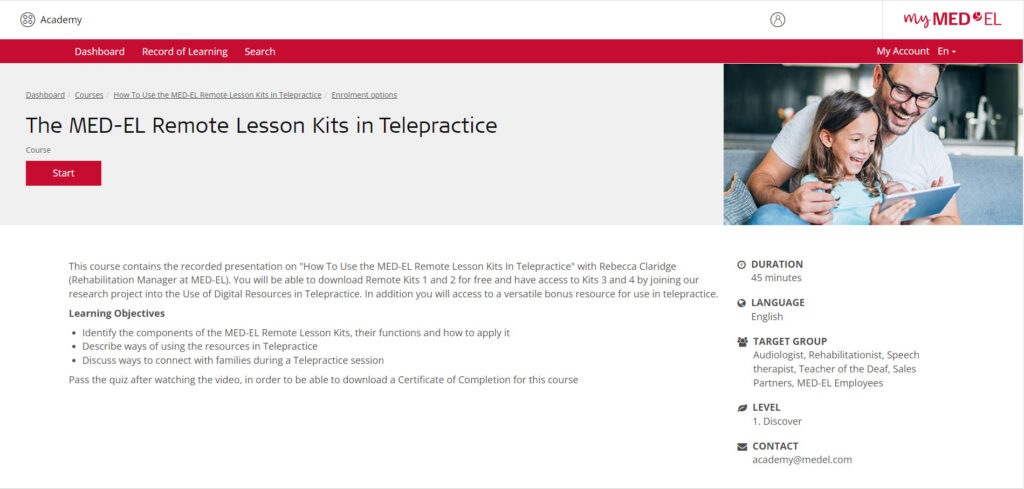 Several courses have been developed to provide rehab professionals tips and materials for their work with cochlear implant recipients. The focus of these materials is helping hearing implant recipients gain the most benefit from their hearing devices.
The MED-EL Remote Lesson Kits in Telepractice
This course explores our free rehabilitation resource, the Remote Lesson Kits, and shares ways to use them online to connect with families during a telepractice session. Viewers also receive access to a versatile bonus resource for use in telepractice.
How to use the LittlEARS® Auditory Questionnaire (LEAQ)
This course provides information on how to use and analyze the LittlEARS® Auditory Questionnaire, a parent questionnaire that assesses age-appropriate auditory behavior in young children from birth to 24 months of age. The LEAQ is available as a free app for tablet users on Android and Apple devices.
Key Benefits of Binaural Hearing
The Binaural Hearing Series is a collection of courses for professionals, educators, and caregivers that describes the importance of binaural hearing for individuals who rely on hearing implant technology such as cochlear implants. It shares useful considerations, tips, and strategies to optimize binaural listening for hearing implant recipients as a whole or as a specific group (e.g., single-sided deafness).
MED-EL EventsONLINE: ExpertsONLINE & SurgeryONLINE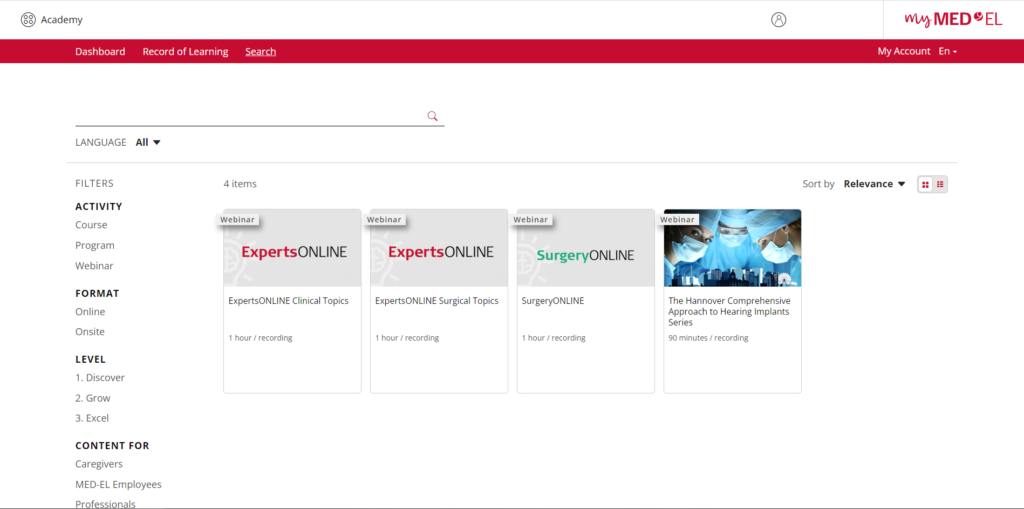 All of our upcoming EventsONLINE, as well as conferences for professionals, are listed on the MED-EL Professionals Events page. In addition, you can also subscribe to our MED-EL EventsONLINE mailing list to get info about upcoming events sent straight to your inbox so you can attend the sessions in real time and don't miss anything relevant to your daily work.
But if you are unable to attend live ExpertsONLINE and SurgeryONLINE discussions, we publish the recordings on the MED-EL Professionals YouTube Channel in the weeks following each session.
Hearing professionals can also earn certificates that can be used for continuing professional development by watching past ExpertsONLINE and SurgeryONLINE sessions. To earn a certificate, make sure to view recordings of past ExpertsONLINE and SurgeryONLINE discussions on the MED-EL Academy. As with the webinar content listed above, you simply need to log in to your myMED-EL professionals account before clicking the direct link to a specific recording below.
Selected ExpertsONLINE Videos
Can't see the video? Watch it on YouTube. 
ExpertsONLINE allows global experts to share research and best practices with other specialists via a series of thought-provoking and engaging online panel discussions on a wide variety of timely hearing-related topics. The sessions you see listed below are just the tip of the iceberg. There are dozens more ExpertsONLINE sessions that cover both clinical and surgical topics.
Selected SurgeryONLINE Videos
Can't see the video? Watch it on YouTube. 
Whether you are a highly-experienced ENT surgeon or an aspiring surgeon in medical school, SurgeryONLINE is where you can ask questions and share surgical experiences after viewing an edited or live surgical video of a specific type of hearing implantation. Each session in the series features live narration by an experienced surgeon.
You can find all of the videos listed below in the MED-EL SurgeryONLINE archives on the MED-EL Academy:
Techniques to Improve Hearing Preservation with Long Lateral Wall Electrodes with Prof. Kevin D. Brown, MD, PhD
BONEBRIDGE BCI 602 Implantation and Simultaneous Removal of Percutaneous Bone Anchor with Prof. Dr. Robert Mlynski
Cochlear Implantation with a SYNCHRONY 2 and FLEX 26 Electrode Array with Prof. Dr. Hubert Löwenheim
Treating Atresia in Children: How an Expert Decides Between VSB and BB with Prof. Denoyelle
Two Surgeries, Two Ways to Reconstruct the Ossicular Chain with Prof. Dr. Dirk Beutner and Prof. Dr. Robert Mlynski
Cochlear Implantation for Common Cavity Deformity with Prof. Dr. Yongxin Li
Surgical Video Library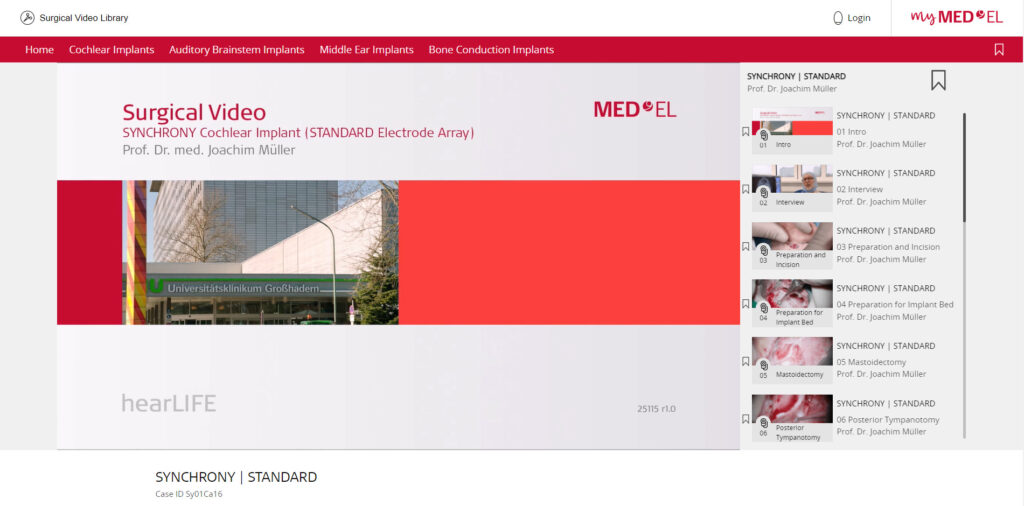 Watch HD hearing implant surgical videos with step-by-step narration and surgical techniques from leading surgeons. The videos provide surgeons with unparalleled clarity and visibility of the surgical field. Each video also includes complete detailed surgical case studies with patient background and etiology.
As with the MED-EL Academy webinars and courses, you need to log in with a free myMED-EL professionals account before you can access the MED-EL Surgical Video Library.
MED-EL Podcasts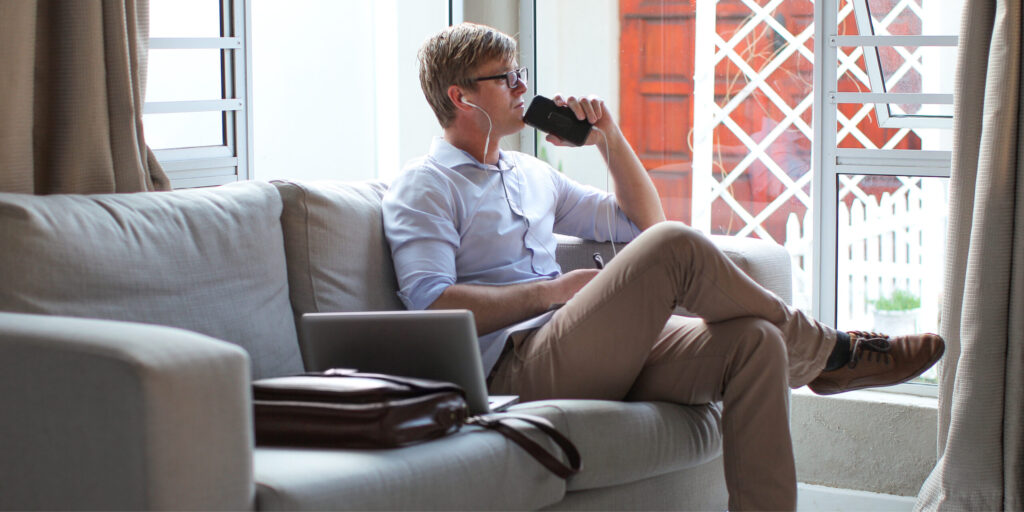 For professionals who typically enjoy audiobooks and podcasts on desktop and mobile devices, MED-EL podcasts offer short yet easily digestible information-packed episodes on several topics and hearing solutions including:
A PDF transcript of each podcast is also available to download.
The newest podcast series, "Translational Science Communication" explores these topics:
In the first episode, the differences between the two main types of cochlear implant electrode arrays are explained by Dr. Hans Thomeer. Specifically, how these two electrode designs and surgical approaches can affect translocation after the electrode insertion, and what might be a better option.
In this episode, Prof. Van de Heyning shares three potential harmful results that may occur when an electrode is inserted into the cochlea and how we can prevent them. He also discusses why straight electrodes are a suitable and preferable choice for robotic and CI surgery.
Dr. Michael Canfarotta explains how, in the majority of cases, the cochlear implant program in his clinic can perform full electrode insertion with the longest commercial CI electrode in the field once individualized measurement for each cochlear duct length is accounted for.
From his research outcomes and clinical experience, Dr. Michael Canfarotta shares what the minimal angular insertion of a CI electrode should be in order to optimize hearing outcomes.
For us to understand how the brain can adapt to a cochlear implant, Prof. Michael Dorman, PhD, explains the complex topics of tonotopicity and brain plasticity in simple words. He also describes how we can support the brain so there is a greater chance to optimize the hearing outcome.
Subscribe for More From MED-EL
Make sure you're on our MED-EL Professionals Blog subscription list so you don't miss any future updates like this one.
The content on this website is for general informational purposes only and should not be taken as medical advice. Please contact your doctor or hearing specialist to learn what type of hearing solution is suitable for your specific needs. Not all products, features, or indications shown are approved in all countries.