Do Children Using Bone Conduction Devices Need Speech Therapy and Rehabilitation Support?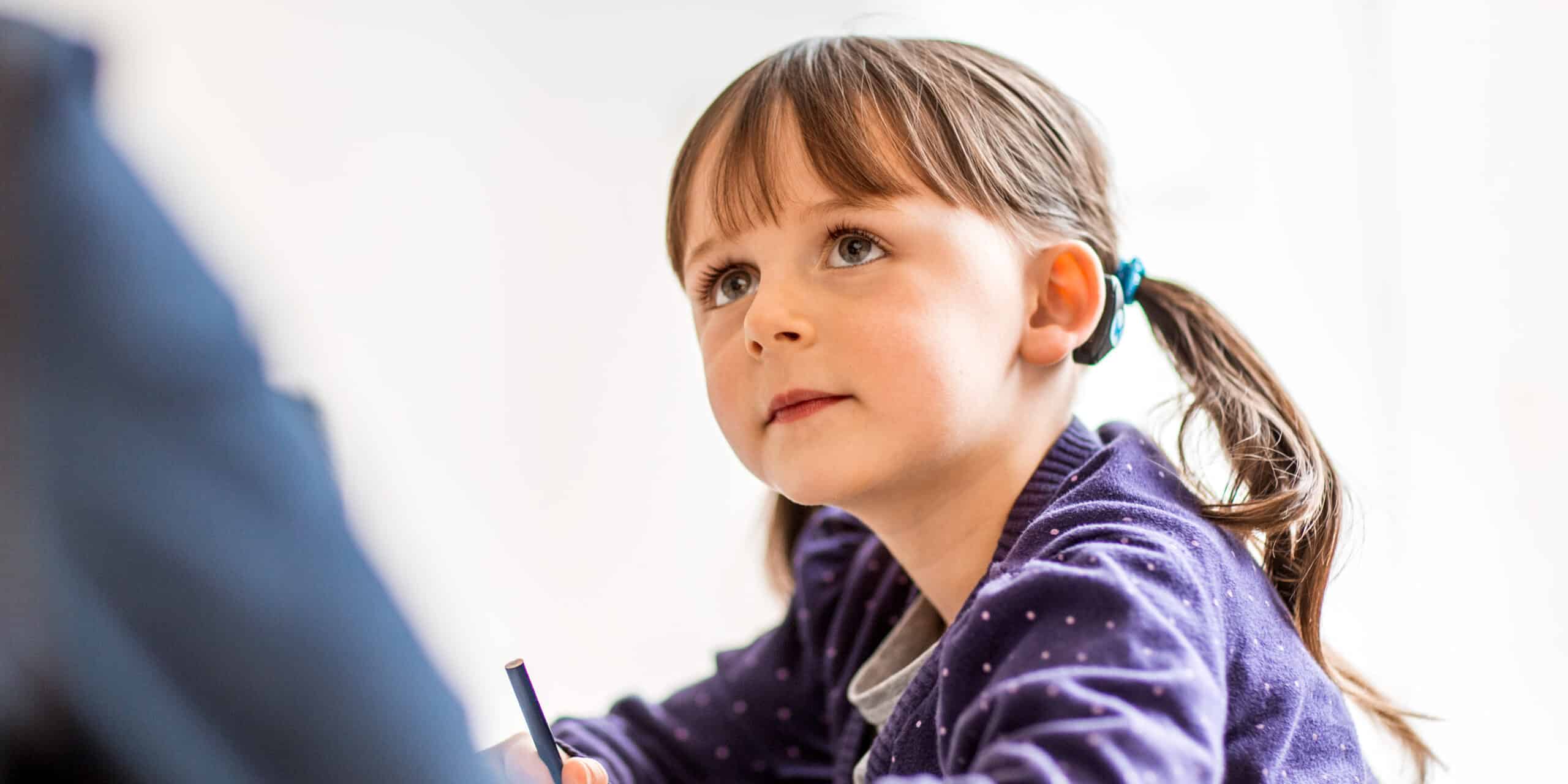 While adults who use bone conduction devices may not require auditory training, all children with hearing loss can benefit from early speech therapy and rehabilitation support. This is because, for children with hearing loss, rehabilitation involves much more than auditory training.[1] When early detection of hearing loss is combined with early hearing device fitting and enrollment in early intervention, better language and speech development is predicted for children with hearing loss.[2,3]
Rehabilitation frequency and intensity varies greatly, from little to no intervention required, to the need for more frequent support. The frequency of speech therapy and rehabilitation depends on the child and family, their level of need, the presence of additional disabilities, and the duration and severity of auditory deprivation. However, all children with hearing loss should be monitored by a speech and language therapist. Monitoring will ensure they are developing communication skills in line with their typically hearing peers—or with their communication potential—and receive intervention as early as possible if it is required.
What Pediatric Speech Therapy and Rehabilitation Includes
Assessment and monitoring of speech and language development and listening skills to identify if there are areas of communication in which the child requires support. The LittlEARS Auditory Questionnaire Assessment app can assist here.
Caregiver coaching to support families to facilitate their child's device retention, communication development, and create the best possible acoustic learning environment. Research has demonstrated that a child's early language environment impacts their later language and cognitive development.[6]
Teacher education to share communication strategies and environmental modifications to provide the best possible listening and learning environment in educational settings.
Auditory training, if needed, to support the child's listening skills to develop to their highest potential.
Speech and language therapy, if needed, to address any areas of need. Listening, language, and speech skills are intertwined and are precursors for reading and educational achievement.[4,5] Hence, identifying areas of need early and intervening to support development of those skills impacts subsequent learning. Pediatric rehabilitation focuses not only on a child's listening skills but on the whole child and their ability to communicate. The MED-EL A Child's Journey app outlines typical developmental milestones for children aged 0 – 6 years. It can assist professionals to track progress and identify goals for intervention.
Empowering Families and Educators of Children with Hearing Loss
For more on supporting families of children with hearing loss, we recommend checking out our course on the MED-EL Academy: 11 Perspectives of Rehabilitation.
If you are a Teacher of the Deaf or an educator of students who rely on hearing technology, you can get ideas to support your students with listening and communication in school in our MED-EL Academy Course: Binaural Hearing – A Guide for Educators.
Special thanks to Natalia Rossi, Clinical Support Specialist at MED-EL VIBRANT, and Natalie Teakle, Advanced Rehabilitation Manager at MED-EL, for writing and contributing to this article.
Subscribe and Share
If you find this article or these resources insightful, make sure to subscribe so you don't miss any of our future posts. And don't forget to share this with any friends and colleagues who may also benefit from these resources.
References
Moeller, M. P., Carr, G., Seaver, L., Stredler-Brown, A., & Holzinger, D. (2013). Best practices in family-centered early intervention for children who are deaf or hard of hearing: An international consensus statement. The Journal of Deaf Studies and Deaf Education, 18(4), 429-445. https://doi.org/10.1093/deafed/ent034
Holzinger, D., Fellinger, J., & Beitel, C. (2011). Early onset of family centred intervention predicts language outcomes in children with hearing loss. International Journal of Pediatric Otorhinolaryngology, 75(2), 256-260. https://doi.org/10.1016/j.ijporl.2010.11.011
Yoshinaga-Itano, C. (2003). From screening to early identification and intervention: Discovering predictors to successful outcomes for children with significant hearing loss. Journal of Deaf Studies and Deaf Education, 8(1), 11-30. https://doi.org/10.1093/deafed/8.1.11
Duff, D., & Tomblin, J. B. (2018). Literacy as an outcome of language development and its impact on children's psychosocial and emotional development. Encyclopedia on Early Childhood Development, 1(6).
Goodson, B. and Layzer, C., (2009). Learning to Talk and Listen: An Oral Language Resource for Early Childhood Caregivers. National Institute for Literacy. https://eric.ed.gov/?id=ED511969
Gilkerson, J., Richards, J. A., Warren, S. F., Oller, D. K., Russo, R., & Vohr, B. (2018). Language experience in the second year of life and language outcomes in late childhood. Pediatrics, 142(4). https://doi.org/10.1542/peds.2017-4276