Binaural Hearing Rehabilitation: Free Guides & Online Courses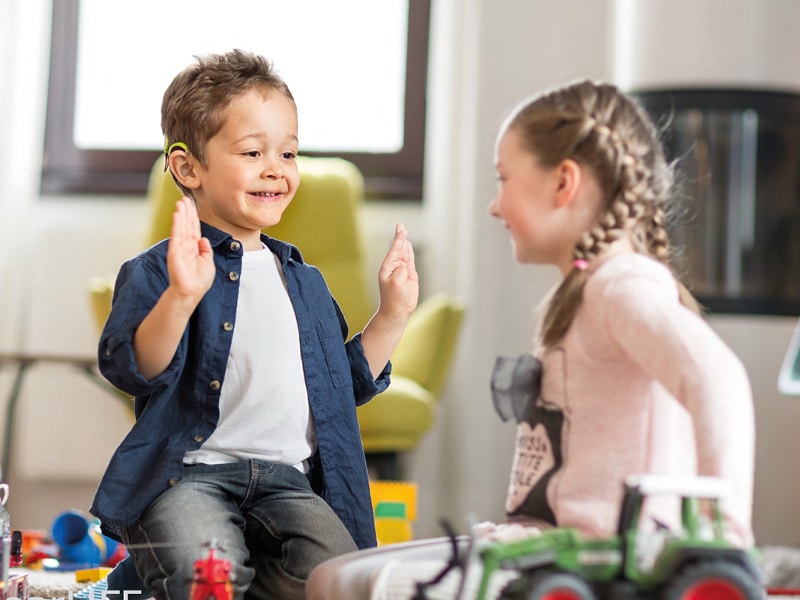 Whether you are a rehabilitation professional, an educator, or a parent of a cochlear implant recipient, you can find free practical tips and valuable resources in our new Binaural Hearing Rehabilitation Series. Not only does each binaural hearing rehabilitation guide explain how recipients can benefit from binaural hearing, they also provide targeted information and rehabilitation activities for specific populations of cochlear implant recipients.
Binaural Hearing Rehabilitation Guides for Professionals
For professionals, the Binaural Hearing Series for Rehabilitation comprises of 5 guides to support the following populations of recipients with their cochlear implant(s):
Each guide details what to include in therapy for children and adults. They also describe activities for the development of binaural listening skills and provide specific binaural hearing rehabilitation tips. Useful links to online resources for therapy are included as well.
For example, for children who are simultaneous bilateral CI users, we recommend the following tips and tricks to help children improve their sound localization abilities:
Point out environmental sounds as they happen or when out on a listening walk.
Play games that require the child to listen for speech before performing an action.
Play with noisemakers. Hide different noisemakers throughout a room and have the child use localization skills to find the toy/object.
When presenting information, reading, or singing to the child, make sure to alternate sides. This ensures that one ear is not treated as the primary listening ear.
More details on each of these points as well as links to related online resources and more can be found in the guide, Simultaneous Bilateral Cochlear Implant Users – Children.
Free Online Courses on Binaural Hearing
And for professionals who prefer to learn via online courses, learning about the benefits of binaural hearing just got even easier! MED-EL Academy's Binaural Hearing Series shares the advantages of listening with two ears in an easy-to-follow series. In each course, professionals will learn from a MED-EL Rehabilitation Manager about practical ideas and strategies to enhance their therapy. Learn more about:
The courses can be completed individually or as a series, and completion certificates are available. Visit the MED-EL Academy today to enroll for free in the Binaural Hearing Series program.
Binaural Hearing – A Guide for Educators
For teachers, teacher aids, and educators, the series also includes information for those who have a child with hearing impairment in their classroom. The guide, Binaural Hearing – A Guide for Educators, provides guidance for supporting binaural listening in the classroom. It contains practical tips for monitoring listening and device use, the use of assistive listening devices, instructional support, and classroom management.
Regarding classroom acoustics, for instance, it is important to keep three key factors that affect the quality of sound in mind: noise, distance, and reverberation. To reduce background noise in the classroom, consider placing the child with hearing loss away from common noise sources. Common noise sources in a classroom include:
Doorways
Radios or music players
Air conditioning units
Pencil sharpeners
Areas where personal conversations typically take place
When it comes to regulating distance, a speaker should move closer to the student to ensure that all the sounds in speech remain clear rather than increasing the volume of their voice. Educators are encouraged to create an optimal listening environment by:
covering hard floors with carpets or rugs.
hanging curtains or drapes.
using fabric panels or displays on walls.
placing soft padding or rubber on the bottom of chair legs.
Further details on classroom management, language development, peer communication, and listening fatigue as well as assessment and monitoring can be found in Binaural Hearing – A Guide for Educators.
Bilateral Cochlear Implantation – Tips for Parents
For parents of children that use bilateral cochlear implants there is also a guide. Bilateral Cochlear Implantation – Tips for Parents includes practical tips for bilateral CI use as well as creating good listening conditions at home. After implantation and fitting of the audio processors, it is important for parents or caregivers to support the development of their child's listening skills.
Parents or caregivers should ensure that both audio processors are working properly. They should also make sure that their child wears both devices for all hours the child is awake. Young children or beginning listeners will most likely not have enough listening or language experience to report a problem.
Parents or caregivers can monitor their child's listening by:
Completing a listening check every morning with each device individually. If the listening check is performed with both devices at the same time, a problem with one of the audio processors may go unnoticed.
If a parent or caregiver identifies a problem, encourage the child to practice the language to explain it. This will help the child to develop the skills to independently report a problem (e.g., "The battery is not working").
Establishing a routine to maximize wearing time. Put the audio processors on as soon as the child wakes up.
Developing these daily habits is best practice to ensure that the devices are functioning well. They will also help guarantee the child is hearing optimally. For more details, check out our guide, Bilateral Cochlear Implantation – Tips for Parents.
All of the binaural hearing rehabilitation guides mentioned above and more can be downloaded from the MED-EL Rehabilitation Downloads Site. They are all free of charge.
In addition, you might be interested in our latest resources on Telepractice: Introducing MED-EL Remote Lesson Kits.
Don't forget to subscribe to our professionals blog for all the latest updates from MED-EL.