A New Tool to Facilitate Communication Development With a Whole Child Perspective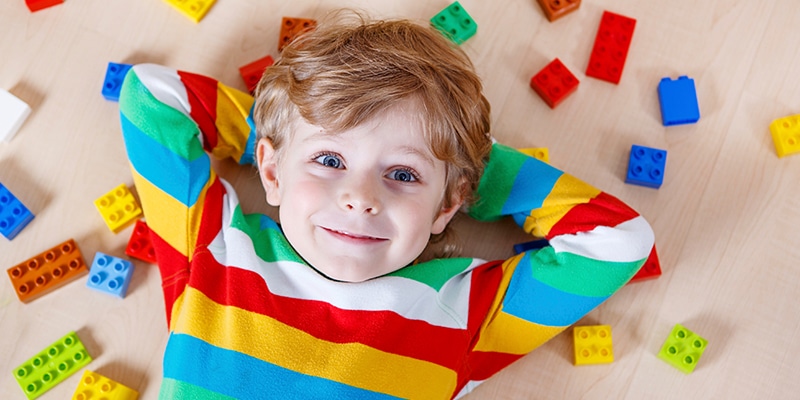 Is it important that a child stacks blocks? Does it matter if a child does not find an object hidden in front of them? A child is becoming defiant. Is that ok?
At specific ages, the answer to these questions would be yes. Even though these skills or behaviors would not be considered auditory development, they do play a very important role in language acquisition. Language is interrelated with other areas of child development, which are all connected and have an effect on each other.
The Power of Play & Child Development
An example of this connection is a study by Christakis that found higher language scores in children who were provided with a specific toy.[1] Children aged 1 ½ to 2 ½ years of age were given play (cardboard) bricks while another group did not get the bricks for comparison. Six months later, those children who were given the play bricks had significantly higher language scores compared to the children who did not receive the bricks.
Play has a positive impact on language development as shown by Christakis' study, and there is also research that links play to early literacy. Roskos & Vukelich found that children's early exposure to and participation in pretend play in the preschool years is positively related to emergent literacy skills when they reach kindergarten.[2]
These connections between skills and behaviors and language development should be kept in mind when working with children who have hearing loss. Therefore, it is critical to focus on listening and spoken language while remembering to keep a whole child perspective to support their development.
A Broader Understanding of Aural Rehabilitation
Intervention sessions incorporate listening and spoken language development during play activities. Incorporating developmentally appropriate cognitive, pragmatic, and literacy activities can assist in the overall development of the child.
Rehabilitation professionals working with children who have hearing loss are more likely to be the professional who sees the child the most. This provides an opportunity to monitor the child's development.
When focusing on a young child's communication, it is essential to be aware of auditory, speech and language milestones, as well as other developmental milestones that interact with language. Understanding typical child development assists in determining if there may be other areas that require attention.
A Child's Journey Developmental Milestones (Birth – 6 Years)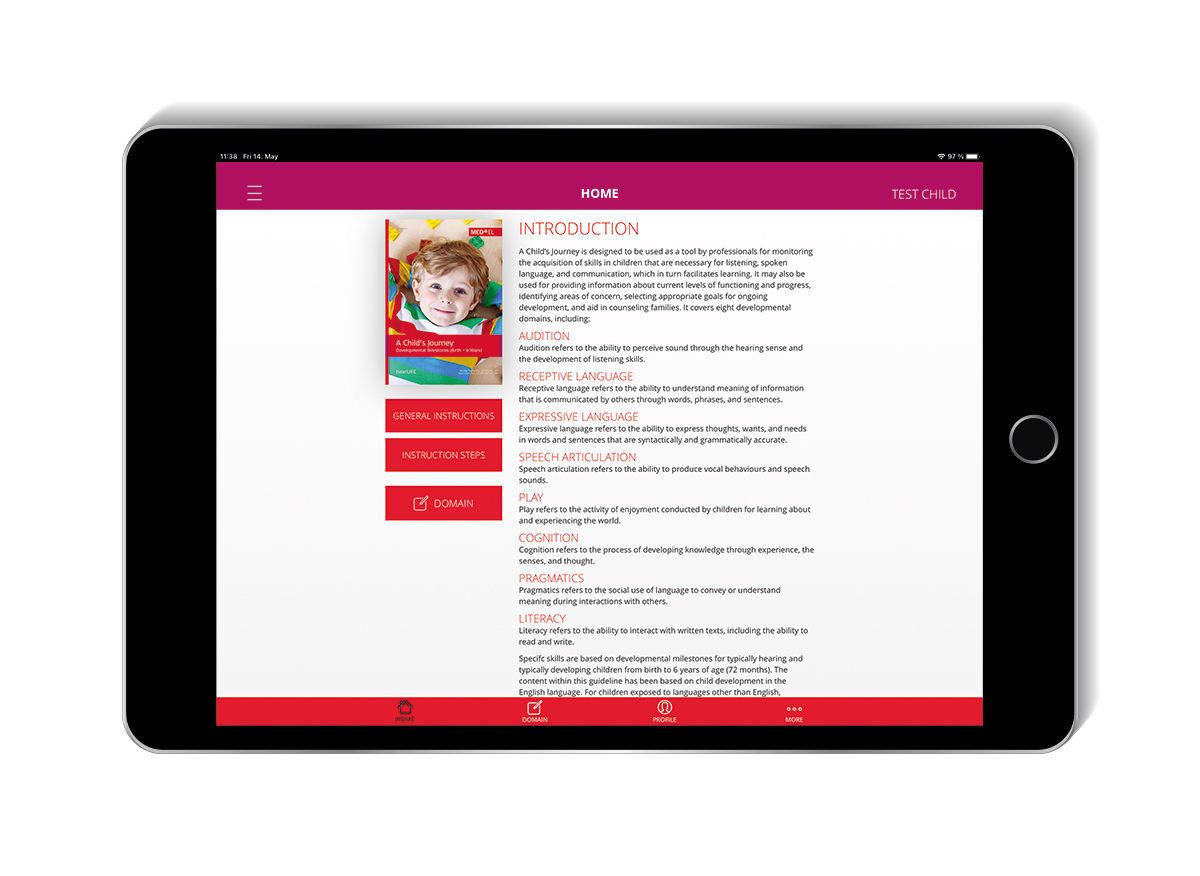 MED-EL's A Child's Journey Developmental Milestones (Birth – 6 Years) provides a guideline for acquisition of skills, based on child development in the English language and covers eight domains including audition, receptive language, expressive language, speech articulation, play, cognition, pragmatics, literacy.
This resource is designed for professionals to monitor the acquisition of skills in children that are necessary for listening, spoken language, and communication, which in turn facilitates learning. It may also be used for:
Determining current levels of functioning and progress
Identifying areas of concern
Selecting appropriate goals for ongoing development
Assisting in counseling families
For the first 24 months, developmental skills are specified in three-month age-range intervals. After the first 24 months, developmental skills are specified in six-month age-range intervals. This is an example of a page from the book showing the domain 'Receptive Language' and skills expected to develop between the ages of 30 – 36 months.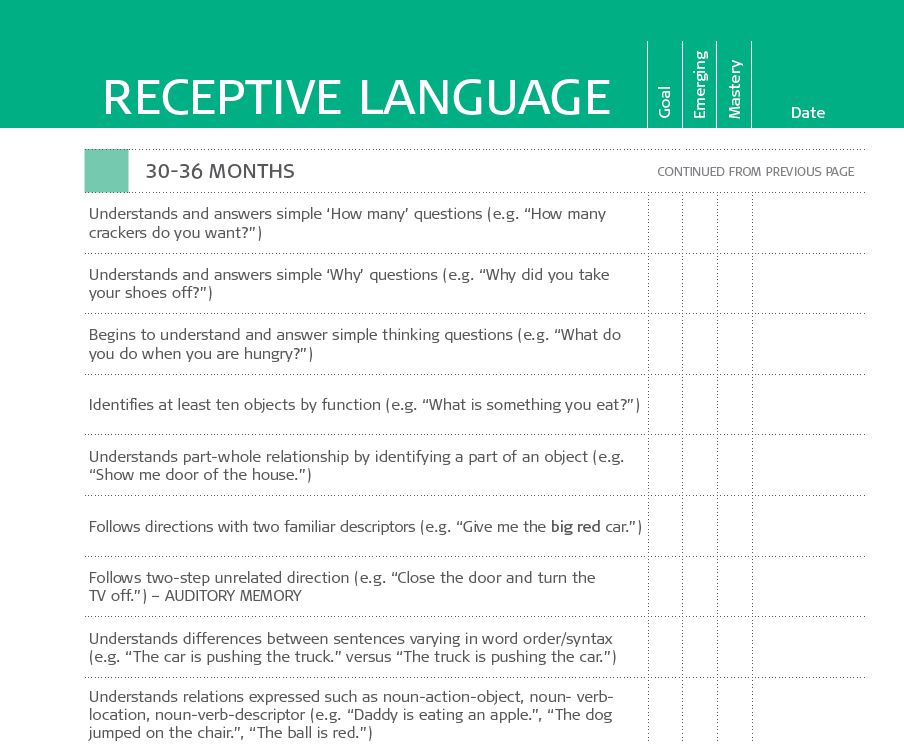 Note: There is space to mark each skill as a 'Goal' for intervention, 'Emerging', or as 'Mastered' by the child.
Available In Print or on the App Stores
This easy to use, quick guideline of communication and related skills is available as a printed book or as an app for tablets.
This is an example of skills listed under the domain of 'Expressive Language' shown on the app interface.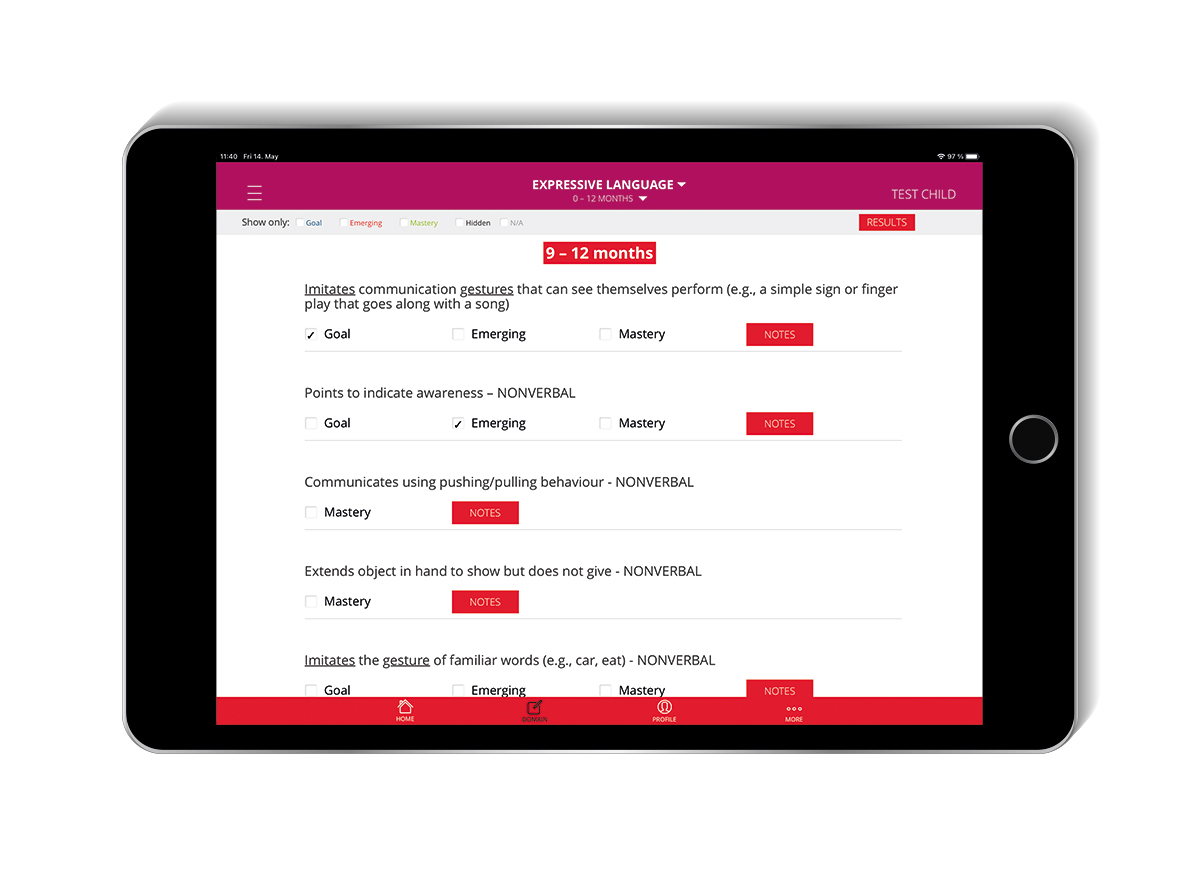 Here you see an overview of the child's skills across the domains. This summary details the number of skills marked as a 'Goal', or as 'Emerging', or 'Mastered' by the child across domains and age ranges on the app.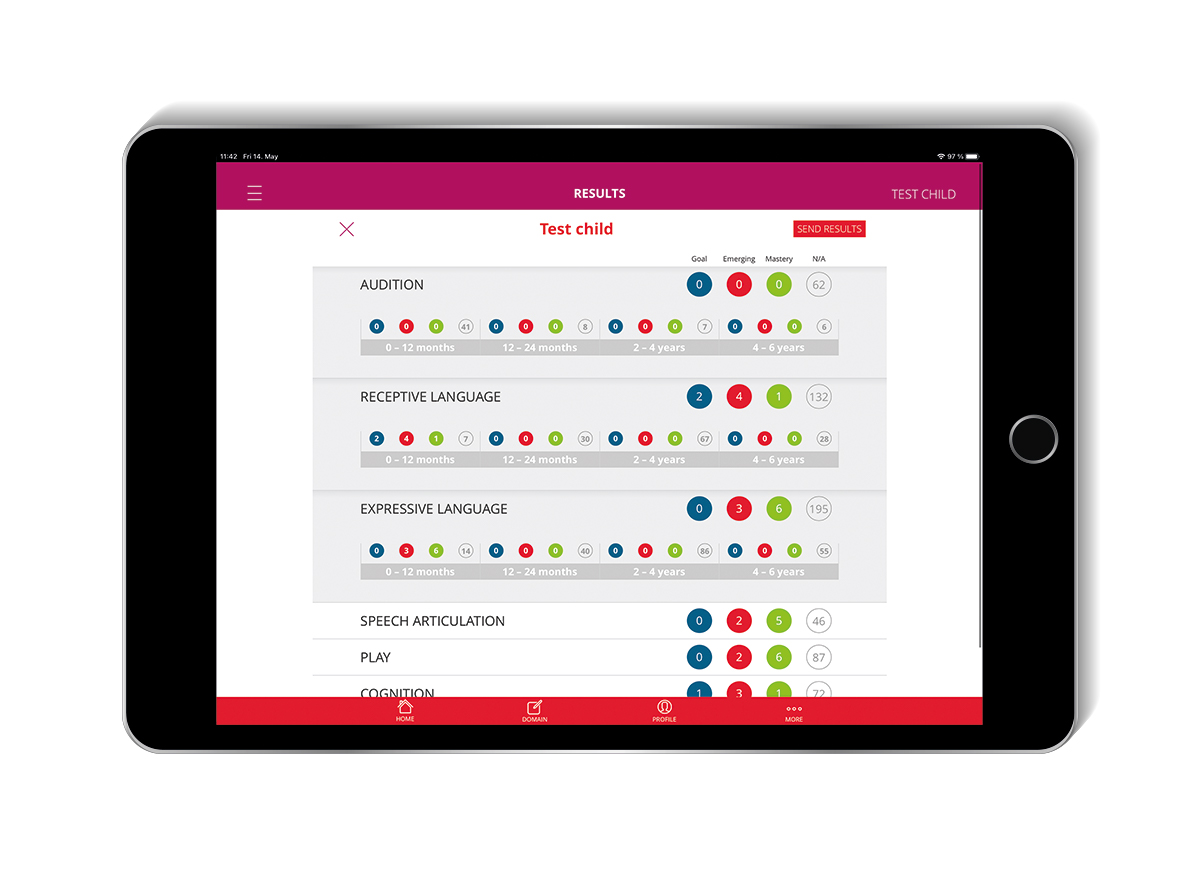 Contact a MED-EL Representative in your area for information on how to obtain A Child's Journey Developmental Milestones (Birth – 6 Years) in print or find the app for tablets on the Apple App Store or Google Play Store.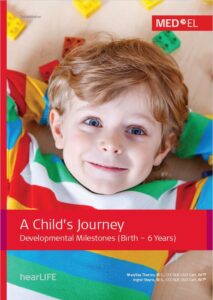 Special thanks to MaryKay Therres, Senior Rehabilitation & Education Manager at MED-EL, for contributing this article.
Subscribe & Share
Don't miss any future articles similar to this one. Subscribe to stay up to date and receive the latest news from MED-EL directly in your inbox.
References
[1] Christakis, D. A., Zimmerman, F. J., & Garrison, M. M. (2007). Effect of Block Play on Language Acquisition and Attention in Toddlers. Archives of Pediatrics & Adolescent Medicine, 161(10), 967. https://doi.org/10.1001/archpedi.161.10.967
[2] Roskos, K., & Vukelich, C. (2006). Early Literacy Policy and Pedagogy. In D. K. Dickinson & S. B. Neuman (Eds.), Handbook of Early Literacy Research (Vol. 2, pp. 295–310). Guilford Publications.