The New SAMBA 2 Audio Processor: Hearing Made Simple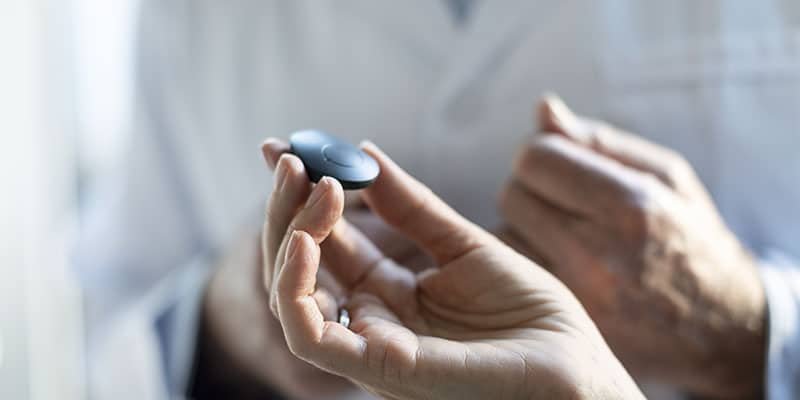 SAMBA 2, the latest audio processor for VIBRANT SOUNDBRIDGE and BONEBRIDGE is here. Combining intelligent hearing technology with easy handling, intuitive connectivity options and improved fitting software, SAMBA 2 is designed to make hearing as simple as possible—for both hearing implant recipients and their audiologists.
Watch the launch video now to find out more:
Effortless Hearing with SAMBA 2
"With SAMBA 2, we wanted to create an audio processor that bone conduction and middle ear implant recipients can just put on in the morning and then forget about," explains Alexander Hofer, Head of Product Management at MED-EL. That's where SAMBA 2's advanced hearing technology comes in. It automatically adjusts its settings for optimal hearing, whatever the situation.
SAMBA 2's Intelligent Hearing Technology at a Glance:
Six different environments: Quiet, Speech in Quiet, Noise, Speech in Noise, Music, and Car.
Intelligent Sound Adapter 2.0: Learns hearing preferences for each environment.
Enhanced noise reduction: Filters out background speech noise and cuts out noises between words.
Speech tracking: Adapts microphones toward speech no matter which direction voices come from.
Automatic adaption: SAMBA 2's microphones seamlessly adapt to every environment, whether quiet or noisy.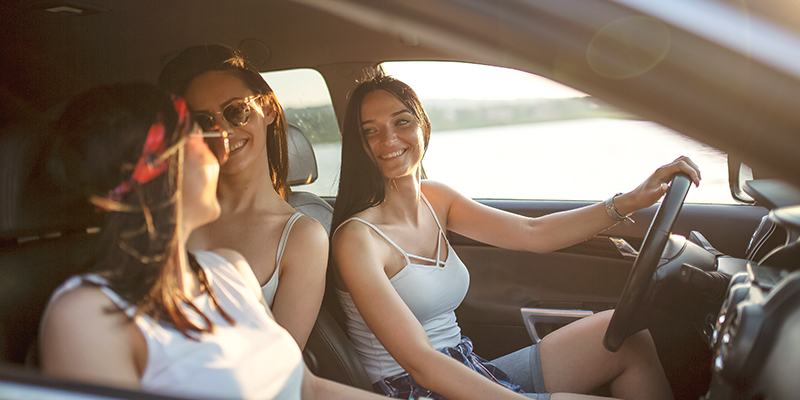 "When you're driving, SAMBA 2 can detect the car environment and activate the speech tracking feature. This allows the microphones to select the best possible mode for picking up your passengers' voices—even when they happen to be sitting behind you!" – Amanda T. O'Donnell, Audiologist and Product Manager at MED-EL
Hassle-Free Handling
SAMBA 2 was built with feedback from both hearing implant recipients and hearing professionals in mind. "We know some people find things like changing batteries fiddly, that's why we introduced a new battery door design," explains Alexander.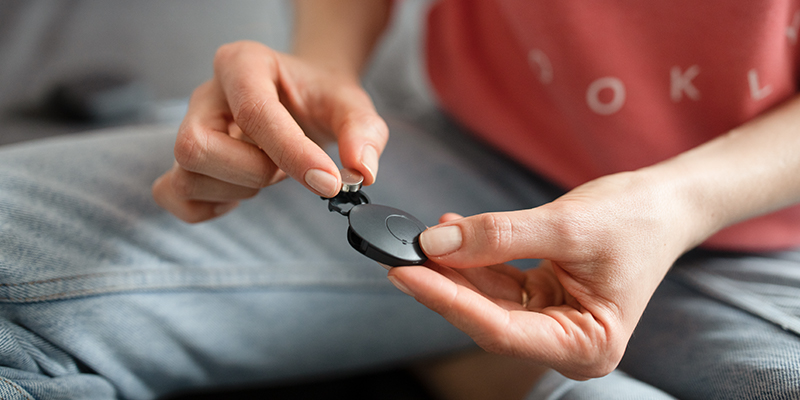 The intuitive new design makes changing batteries, design covers, and attachment clips straightforward and convenient. And the optional SAMBA 2 Remote app means there is no need to carry around an extra remote: Users can manage simple predefined settings like volume and programs directly from their smartphone. They can even check their battery status on the go.
SAMBA 2 Features at a Glance:
Intuitive and comfortable design
8-10 days of battery life
Lightweight and low profile
Water-resistant (IP54) or fully waterproof with WaterWear
Interchangeable Design Covers
New SAMBA 2 Remote app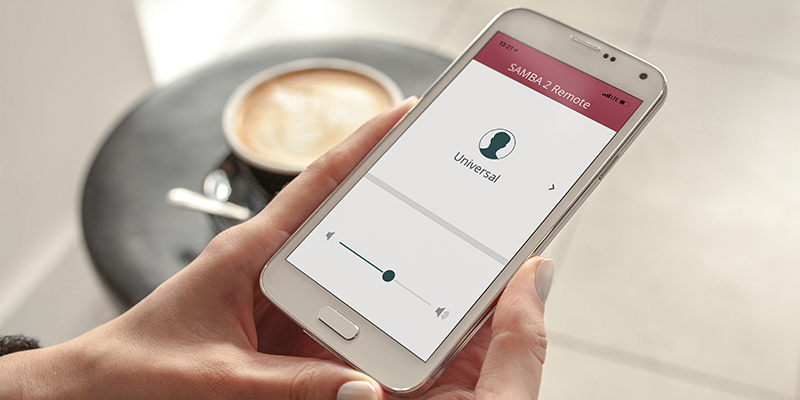 "SAMBA 2 allows me to move through my daily routine. I can always hear comfortably, wherever I go. And given the 8 to 10 days of battery life, I can leave the house without worrying about batteries." – Kevin Vukovich, bilateral BONEBRIDGE recipient and Senior Surgical Education Manager at MED-EL
Easy Streaming with SAMBA 2 GO
It's not just the handling that's easier: The new SAMBA 2 GO connectivity device lets recipients stream sound to SAMBA 2 with just the press of a button. You can use it to:
Stream sound from tablets, phones, and TVs as well as other Bluetooth® devices
Make hands-free phone calls
Connect to FM systems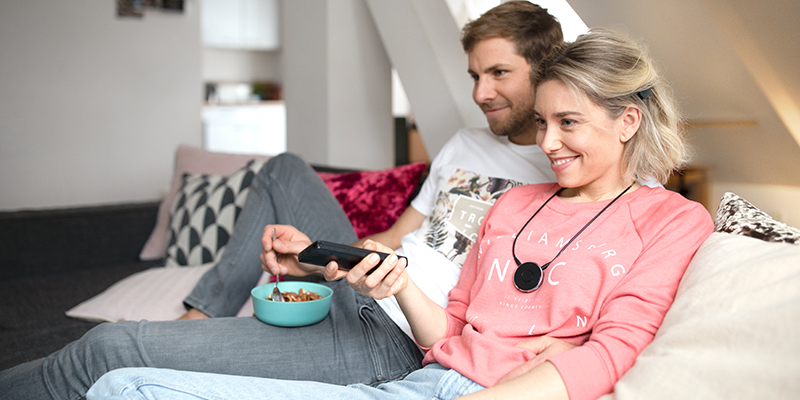 "Pairing SAMBA 2 GO to other devices is very straightforward. I just connect it via Bluetooth, and I can make a call without having to hold my cell phone." – Kevin Vukovich, bilateral BONEBRIDGE recipient
SYMFIT 8.0: Fast, Convenient Fittings
With the new SYMFIT 8.0 software, fitting SAMBA 2 is easy and efficient. From the guided workflow and straightforward navigation to precise Vibrograms and fitting tools, it helps you get the most out of SAMBA 2 so that your patients can enjoy great sound wherever they go.
SYMFIT 8.0 at a Glance
Intuitive workflow and navigation
Precise fittings with Vibrogram
Fitting Assistant
Loudness scaling
Extended datalogging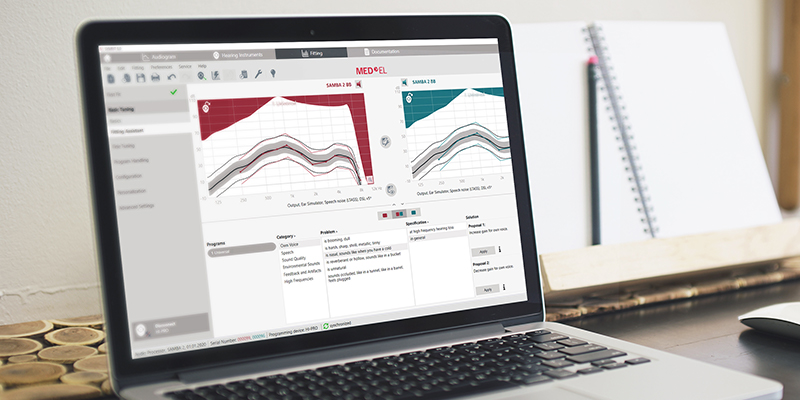 "SYMFIT 8.0 has a really intuitive interface and workflow that audiologists will enjoy for first fits and follow-up." – Amanda T. O'Donnell, Audiologist and Product Manager at MED-EL
Want to learn more about SYMFIT 8.0? Download the SYMFIT 8.0 factsheet now or get in touch with your local MED-EL representative.
SAMBA 2. Hearing Made Simple.
There you have it. An audio processor designed to make hearing as simple as possible for your patients, and software that helps you fit them fast.
SAMBA 2 is approved in countries that accept the CE-mark and will be available in late summer! Contact your local MED-EL representative now and download the factsheet to find out more.
Make sure to subscribe to the MED-EL Professionals Blog to get MED-EL updates sent straight to your inbox as soon as they are published.
Not all products, features, and indications shown are available in all areas. Please contact your local MED-EL representative for more information.