Is BONEBRIDGE a Good Hearing Solution for Children?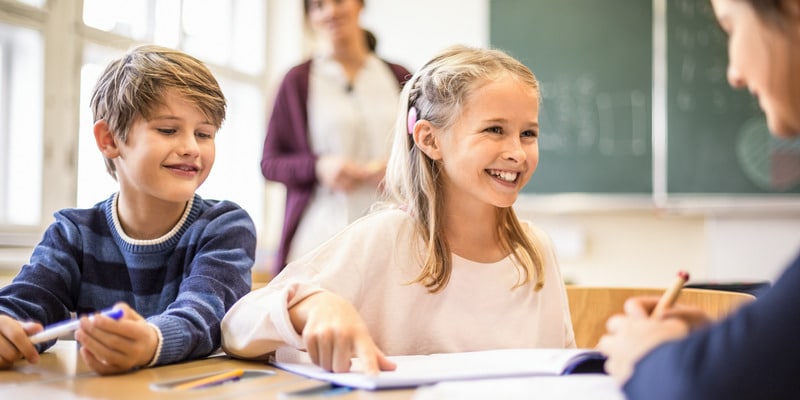 Successfully implanted thousands of times for more than a decade and backed by extensive scientific data, BONEBRIDGE has long been established as the world's most advanced active bone conduction (BC) implant system. No other active BC implant can match BONEBRIDGE in terms of market experience and reliability data. While there are absolutely no doubts about the general performance and safety of this implant, a very specific patient group has recently become the focus of clinical and scientific attention: Children. This has to do with the fact that, although BONEBRIDGE's official CE approval is for ages five and over, very young children are increasingly receiving BONEBRIDGE implants. The studies concerned show excellent results in children under five years of age. And in some studies it has even been suggested that the official age limit for BONEBRIDGE should be reconsidered since BB can also be successfully implanted in children under 5 years.1,2,3 This leads us to the central question we would like to explore in this article: What makes BONEBRIDGE a suitable hearing solution for children?
In general, the advantages BONEBRIDGE offers adult users also apply to very young users and sometimes even more so, especially since the BCI 602 implant meets the special requirements of pediatric implantation (smaller, thinner bones, rapid bone growth, etc.). In addition, the external part of the BONEBRIDGE system, the SAMBA 2 audio processor, has very special features for children, which we will also address in this article.
Superior Hearing Performance
As with other hearing implants, early BONEBRIDGE implantation generally supports achieving the best possible hearing results since this is during the brain's developmental stage. BONEBRIDGE serves as a solution for children with conductive hearing loss, single-sided deafness, or mixed hearing loss. It immediately provides a natural sense of sound the instant it is activated. From the moment of BONEBRIDGE activation, children experience a significant, as well as long-term and stable, increase in hearing performance and speech comprehension.4 Several studies demonstrate the effectiveness and significant audiological benefits of BONEBRIDGE in children.1,5,6,7,8,9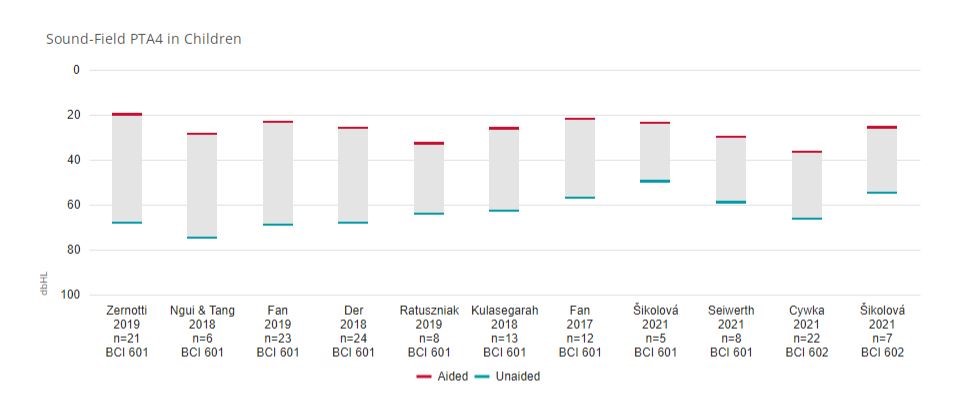 Free-field thresholds in children before and after BONEBRIDGE implantation.10

Word Recognition Score (WRS) in children before and after BONEBRIDGE implantation.10
Long-Term Reliability With the Lowest Complication Rate
BONEBRIDGE's long-term reliability figures are impressive. Knowing that you have chosen an exceptionally stable implant that will function perfectly in the long term is an important factor, especially in the case of patients in their childhood. After all, we want to avoid complications and possibly lengthy follow-up treatments and follow-up therapies, especially in the youngest patients.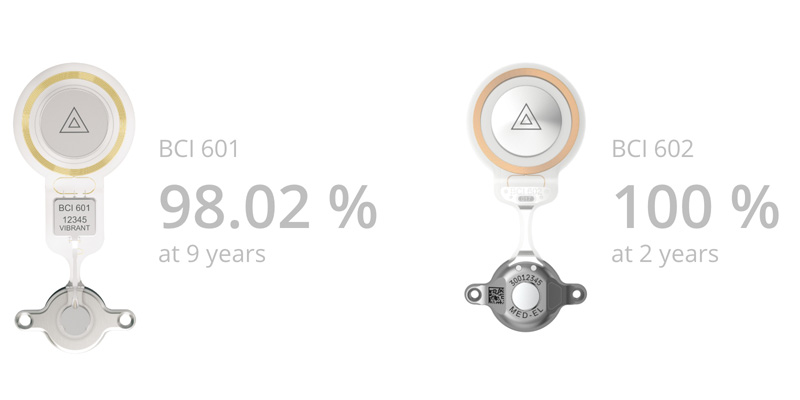 All technical failures are included, including failures that can be traced back to external forces.
The complication and reliability rates are significantly better with BONEBRIDGE than with bone conduction implant systems from other manufacturers.14This is not due to luck or chance, but to a number of unique safety features brought about by BONEBRIDGE's innovative design.
The most obvious factor contributing to BONEBRIDGE's low complication rate is its active, transcutaneous technology. The implant is placed fully under intact, healthy skin. Compared with percutaneous BC systems, which are associated with a higher risk of complications,11,12 BONEBRIDGE has the advantage that it does not cause a permanent wound, thus making daily wound care obsolete. Especially in children, caring for such wounds to avoid painful infections involves considerable effort, demanding continuous attention and care. And when compared to transcutaneous passive BC systems, BONEBRIDGE sets itself apart with its pressure-free signal transmission that also contributes to healthy skin and all-day wearing comfort.
Flat, Embedded Transducer and Stable Two-Point Fixation
Another feature that plays into the favor of treating children with BONEBRIDGE is the low height of the ergonomically shaped transducer and its placement in the bony bed. Both address the specific anatomical challenges of pediatric patients, such as cranial curvature, bone growth, and thin skin. Virtual data collected via CT images showed that the BCI 602 could be fully embedded in the mastoid in 100% of the children over 12 years included and in 75% of children between 3 and 5 years (with 80% using the 1-mm BCI 602 lifts).3
The low-profile transducer, in combination with the exceptionally bendable transition of the BONEBRIDGE implant (which can bend up to 90 degrees in either lateral direction and medially up to 30 degrees to accommodate the curvature of the skull), facilitates surgical planning in children by providing the greatest possible flexibility in positioning of both the transducer and the coil section. Drilling of the bone bed in which the transducer is placed is performed with optimal visibility. The operation is quick to perform, standardized, and safe.1,2,6,13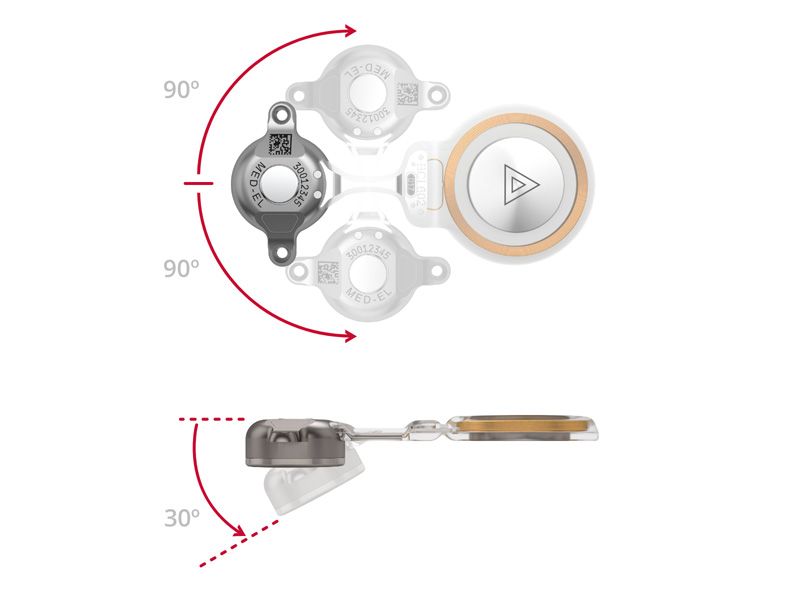 The flexibility of the implant facilitates surgical placement.
Once the implant is securely embedded under the skin , it has a much smaller implant footprint than comparable systems. The only active and transcutaneous BC competitor on the market protrudes at least 4.9 mm, resulting in a bulge in the skin that is clearly visible from the outside. This is not the case with BONEBRIDGE.
Apart from cosmetic and skin-related aspects, the partial recession of the implant in the bone provides high stability and resistance, which is particularly important in children who tend to move around a lot and can be quite lively as they explore their surroundings.
Implant fixation is both simple and secure thanks to the two self-drilling screws that are supplied with the implant.

Secure two-point fixation with self-drilling screws.
Compatible With Other Kinds of Therapy and Technology
When choosing a hearing implant system for children, it is important to keep in mind that the implant should not stand in the way of future treatments, but should allow them to take place without any restrictions. Depending on the patient's history, the cause of the hearing loss, and any associated deformities or diseases, a variety of additional tests and procedures may be required after implantation. And even in an ideal case with the absence of further circumstances requiring medical treatment, an accident, for example, can lead to an unexpected MRI examination. This raises the importance of access to MRI scans with the chosen hearing implant.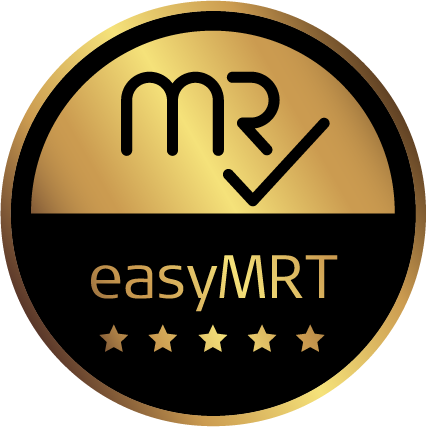 BONEBRIDGE allows access to MRIs at any time.15 The implant does not need to be removed for the MRI scan16, saving children from additional surgeries on the one hand and troublesome hearing interruptions on the other.
In addition, BONEBRIDGE leaves the children's ear canal completely untouched and, depending on the position of the incision, with many options for cosmetic procedures, such as reconstruction of the pinna in the case of external ear atresia.13
Once BONEBRIDGE has been implanted, this certainly does not mean that the end of the technological road has been reached for these children. The implant is designed to be compatible with future audio processor technologies including those not yet in development. Children with the same implant will, therefore, continue to benefit from the latest BONEBRIDGE processors on the market for many years to come in the future.
SAMBA 2: Child-Friendly Design
The compact, slim design and low weight (9.3 g including magnet and battery) make the BONEBRIDGE system's SAMBA 2 audio processor the ideal choice for children. It can be worn very discreetly, but can also be creatively decorated with one of countless Design Covers if desired. All in all, the Design Covers, which can be changed in just a few simple steps, are available in 8 subtle basic colors and 15 artistic designs.

From monsters to pirates, there are Design Covers for both the young, and the young at heart.
Long Wearing Time & Battery Life
The audio processor is held securely on the head by magnetic attraction. It sits securely in place without exerting uncomfortable pressure on the skin. SAMBA 2 is comfortable to wear, and this is reflected in its long wearing time.1
This long wearing time is supported by its exceptionally efficient power consumption. The SAMBA 2 lasts up to 10 days on a single battery, which is significantly longer than comparable BC processors from its competitors.
Effortless Handling & Practical App for Parents
With its intuitive and simple handling, SAMBA 2 is ideal for children. No need to manually change programs: The SAMBA 2 automatically detects the environment and quickly and seamlessly adapts to the most suitable program. At the same time, parents and other caregivers can conveniently access settings and processor information, such as battery level, via a smartphone app.
Features for Children: From School to the Swimming Pool
The universal assistive listening device SAMBA 2 GO ensures optimal sound and voice quality even over longer distances and in noisy environments. It can be connected to smartphones and tablets, for example, and also to FM systems in the classroom.
When frolicking, playing, and splashing around, practical accessories such as the various attachment clips and WaterWear protective coversprovide complete water protection. This means there are no limits to fun and no need to sacrifice safety or hearing quality.
Committed to Future Innovation
The BONEBRIDGE implant will also be compatible with all future BONEBRIDGE audio processors . This makes it possible for children to keep the implant and still benefit from the latest processor technology.
SAMBA 2 Kids Kits
MED-EL offers SAMBA 2 kits specifically designed to meet the needs of children. These kits contain a selection of practical accessories for children, including various Design Covers, a protective cover, attachment clips for additional fixation of the audio processor, WaterWear covers for swimming with SAMBA 2, and a nightstand to hold SAMBA 2 while the child is sleeping.
For a precise and fast first fitting of SAMBA 2 with children, there is the intuitive SYMFIT 8.0 software. Convenient features such as a precise Vibrogram display where you can activate tones and directly measure and enter Vibrogram thresholds in the same window, a fitting assistant, loudness scaling, or advanced data logging support straightforward individual fitting.

The SAMBA 2 Kids Kits contain everything children need.
Bottom Line: The Ideal Hearing Solution for Children
The BONEBRIDGE can provide an ideal solution for children with conductive hearing loss, single-sided deafness, or mixed hearing loss. Not only is it the most advanced active transcutaneous bone conduction implant but it's also been on the market the longest. BONEBRIDGE's thousands of implantations and impressive long-term reliability figures speak for themselves. The flat transducer is securely embedded in the bone with two self-drilling screws for easier implant fixation. The active technology provides excellent hearing outcomes across a wide range of candidacies, the placement of the implant under the skin minimizes the risk of complications, and transcutaneous, pressure-free signal transmission delivers maximum wearing comfort. Last but not least, BONEBRIDGE enables easy access to MRI examinations and has an extremely child-friendly audio processor, SAMBA 2.
Resources on BONEBRIDGE as a Hearing Solution for Children
Podcast Series "BONEBRIDGE for Children"
White Papers (meta-analyses on BONEBRIDGE performance and safety):
Additional Resources for Professionals:
MRI information:
References
Sprinzl et al.: A Surgical Experience and Early Audiological Outcomes with the new Active transcutaneous Bone Conduction Implant, Otol Neurotol, 2021 Sep 1, 42 (8): 1208-1215.
Plontke et al.: Implantation of a new active bone conduction hearing device with optimized geometry. HNO 2020, 68 (Suppl 2):106-115.
Wenzel et al.: Changes in Bone Conduction Implant Geometry Improve the Bone Fit in Mastoids of Children and Young Adults. Otol Neurotol. 2020 Jul 27.
The BONEBRIDGE Post-Market Clinical Follow-up Study, 2019.
Seiwert et al.: Clinical and functional results after implantation of the bonebridge, a semi-implantable, active transcutaneous bone conduction device, in children and adults. European Archives of Oto-Rhino-Laryngology, 2022, 279:101-113.
Cywka et al.: The Bonebridge BCI 602 Active Transcutaneous Bone Conduction Implant in Children: Objective and Subjective Benefits. Journals of Clinical Medicine 2021, 10, 5916.
Magele et al.: Active Transcutaneous Bone Conduction Hearing Implants: Systematic Review and Meta-Analysis. PLoS One, 2019 Sep 16, 14 (9).
Šikolová et al.: Two Bonebridge bone conduction hearing implant generations: audiological benefit and quality of hearing in children. European Archives of Oto-Rhino-Laryngology, 2021 Sep 8.
Sprinzl et al.: Long-Term, Multicenter Results With the First Transcutaneous Bone Conduction Implant. Otol Neurotol, 2021 Jul 1, 42 (6): https://pubmed.ncbi.nlm.nih.gov/33989254/
Studies included in the analysis (in alphabetical order): Baumgartner et al.: A New Transcutaneous Bone Conduction Hearing Implant: Short-Term Safety and Efficacy in Children. Otology & Neurotology : official publication of the American Otological Society, American Neurotology Society [and] European Academy of Otology and Neurotology. 2016, 37(6):713-720. Bravo-Torres et al.: Active transcutaneous bone conduction implant: Audiological results in paediatric patients with bilateral microtia associated with external auditory canal atresia. Int J Audiol. 2018, 57(1):53-60. Cywka et al.: The Bonebridge BCI 602 Active Transcutaneous Bone Conduction Implant in Children: Objective and Subjective Benefits. Journals of Clinical Medicine 2021, 10, 5916. Der et al.: Active Transcutaneous Bone Conduction Implant: Middle Fossa Placement Technique in Children With Bilateral Microtia and External Auditory Canal Atresia. Otology & Neurotology. Official publication of the American Otological Society, American Neurotology Society [and] European Academy of Otology and Neurotology. 2018, 39(5):e342-e348. Fan et al.: Aesthetic and hearing rehabilitation in patients with bilateral microtia-atresia. Int J Pediatr Otorhinolaryngol. 2017, 101:150-157. Fan et al.: Long-term outcomes of bone conduction hearing implants in patients with bilateral microtia-atresia. Otol Neurotol. 2019, 40(8):998-1005. Kulasegarah et al.: Comparing audiological outcomes between the bonebridge and bone conduction hearing aid on a hard test band: Our experience in children with atresia and microtia. Int J Pediatr Otorhinolaryngol. 2018, 107:176-182. Ngui & Tang: Bonebridge transcutaneous bone conduction implant in children with congenital aural atresia: surgical and audiological outcomes. The Journal of laryngology and otology. 2018, 132(8):693-697. Ratuszniak et al.: The Bonebridge implant in older children and adolescents with mixed or conductive hearing loss: Audiological outcomes. International journal of pediatric otorhinolaryngology. 2019, 118:97-102. Seiwert et al.: Clinical and functional results after implantation of the bonebridge, a semi-implantable, active transcutaneous bone conduction device, in children and adults. European Archives of Oto-Rhino-Laryngology, 2022, 279:101-113. Šikolová et al.: Two Bonebridge bone conduction hearing implant generations: audiological benefit and quality of hearing in children. European Archives of Oto-Rhino-Laryngology, 2021 Sep 8. Zernotti et al.: Audiological outcomes in patients with congenital aural atresia implanted with transcutaneous active bone conduction hearing implant. Int J Pediatr Otorhinolaryngol, 2019, 119:54-58.
Fussey et al.: Clinical outcomes following Cochlear BIA300 bone anchored hearing aid implantation in children. Int JPediatrOtorhinolaryngol, 2018, 111:89-92.
Hobson et al.: Complications of bone-anchored hearing aid implantation. J Laryngol Otol 2010, 124 (2):132-136.
Yang et al: Audiological and Subjective Outcomes of 100 Implanted Transcutaneous Bone Conduction Devices and Preoperative Bone Conduction Hearing Aids in Patients With Bilateral Microtia-Atresia, Acta Otolaryngol 2020 Aug, 140 (8), 675-681.
Safety Outcomes of Bone Conduction and Middle Ear Implants: A Systematic Review, rev. 5.0 (2000).
The BONEBRIDGE bone conduction implant is MR conditional. Recipients with BONEBRIDGE may be safely MRI scanned at 1.5 Tesla following the conditions detailed in the instructions for use.
** Unless required for diagnostic reasons.
The content on this website is for general informational purposes only and should not be taken as medical advice. Please contact your doctor or hearing specialist to learn what type of hearing solution is suitable for your specific needs. Not all products, features, or indications shown are approved in all countries.