Active, Transcutaneous, and a Decade of Proven Experience: Happy Anniversary, BONEBRIDGE!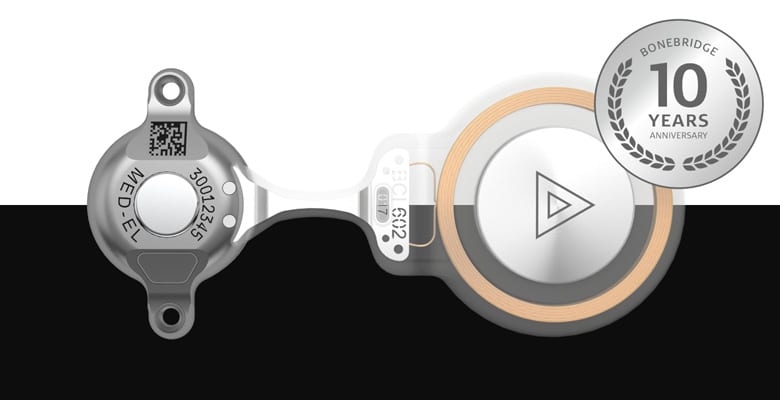 BONEBRIDGE has reached an important milestone! 10 years ago, in June 2011, marked the first implantation of the one-of-a-kind BONEBRIDGE bone conduction implant by Dr. Georg Sprinzl in Innsbruck, Austria.
Like Dr. Astrid Magele, Sprinzl belongs to the group of surgeons who have been part of the global BONEBRIDGE success story from the very beginning and continue to remain a part of it today. Both surgeons now perform hearing implant operations in St. Pölten, Austria, where Georg Sprinzl is the head of the ENT clinic.
An Exciting Beginning
Even after more than a decade, both surgeons can remember the first BONEBRIDGE implantations at the University Clinic in Innsbruck very well. Not only was the product completely new at the time, but the first patient also had a long history of problems.
"She'd had many operations beforehand, and it was an exciting overall situation," Sprinzl and Magele reported. "We didn't know where the journey would take us."
Everyone involved was even happier after the operation had been carried out without complications and the success of the implantation was also confirmed during the initial fitting by audiologist Viktor Koci in July 2011.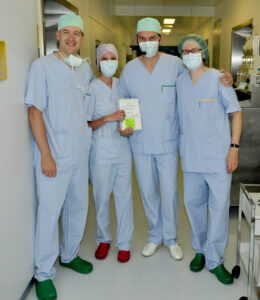 The world's first BONEBRIDGE implantation in Innsbruck (June 2011): Dr. Johannes Schnabl, PD Dr. Astrid Magele, Prof. Dr. Georg Sprinzl, Audiologist Viktor Koci (f.l.t.r.)
The Starting Point: Bone Conduction in 2011
The revolutionary standards that the BONEBRIDGE bone conduction implant set at its market launch are revealed by taking a brief look at the bone conduction systems used by other manufacturers at the time. For people with severe conductive hearing loss, there were basically only two options for regaining hearing via bone conduction at that time:
Percutaneous implant systems: implantable solutions that use percutaneous technology—transferring the mechanical vibrations generated in the external audio processor to the implant via a screw that penetrates the skin.
Passive systems without implants: Implant-free solutions in the form of headbands or bone conduction glasses. These don't require surgery, but have a number of disadvantages compared to implants. Their efficiency is limited, which is why they are only used for less severe hearing loss. In addition, these systems can slip, don't offer a clearly defined audio processor position, work with uncomfortably strong, sometimes painful pressure and are visually more conspicuous than the implanted systems.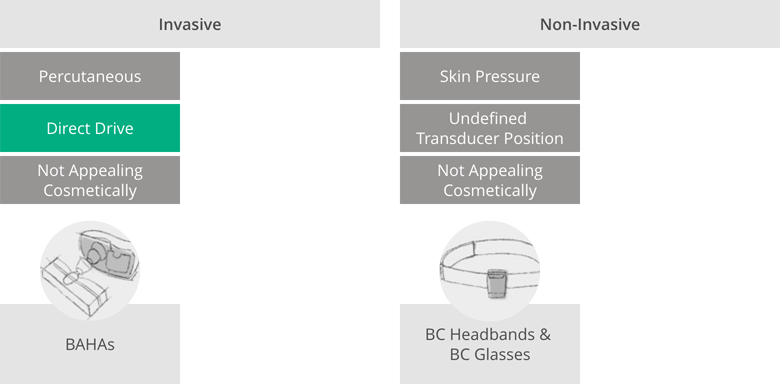 Bone Conduction in 2011: Options Before BONEBRIDGE
Anyone who received a bone conduction system before the introduction of BONEBRIDGE had to choose between a percutaneous implant with a permanent wound or a headband or bone conduction glasses solution that pressed heavily on the skin. With BONEBRIDGE, it was possible to combine all of these advantages for the first time: It uniquely combines active direct-drive stimulation of the bone with skin protection (transcutaneous signal transmission without unpleasant pressure).
That's not to mention the slim, inconspicuous audio processor, "which you can hardly see because you can hide it under your hair," Sprinzl noted. While the Amadé audio processor launched in 2011 was unique with its discreet design, the later generations of SAMBA (2015) and SAMBA 2 (2020) were designed to be even slimmer and more compact.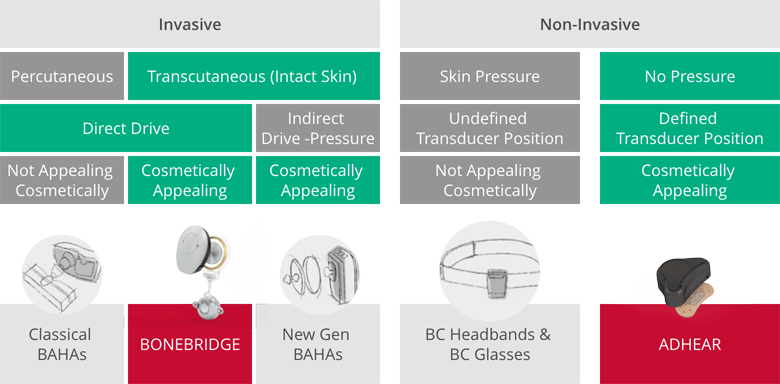 Bone Conduction Today: The Options in 2021
Successfully Implanted a Thousand Times
The new active, transcutaneous technology quickly caused a stir internationally: The implantation in Innsbruck was followed by further studies in Berlin, Hanover, Hildesheim, Würzburg, Vienna, St. Pölten, and Graz. A number of young and well-known surgeons were to follow suit.
Today, Sprinzl can look back on about 100 BONEBRIDGE implantations—including those in Austria and other countries around the world. "The most distant destinations were Colombia and Central Asia," Sprinzl added. Overall, BONEBRIDGE has been implanted thousands of times in over 50 countries during the past ten years.
Important Milestones
BONEBRIDGE has an impressive history of development not only in terms of worldwide distribution, but also in terms of the implant's technical design and surgical handling
What are BONEBRIDGE's surgical milestones? "The approval of the implant for children was a very important step," Astrid Magele noted. She's still in contact with the first child she implanted with a BONEBRIDGE. "He's still comes in to visit me and has grown up so fast."
Magele sees the introduction of BCI 602, the second generation BONEBRIDGE implant in 2019, as the most striking improvement in recent years. When compared to its predecessor, BCI 601, BCI 602 exceeded expectations with its significantly reduced drilling depth, quick fixation using self-drilling screws, and an optimized flexible transition between the transducer and coil.
The improvements in surgical handling were clearly reflected in the shorter operating times, as both Magele and Sprinzl reported.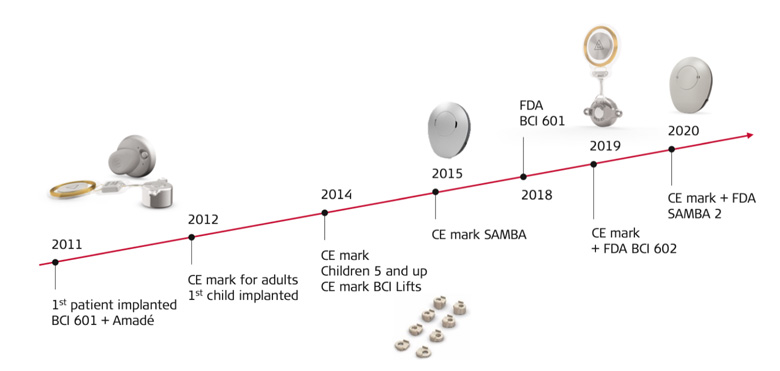 10 Years of Important Milestones for BONEBRIDGE
A Wide Range of Patients
In addition to younger patients, patients with SSD became an increasingly important group among those who received a BONEBRIDGE. BONEBRIDGE is still primarily used for conductive or mixed hearing loss, but there are also a number of "SSD patients who have been deaf for many years and for whom a cochlear implant is out of the question," Sprinzl explained. "These patients are also very satisfied with the audiological outcome."
The experienced surgeon explained that the minimized size of the the BCI 602's transducer makes it much easier to find sufficient space in small mastoids and, in particular, makes it easier to treat large-scale radical cavities. In general, before the introduction of BONEBRIDGE, there was no good audiological solution for patients with chronically ill and often previously operated ears, Magele added. Their conclusion in a nutshell: "BONEBRIDGE is really fun to implant."
Impressive Reliability Numbers
In addition to great hearing results and optimized surgical handling, BONEBRIDGE's reliability is extremely impressive.[1] In contrast to other bone conduction implants, BONEBRIDGE (across both implant generations) is characterized by outstanding long-term safety.
There have been no product recalls, the complication rate is the lowest of all bone conduction implants and the CSR data (cumulative product survival rate including technical failures due to external forces) of the BCI 601 and the BCI 602 speak for themselves.[2]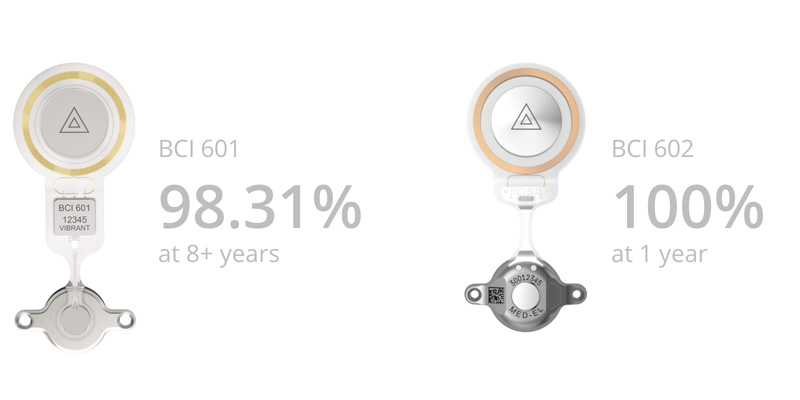 Cumulative survival rates of BCI 601 and BCI 602 since their market launch (all technical failures are included, including those failures that are due to an external force). Last Updated: January 2021.
Find out what makes BONEBRIDGE so reliable.
MRI Suitability Proven Over Many Years at 1.5 T
The extraordinarily high reliability is also reflected in the MRI suitability of the BONEBRIDGE implants: Both BCI 601 and BCI 602 allow for MRI scans at a strength of 1.5 T [3] without additional surgery,[4] without discomfort, and without annoying interruptions in hearing. The audio processor is simply removed immediately before the MRI scan and can be used for listening again immediately afterwards.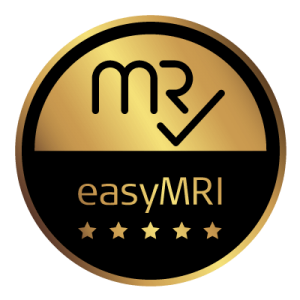 The Most Experience on the Market
As the world's most advanced active and transcutaneous bone conduction implant—and as the one with by far the longest market experience—BONEBRIDGE sets standards in reliability, surgical flexibility, hearing performance, and user satisfaction. The advantages of the system are clear:
Active & transcutaneous
Exceptionally high reliability rate
Longest market experience with transcutaneous bone conduction implants
No cases of BCI 602 implant technical failure reported
High user satisfaction and improved quality of life [6]
MRI scans at 1.5 T [3]
For More on BONEBRIDGE
Webinar: Discover what makes BONEBRIDGE unique and learn about the history of the device. Head over the MED-EL Academy to view our free webinar, BONEBRIDGE – 10 Years of Experience.
Professional Resources: Find everything you want to know about the performance, user comfort, and reliability of the BONEBRIDGE system as well as interesting downloads on our BONEBRIDGE page for professionals.
Podcasts: Listen to the new BONEBRIDGE podcast:
Find more BONEBRIDGE podcasts here.
Interview: Check out the AudiologyOnline interview with audiologist Amanda O'Donnell and product manager Christine Mühlöcker on BONEBRIDGE'S 10 years anniversary.
References
1 A large-scale meta-analysis that included twenty scientific publications shows an averaged supplied WRS of 90.3% (speech audiometry: speech in quiet). Sources. BONEBRIDGE – Systematic Review and Meta-Analysis of Published Evidence, 2019. The BONEBRIDGE Post-Market Clinical Follow-Up Study (2019).
2 Safety Outcomes of Bone Conduction and Middle Ear Implants: A Systematic Review, rev. 5.0 (2000).
3 The BONEBRIDGE bone conduction implant is MR conditional. Recipients with BONEBRIDGE may be safely MRI scanned at 1.5 Tesla following the conditions detailed in the instructions for use.
4 Unless required for diagnostic reasons.
5 Magele et al.: Active Transcutaneous Bone Conduction Hearing Implants: Systematic Review and Meta-Analysis. PLoS One, 2019 Sep 16, 14 (9), e0221484: https://journals.plos.org/plosone/article?id=10.1371/journal.pone.0221484
6 Sprinzl et al.: A Surgical Experince and Early Audiological Outcomes with the New Active Transcutaneous Bone Conduction Implant, Otol Neurotol, in press.
7 Yang et al: Audiological and Subjective Outcomes of 100 Implanted Transcutaneous Bone Conduction Devices and Preoperative Bone Conduction Hearing Aids in Patients With Bilateral Microtia-Atresia, Acta Otolaryngol 2020 Aug, 140 (8), 675-681.
8 The BONEBRIDGE Post-Market Clinical Follow-up Study (2019).
9 Sprinzl et al.: Long-Term, Multicenter Results With the First Transcutaneous Bone Conduction Implant. Otol Neurotol, 2021 Jul 1, 42 (6): https://pubmed.ncbi.nlm.nih.gov/33989254/
The content on this website is for general informational purposes only and should not be taken as medical advice. Please contact your doctor or hearing specialist to learn what type of hearing solution is suitable for your specific needs. Not all products, features, or indications shown are approved in all countries.