MED-EL: Your Reliable Partner Through the COVID-19 Crisis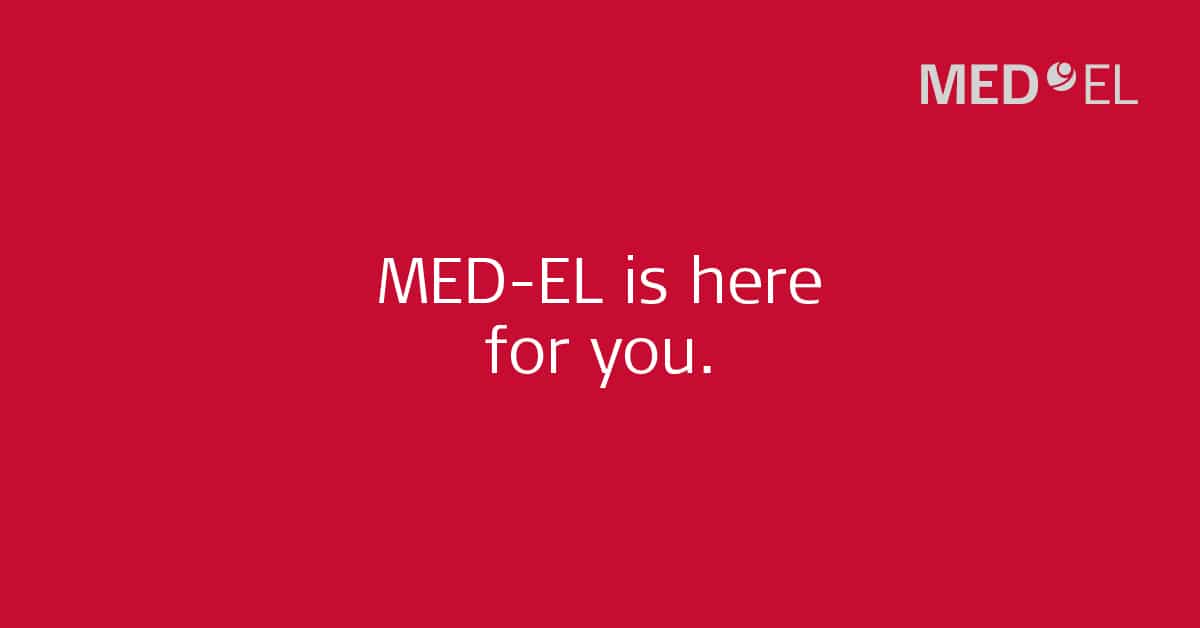 MED-EL is committed to providing the highest level of safety and security to our recipients, professional partners and employees. Accordingly, MED-EL rapidly established a COVID-19 response team in January 2020 and already began taking action at the beginning of February—long before many other multinational companies within the industry and over a month before the World Health Organization declared the outbreak a global pandemic on March 11, 2020.
Over the past year, our COVID-19 team's mission has been to ensure we can provide you with secure and uninterrupted access to MED-EL products and services despite any disruptions that may occur as a result of the COVID-19 pandemic. The team not only continuously monitors guidance from the World Health Organization, government authorities and relevant public health bodies, it also meets daily to implement recommendations across the company within one working day.
The following security measures have been taken to ensure the safety of our users, production processes, professional partners and employees in response to the COVID-19 pandemic:
Keeping Our Users Safe
MED-EL strictly observes the legal restrictions and health guidelines issued by each country's government as well as those issued by each clinic while continuing to provide support to our users.

MED-EL's sterilization process efficiently prevents any potential contamination due to SARS-CoV-2. For sterile single-use templates (which are shipped with every MED-EL cochlear implant) MED-EL employs gamma irradiation. Gamma irradiation breaks chemical bonds, including those of molecules constituting microorganisms, including viruses. This method is also highly effective against potential SARS-CoV-2 contamination. Here we have more details on the

Specific Considerations on the Safety of MED-EL Products in Light of the Coronavirus Pandemic

.

We have invested in additional measures for our teams responsible for sterilization and packaging and have established enhanced cleaning protocols in these areas.

Our business continuity emergency plan is up to date and can be implemented immediately if needed. This sets out the steps we will take to ensure uninterrupted clinical service delivery, product supply, business operations and support, and IT assistance.
Keeping Our Professional Partners Safe
Each country's legal restrictions and health guidelines are strictly adhered to, along with those issued by each clinic to ensure continued support to our professional partners.

We have successfully continued to supply products within our usual time frames.

Professionals who are traveling as a guest of MED-EL and within legal restrictions are covered by our travel insurance which provides 24-hour medical assistance.
Keeping Our Supply Chain and Production Safe
MED-EL has been able to keep supply chains intact and its objective is to continue maintaining a minimum rolling stock of 3-months at MED-EL headquarters for cochlear implants, BONEBRIDGE, VIBRANT SOUNDBRIDGE, and ADHEAR. This is to ensure we can fulfill your order requests in the usual timely manner.
Keeping Our Employees Safe
Strict rules are in place to minimize in-person interaction and maximize the distance between individuals at all times.

Workflows and access routes to certain facilities at MED-EL headquarters have been adapted to reduce interaction. Frequently used doors have been upgraded to enable opening them without contact. We have substantially increased the frequency with which facilities are cleaned and disinfected. In addition, the number of sanitation stations where employees can disinfect their hands has been increased.

Employees have access to regular testing for SARS-CoV-2 at MED-EL headquarters to protect themselves and other employees. Employees are encouraged to take advantage of testing following any private trips, hosting any visitors, or in any situation in which they feel uncertain.

If there is any reason to question the health of an employee, they remain off company grounds.

A new policy has been introduced at MED-EL headquarters and facilities to minimize visitors. This policy is stricter than the current government guidelines.

All of our employees are regularly updated with the latest advice related to their health as well as precautionary measures to help protect the well-being of others in the workplace. In addition, our employees are provided with advanced notice of high-risk regions (often before authorities issue advisories and warnings) when traveling.
MED-EL: A Global Leader in Challenging Times
As a result of the swift and sweeping collective measures mentioned above, we are confident that we will continue to be able to provide safe and uninterrupted access to MED-EL's high-quality products and services.
MED-EL's COVID-19 team maintains regular contact with authorities and leading experts, including those at other multinational companies, to ensure that MED-EL continues to be among the first to implement best practices to mitigate any possible future risks as circumstances change.
For more than 30 years, MED-EL has been a trusted partner connecting families with our life-changing hearing technology. We're here to work together with you, and we're dedicated to providing outstanding service and support to our professional partners and ensure our users are always well cared for. No matter the challenge at hand, you can rest assured that MED-EL will continue helping individuals worldwide overcome hearing loss as a barrier to communication and quality of life.
Subscribe for the Latest Updates
Subscribe to stay up to date and receive the latest news from MED-EL directly in your inbox.