BONEBRIDGE in Children with Congenital Microtia-Atresia: Professor Zhao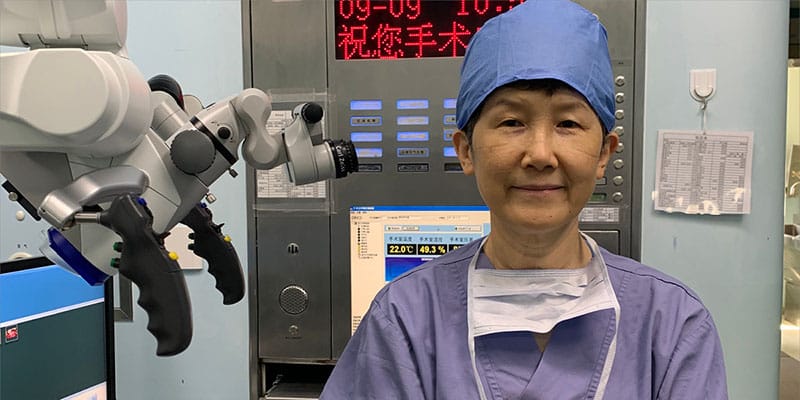 People with Congenital Microtia-Atresia (CMA) have malformations of the pinna and the external auditory canal. Often the middle ear anatomy is also affected and shows abnormalities. The vast majority of children born with CMA have moderate to severe conductive hearing loss from the very beginning of their lives. We all know that this has an enormous effect on speech and language development as well as on academic performance later in the children's lives. There is hope though—a great combined solution for these kids so that they can hear and learn from an early age.
Congenital Microtia-Atresia is a typical indication for a bone conduction implant, such as BONEBRIDGE. This active implant is an ideal solution, especially for kids, as it is very reliable and keeps the skin intact and healthy. BONEBRIDGE can be implanted in children aged 5 years and older—so how can we best support younger children before they receive implants and make sure that they can hear and develop speech?
At Tongren Hospital in Beijing, Professor Shouquin Zhao applies a concept that combines a bone conduction hearing aid for early assistance and BONEBRIDGE as soon as children are ready for implants. Bone conduction hearing aids like ADHEAR can be simply stuck onto the skin without any pressure, resulting in long wearing times and a high acceptance rate. It is commonly used for children as young as 3 months. The "gentle" hearing assistance is later continued with BONEBRIDGE, which leaves skin intact and healthy by transmitting sound signals through the skin to an active implant.
Professor Zhao and her team recently published a paper on audiological and subjective outcomes of 100 patients with bilateral Congenital Microtia-Atresia who were supported with this combined solution.1 The study shows that the audiological outcomes are significantly better with BONEBRIDGE than with the bone conduction hearing aid and all 100 patients report subjective satisfaction. No complications were found in the follow-up of the study—another great factor that suggests that BONEBRIDGE is an ideal hearing solution, especially for kids.
The low complication rate can be associated with the fact that BONEBRIDGE is an active transcutaneous system: The sound signals are transmitted through the intact skin to the implant, which generates the vibrations. This principle has the advantage that the signal is not dampened by the skin and other tissue, and that the skin can stay healthy. A recently published study even found that—although the implant might be more expensive—the long-term costs of BONEBRIDGE to healthcare providers are comparable to passive bone-anchored hearing devices (BAHA etc.) "whilst offering lower complication rates, comparable audiological benefit and patient satisfaction".2 The study concludes that BONEBRIDGE should be considered as a first-line option in appropriate cases.
Now let's turn it over to Professor Zhao to find out more about her experience treating children with Congenital Microtia-Atresia.
Expert Perspective: How to Treat Congenital Microtia-Atresia
I started my career as an oto-surgeon at Tongren Hospital in Beijing in 1993. After my general training, I focused on the treatment of congenital microtia-atresia. In recent years, there were around 200 microtia-atresia operations per year in my unit. Since 2016, I have performed more than 140 BONEBRIDGE implantations in atresia patients, as well as other patients including SSD and cholesteatoma sequelae cases.
My specialty is treating children with CMA. The treatment requires the cooperation of several functional units in the clinic, including audiology, oto-surgery and plastic surgery. Usually, pinna reconstruction is performed when children are 6-8 years old using auto-rib cartilage or Medpore. I work closely together with plastic surgeons to do the hearing implant surgery at the same time as the pinna reconstruction. Until the children get their hearing implant, they should be assisted with bone conduction hearing aids from the age of 6 months onwards to ensure adequate hearing and speech development. Routine appointments must be held to follow up on their progress.
Using ADHEAR and BONEBRIDGE
We use the ADHEAR system for our pre-operation trials since it became available in China because it is more acceptable for patients from a cosmetic point of view. We already completed a clinical study on ADHEAR in children with unilateral atresia and will publish the paper soon. Preliminary data of this study show an improvement in speech recognition and a better subjective questionnaire result.
Prior to implanting BONEBRIDGE, we do a 3D-planning with the CT scan of the patient's temporal bone. As we still use BCI 601, my team uses the BB FastView software to find the best position for the BC-FMT. This method works well, especially for cases with severe malformations of the temporal bone including a thin skull with a prominent sigmoid sinus.
Choosing the Right Approach
Both the sinodural angle and the retrosigmoid position of the transducer are suitable for my cases. If there is enough space for the BC-FMT in the sinodural angle, I prefer to place it there as it represents the optimal route for bone conduction hearing. However, in my unit we have had more than 10 cases where the BC-FMT had to be placed in a retrosigmoid position due to limited space in the sinodural angle. In these cases, the dura was widely exposed and compressed by the BC-FMT of BCI 601, in a range of 2-3 mm. Of course, we used 3 mm Lifts, but the skull was still too thin to contain the transducer.
For atresia cases with a retroposition of the mandibular joint or a prominent sigmoid sinus, it would be risky to place the BC-FMT in the sinodural angle. In these cases, we also go for the retrosigmoid position. Another reason to place the BC-FMT posteriorly to the sigmoid sinus is to avoid tension on the skin flap when implantation is done at the same time as the pinna reconstruction.
So far, the majority of my BONEBRIDGE patients were CMA cases. As I try to combine the implantation with the pinna reconstruction, most of my BONEBRIDGE cases are 8-12 years old. Among these CMA children, some have severe temporal bone malformations and a thin skull. Once the new generation of the BONEBRIDGE (BCI 602) becomes available in China, I will for sure use it, as it requires less drilling depth and will therefore be good for many of my patients.
Activation and Audiological Outcomes
At my clinic, we activate the BONEBRIDGE system by fitting the audio processor 7-9 days after surgery. We do this so soon because the BONEBRIDGE doesn't require osseointergration – once the screws are fixed tightly, the vibrations are conducted to the skull very efficiently and the patient can hear. Another reason is that usually my patients leave the clinic in Beijing and return to their provinces 7-9 days after surgery when the bandage is removed. The patients like to benefit from their new device when they leave the clinic.
Generally, I have seen very few complications with BONEBRIDGE, during and after surgery and the outcomes with BONEBRIDGE are very good. The data in our study suggest that the audiological outcomes are significantly superior to a bone conduction hearing aid 12 and 36 weeks after activation. We are also looking at the long-term data to see if the results are stable over time and will report on that as soon as we have the results.
My tips for young surgeons on bone conduction implants in Congenital Microtia-Atresia patients:
With BCI 601 it's beneficial to use BB FastView for 3D planning prior to the surgery to plan the best position for BC-FMT.
Always liaise with the plastic surgery unit to find the best incision and surgical approach. The retrosigmoid approach can be used, however, watch out for the dura.
In our study we showed that BONEBRIDGE implantation is an effective and safe method to restore hearing for CMA patients.
Thank you, Professor Zhao!
Yang, J., Chen, P., Zhao, C., Liu, Y., Gao, M., Huang, Z., Zhao, S. (2020) Audiological and subjective outcomes of 100 implanted transcutaneous bone conduction devices and preoperative bone conduction hearing aids in patients with bilateral microtia-atresia. Acta Otolaryngol. 2020 Aug;140(8):675-681.
Amin, N., Soubly, A.J., Borsetto, D., Pai, I. (2020).  Longitudinal economic analysis of Bonebridge 601 versus percutaneous bone anchored hearing devices over a 5-year follow-up period, Clin Otolaryngol.  doi: 10.1111/coa.13659. Online ahead of print.
Subscribe & Share
Have a question about BONEBRIDGE or ADHEAR? Let us know with our contact form or in the comments below.
Don't miss any updates from our MED-EL Professionals Blog—subscribe now!