BONEBRIDGE: Safe, Reliable Active Bone Conduction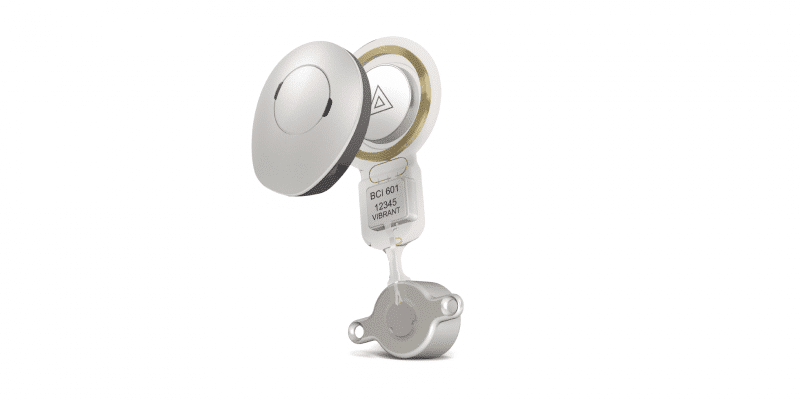 For more than 40 years, bone anchored hearing aids (BAHAs) have been a common treatment option for patients with conductive or mixed hearing loss, as well as single-sided deafness. If you work with bone conduction systems, you're probably very familiar with the Baha® Connect and Ponto systems.
These direct bone conduction systems can be effective for providing hearing. However, the BAHA implant concept has remained basically unchanged over the past 4 decades. As a 40-year-old technology, this concept faces significant limitations in practicality and reliability. Because the titanium abutment is screwed into the skull through the skin, there's a permanent open wound that is a constant risk for infection and other issues in daily life.1,2
The good news is that there's a solution that offers healthy, intact skin. Today we're going to look at what makes BONEBRIDGE the better choice for anyone who wants a practical & reliable bone conduction system. BONEBRIDGE is the only active bone conduction system that allows your patients to have healthy skin over their implant. This makes it the reasonable choice for long-term patient and clinician satisfaction.1,2,3
Update: The next generation of BONEBRIDGE has arrived! Find out why surgeons love the new BONEBRIDGE BCI 602.
Bone Anchored Hearing Aids (BAHA)
The percutaneous BAHA technology was invented in the 1970s. Essentially, a titanium abutment is anchored into the bone and protrudes through the skin. An audio processor with a mechanical stimulator is attached to the abutment.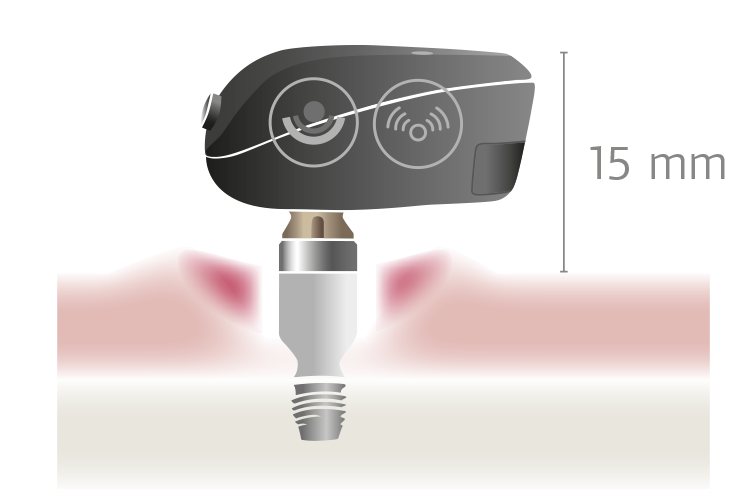 The two percutaneous bone conduction devices which are on the market today—Baha® Connect and Ponto—still use this very same technology. However, this percutaneous method often leads to complications including skin infections and osseointegration failure.
Why are complications so common with percutaneous bone conduction devices? The abutment leaves an open wound which is prone to infections. The risk of infection is obvious, which is why permanent percutaneous systems are exceedingly rare in other fields of modern medicine.
To reduce the risk of infection or implant overgrowth, this permanent opening through the skin requires meticulous attention and care, including daily wound cleaning. For anyone who sweats or lives in a humid or warm climate, the wound care can be especially challenging. Additionally, the protruding abutment can also be an impact risk—especially for children.2,4
This protruding hardware and daily effort to prevent infection can be a significant burden on your patients' everyday lives.
Bone Conduction Hearing Performance
Despite these disadvantages, the hearing outcomes are usually good with bone anchored hearing aids.By using direct bone conduction, bone anchored hearing aids can deliver greater amplification than passive skin-drive devices like a bone conduction headband or Baha® Attract.5
However, good outcomes with BAHAs depend on two factors:
Osseointegration: As the name implies, a BAHA device relies on a titanium screw anchored into bone. If the osteocytes are damaged by drilling or other causes, new bone growth may not occur and osteointegration can fail. This is surprisingly common, with failure of osseointegration in seen in 18% of cases. Osseointegration failure usually requires revision surgery.2
Skin compliance: As mentioned, there is a constant risk of infection or irritation. Furthermore, over time, there can be a thickening or overgrowth of the skin over the abutment. This occurs in approximately 8% of cases and usually requires revision surgery.2
BONEBRIDGE: The Only Active Bone Conduction Implant
The BONEBRIDGE is designed completely different. BONEBRIDGE is the first and only active bone conduction implant.
The mechanical transducer is integrated into the implant and is placed completely under the skin. This enables healthy skin over the implant. The audio processor communicates with the implant transcutaneously and there's no harmful pressure, so the skin above the implant can remain completely healthy.3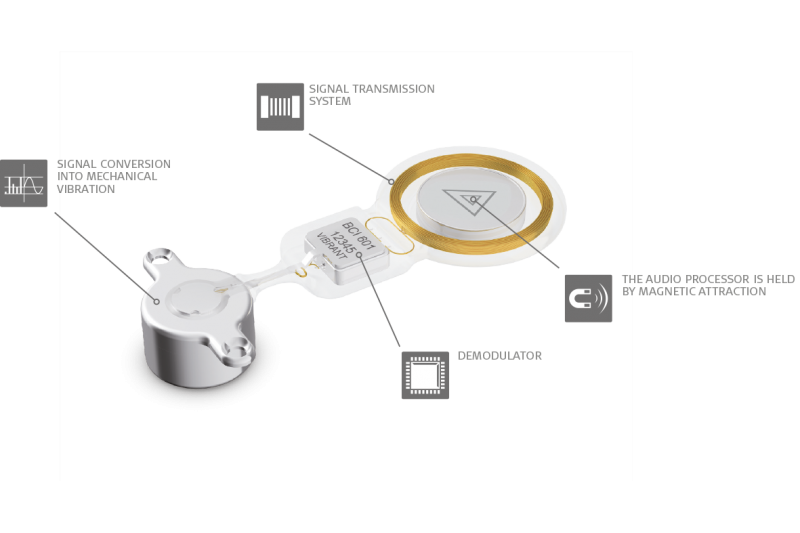 Recently, even the inventor of the BAHA screw acknowledged that this transcutaneous technology is the way to go in the future:
"More and more of the electronic components of the sound processor have already been miniaturised and, looking to the future, could be placed in the implantable part. This means that eventually, the need of skin penetrating coupling might even become obsolete for direct bone conduction."
(Anders Tjellström, Baha® Blog; February 26, 2018)6
With BONEBRIDGE, you get the best of both worlds:
Effective amplification through direct, active bone conduction for optimal hearing outcomes3
Healthy skin for exceptional comfort, safety, and reliability3
BONEBRIDGE is a superior choice for ease-of-use in daily life. Your patients won't need to spend any time or effort taking care of skin irritations caused by their hearing device. With BONEBRIDGE, they simply put on their SAMBA Audio Processor and can instantly enjoy their hearing without any pain or discomfort.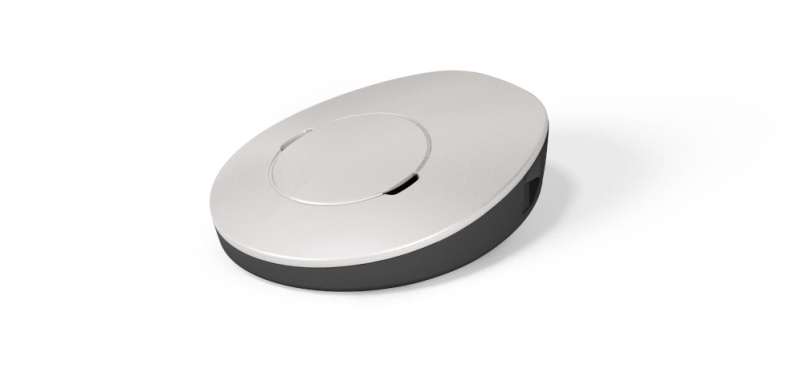 The SAMBA Audio Processor is held over the implant through light magnetic attraction. It offers the latest signal processing, directional microphone technology, and 5 programs so your patients can get the most out of any listening situation.
"With SAMBA the hearing experience is better, clearer and feedback free." – Margit M.
And because SAMBA is only for signal processing, it doesn't contain a transducer. This design prevents feedback and makes SAMBA incredibly small & light, with the lowest profile available. Users can simply cover it with their hair and forget it's even there.

SAMBA has the lowest profile of any bone conduction system—delivering outstanding comfort and aesthetic appeal.
Safety Outcomes with Bone Conduction Systems
Extensive literature has shown persistent complications of percutaneous BAHA devices. If you work with BAHAs, you've likely seen these complications firsthand. Recently, we analyzed a complete literature search of published studies and compared the safety outcomes of percutaneous bone conduction systems and BONEBRIDGE.
The outcomes are startling: Up to 7x more complications occur with the Baha® Connect and up to 6x more with the Ponto System than with BONEBRIDGE. For a complete overview and comprehensive analysis of this complication rate data, you can download the full white paper here.
With complications, your patients will need clinical care more often—and may even need revision surgery. These complications can mean more time and effort for you as a clinician and less satisfaction for your patients.
BONEBRIDGE: Reliable Choice
What makes BONEBRIDGE so reliable? It's simple: Healthy skin is essential for long-term patient satisfaction and overall positive outcomes.
As the only active bone conduction implant, BONEBRIDGE enables healthy skin—making BONEBRIDGE the reliable choice for your patients.
Benefits of BONEBRIDGE for your patients:
Excellent hearing outcomes

Lowest complication rate

Comfortable to wear

Easy to use
For you and your clinic this means that you can reduce follow-up appointments and the risk of complications. This can save time & resources and ensure better patient satisfaction. With all this in mind—if you had to choose a bone conduction implant system for yourself—which one would you choose?
Share & Subscribe
Learn all about the new BONEBRIDGE BCI 602.
Have a question about BONEBRIDGE for your patients? Leave a comment below or send our experts a message with our simple contact form.
Want to learn more? Read the full Safety Outcomes white paper here.
Don't forget to subscribe for the latest articles on hearing implants and hearing loss solutions!
*Not all products, indications, and features shown are available in all areas. Please contact your local MED-EL representative for more information.
References:
Muldry, A. & Tjellström, A. (2011). Historical Background of Bone Conduction Hearing Devices and Bone Conduction Hearing Aids In Kompis, M & Caversaccio, M.D. (eds): Implantable Bone Conduction Hearing Aids. Vol 71, 1–9. Adv Otorhinolaryngol. Basel: Karger
Badran, K., Arya, A.,K., Bunestone, D., & Mackinnon, N. (2009). Long-term complications of bone-anchored hearing aids: a 14-year experience. The Journal of Laryngology & Otology. 123: 170–176.
Schmerber, S., Deguine, O., Marx, M., Van de Heyning, P., Sterkers, O., Mosnier, I., Garin, P., Godey, B., Vincent, C., Venail, F., Mondain, M., Deveze, A., Lavielle, J.P., & Karkas, A. (2017). Safety and effectiveness of the Bonebridge transcutaneous active direct-drive bone-conduction hearing implant at 1-year device use. Eur Arch Otorhinolaryngol.274(4):1835–1851. 
Abdulrahman, H. (2007). BAHA: Bone Anchored Hearing Aid. Int J Health Sci (Qassim). 1(2): 265–276.
Håkansson, B. (2011) 6The Future of Bone Conduction Hearing Devices In Kompis, M & Caversaccio, M.D. (eds): Implantable Bone Conduction Hearing Aids. Vol 71, 140–152. Adv Otorhinolaryngol. Basel: Karger
Anders Tjellström. (Feb 26, 2018) Hear the Future this World Hearing Day: The history and future of hearing through bone conduction [Blog Post] Retrieved from: https://thebahablog.com/2018/02/26/hear-the-future-world-hearing-day-2018-bone-conduction/
The content on this website is for general informational purposes only and should not be taken as medical advice. Please contact your doctor or hearing specialist to learn what type of hearing solution is suitable for your specific needs. Not all products, features, or indications shown are approved in all countries.