Telepractice: Introducing MED-EL Remote Lesson Kits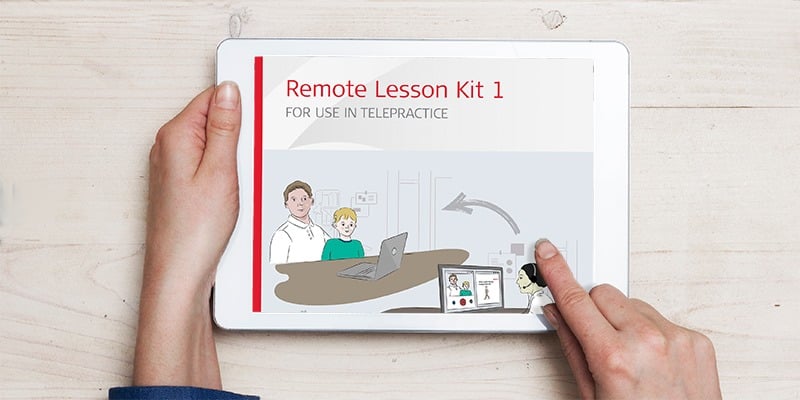 In today's article, Rebecca Claridge, SLP and MED-EL Rehabilitation Manager, introduces us to a new series of professional resource kits designed specifically to support telepractice.
We understand that many professionals are facing new challenges, including a sudden and dramatic increase in the demand for remote aural rehabilitation services via telepractice. We are here to support you with digital resources and hands-on guides to getting started in providing remote rehabilitation.
Today, we will explore the topic of telepractice and share a free, practical digital resource kit that can help you start using telepractice to continue to provide quality service to families with children using hearing technology.
This kit is designed for audiologists, rehabilitation therapists, speech-language pathologists, and any other person who works with children with hearing loss. You can find the free download link to the pdf resource kit and an interactive slide deck at the end of this article.
Where to Begin: Telepractice
Telepractice includes many types of services. In this article, we use the word telepractice to describe services provided through online video conferencing where the therapist and family are in different locations. Telepractice is also known as tele-rehabilitation, remote rehab, remote therapy, distance therapy, tele-health or tele-intervention.
Providing telepractice intervention to families with children who use hearing technology has been documented since 2005. Over the past ten years there has been a steady increase in research demonstrating the feasibility and efficacy of telepractice for this population. In addition, researchers have detailed the challenges and barriers reported by therapists delivering telepractice.
We have summarised these findings for you below. For more detailed information, see the references at the end of the post. Now let's look at some frequently asked questions about telepractice.
Why do telepractice?
Allows for continuation of services to families in times of community (or global) crisis
Provides equitable access to service
Meets increasing demand for specialist services
Overcomes geographical barriers
Offers flexible appointments
Minimises travel costs
Increases family engagement
Does telepractice work?
Research conducted by programs delivering listening and spoken language focused intervention both in person and via telepractice demonstrate listening outcomes are the same after six months, and language outcomes are no different after two years.
One study demonstrated accelerated spoken language development in the telepractice group after six months.
What is needed to do telepractice?
With modern household technology, telepractice is becoming more and more readily accessible. To get started, both the therapist and family need:
Computer or laptop (a tablet or mobile phone can be used if necessary)
Web camera + microphone (build-in or separate)
High-speed internet connection
Access to the shared video-conferencing platform (examples include Skype, Zoom, Teams, Facetime, Adobe Connect, WeChat, Messenger)
For improved audio performance, the therapist can use a headset/earphones with an attached microphone.
What are the challenges of delivering telepractice as reported by professionals?
Internet reliability (although this has steadily improved in recent years)
Developing specialist skills in delivering telepractice
Accessing or developing appropriate therapy resources
Sharing information effectively
Managing child behaviour
What is associated with the effective delivery of telepractice as reported by professionals?
Use of parent coaching strategies
Completing telepractice training
Managing the therapy setting, location or environment
What do parents/caregivers think of telepractice?
Initial reservations about effectiveness are common
Concern that their child will not co-operate
Following a trial, the majority report high level of satisfaction with telepractice
MED-EL Remote Lesson Kits
The MED-EL Remote Lesson Kits are specifically designed to address the challenges identified by professionals.
We understand that this may be very new to you, so the Remote Lesson Kits use fundamental therapy techniques combined with simple-to-use digital resources.
Each kit contains:
Guided walk-through to help you get started with telepractice
A description of essential strategies used to develop listening and spoken language
Tips on parent coaching and child attention management
A multi-level lesson plan with 4 activities
Detailed instructions on how to deliver each activity
Resources that can be emailed and printed by the family
A slide deck digital resource in PowerPoint format that can be screen-shared or emailed
Links to other MED-EL online resources that can help with sharing information
There will be 4 Remote Lesson Kits in total. Each kit introduces therapists and families to new strategies and techniques in a range of activities.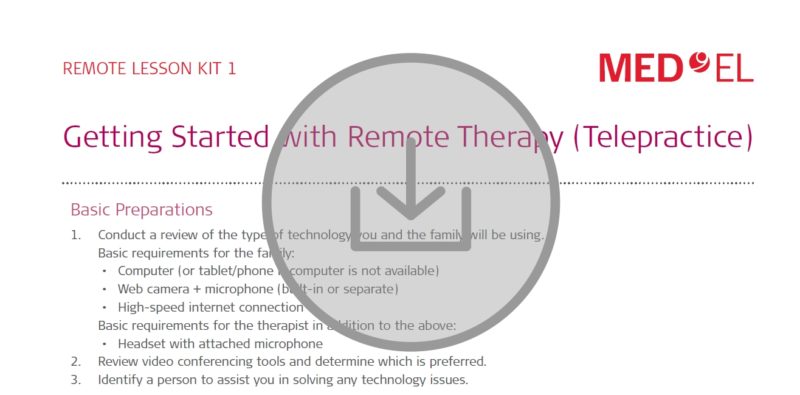 Download Now: MED-EL Remote Lesson Kit #1 – Animals
Download Slide Deck Without Animations
3 Additional Remote Lesson Kits are also now available!
Subscribe & Share
We want these kits to help as many people as possible. If you know anyone that could benefit from these Lesson Kits, please feel free to share them.
And if you want more material and activities to work with, you can apply these telepractice techniques to all 26 of our free comprehensive Themed Lesson Kits. These guided kits can also help support parents with at-home rehabilitation activities.
Don't forget to subscribe to our Professionals Blog to receive all our latest updates right to your inbox.
*We'd like these kits to help as many people as possible, so the Remote Lesson Kits may be shared openly for fair usage. However, MED-EL retains full rights to the material, so the content may not be altered, rebranded, or repurposed for commercial use.
**Not all products, features, or indications for age shown are available in all areas. Please contact your local MED-EL representative for more information.
References:
Behl, D., Blaiser, K., Cook, G., Barrett, T., Callow-Heusser, C., Moog Brooks, B., Dawson, P., Quigley, S. & White, K. R. (2017) A multisite study evaluating the benefits of early intervention via telepractice. J. Infants & Young Children, 30 (2), 147- 161

Behl, D. & Kahn, G. (2015) Provider Perspectives on Telepractice for serving families of children who are deaf or hard of hearing. International Journal of Telerehabilitation. 7 (1) 1-12

Behl, D., Houston, K.T., & Stredler-Brown, A. (2012). The value of a learning community to support telepractice for infants and toddlers with hearing loss. Volta Review, 112(3), 313-327.

Blaiser, K., Behl, D.D., Callow-Heusser, C. & White, K. (2013) Measuring Costs and Outcomes of Tele-Intervention When Serving Families of Children Who are Deaf/Heard of Hearing. International Journal of Telerehabilitation. 5(2) 3-10

Brown, A. S (2015) Examination of Early Intervention Delivered Via Telepractice with Families of Children Who are Deaf or Hard of Hearing. Dissertation. University of Northern Colorado. Scholarship & Creative Works@Digital UNC

Constantinescu, G., Waite, M., Dornan, D., Rushbrooke, E., Brown, J., McGovern, J., Ryan, M., Hill, A. (2014). A pilot study of telepractice delivery for teaching listening and spoken language to children with hearing loss. Journal of Telemedicine and Telecare, 20(3), 135-140

Dunst, C. J., Boyd, K., Trivette, C. M., & Hamby, D. W. (2002). Family-oriented program models and professional helpgiving practices. Family Relations, 51, 221–229.

Dunst, C. J., Trivette, C., & Hamby, D. (2007). Meta-Analysis of Family-Centred Helpgiving PracticesResearch. Mental Retardation and Developmental Disabilities Research Reviews, 13, 370–378.

Houston, T., Behl, D. & Mottershead, S. (2018) Chapter 17 Using Telepractice to Improve Outcomes for Children Who are Deaf or Hard of Hearing & Their Families. A Resource Guide for Early Hearing Detection & Intervention. National Centre for Hearing Assessment and Management. Utah State University.

McCarthy, M., Leigh, G., & Arthur-Kelly, M. (2019). Telepractice delivery of family-centred early intervention for children who are deaf or hard of hearing: a scoping review.Journal of Telemedicine and Telecare, 25(4), 249-260

Olsen, S., Fiechtl, B., & Rule, S. (2012). An evaluation of virtual home visits in early intervention: Feasibility of "virtual intervention." The Volta Review, 112(3), 267-281.

Stredler-Brown, A. (Ed.) (2012). Preface. Current knowledge and best practices for telepractice, Volta Review, 112(3), 191-193.
The content on this website is for general informational purposes only and should not be taken as medical advice. Please contact your doctor or hearing specialist to learn what type of hearing solution is suitable for your specific needs. Not all products, features, or indications shown are approved in all countries.