Improving Speech Perception & Language Acquisition in Babies Prior to Cochlear Implantation
Aural rehabilitation is essential after cochlear implantation, but it can also benefit young children with hearing loss while they are still waiting to receive their cochlear implant. Parents and caregivers can use strategies and activities at home to help these babies begin to develop communication skills.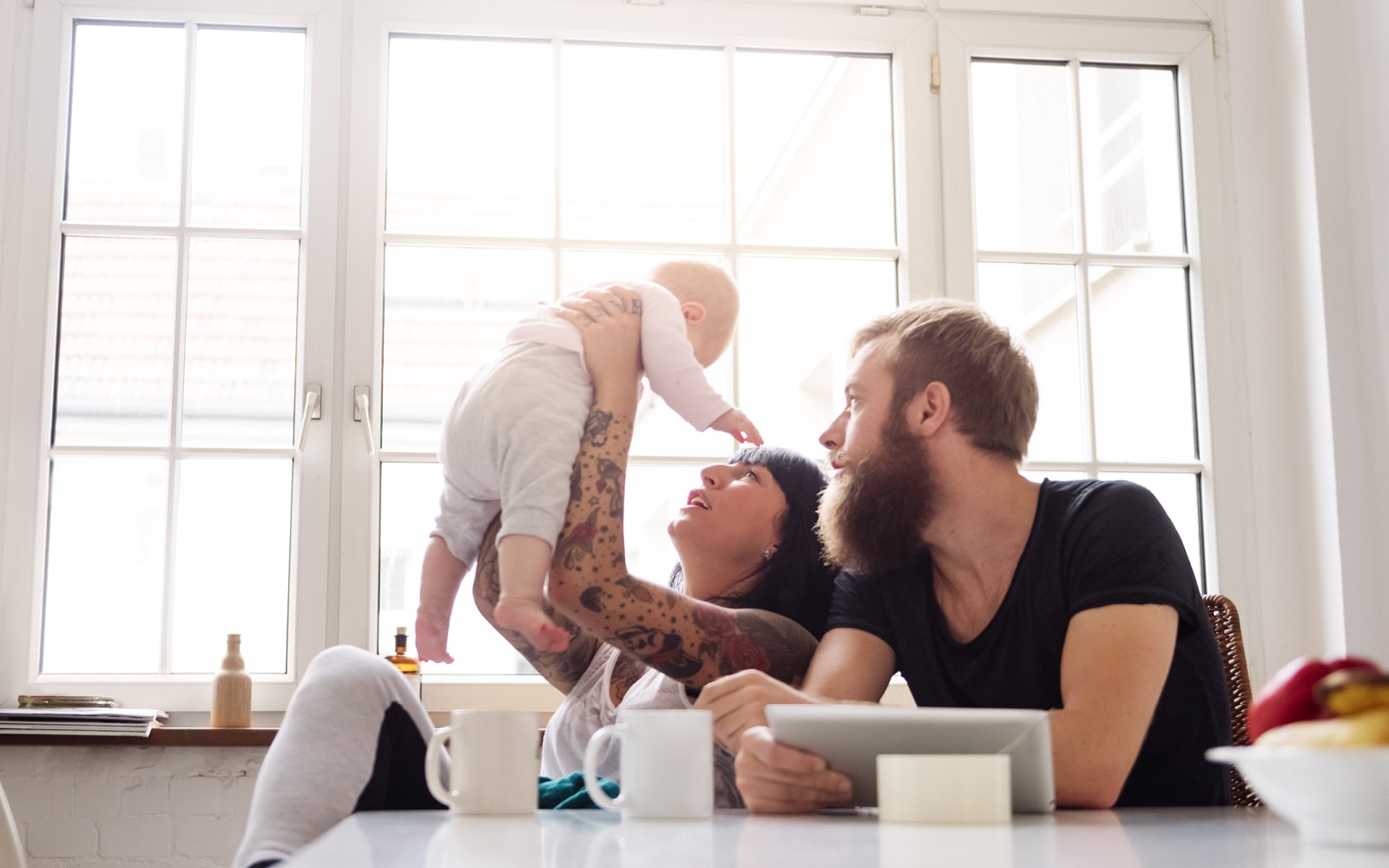 Newborn hearing screenings detect hearing loss early in thousands of children worldwide every year. Since their hearing loss is detected at such a young age, many of these children are also fitted with hearing devices when they are still young. As a result, they access sound and the ability to develop spoken language when combined with enrollment in rehabilitation and early intervention programs Holzinger, D., Fellinger, J., & Beitel, C. (2011). Early onset of family centred intervention predicts language outcomes in children with hearing loss. International journal of pediatric otorhinolaryngology, 75(2), 256-260. https://doi.org/10.1016/j.ijporl.2010.11.011[1]Moeller, M. (2000). Early intervention and language development in children who are deaf and hard of hearing. Pediatrics, 106(3), e43. https://doi: 10.1542/peds.106.3.e43[2]Yoshinaga-Itano, C. (2003). From screening to early identification and intervention: Discovering predictors to successful outcomes for children with significant hearing loss. Journal of deaf studies and deaf education, 8(1), 11-30. https://doi.org/10.1093/deafed/8.1.11[3].
A study including more than 400 children with congenital stable severe-to-profound bilateral hearing loss found that those children who received a cochlear implant before the age of 12 months had significantly better listening and speaking skills than children implanted after their first birthday Dettman, S., Dowell, R. Choo, D., Arnott, W., Abrahams, Y., Davis, A., . . . Briggs, R.J. (2016). Long-term communication outcomes for children receiving cochlear implants younger than 12 months: A multicenter study. Otology and Neurotology, 37(2), e82-95.[4]. Age at implantation is one factor known to affect communication outcomes in young pediatric cochlear implant recipients. Read more on the factors that affect communication outcomes in pediatric cochlear implantation here.
Aural Rehabilitation for Infants & Toddlers Before Cochlear Implantation
Families of newly-diagnosed infants can benefit from aural rehabilitation support that begins as soon as their child is diagnosed with hearing loss. Globally, however, the capacity of health care systems to offer hearing implant rehabilitation support can be limited, especially early intervention for babies and very young children who are still waiting for cochlear implantation. Rehabilitation sessions, therefore, often don't begin until after cochlear implant activation.
To support families who have a baby diagnosed with hearing loss but do not yet have access to rehabilitation sessions, we have created a resource called Ready, Steady, Go! For Families. It offers information, support, and practical guidance to families that want to give their baby a head start with early, at-home rehabilitation. This resource is currently available in English, German, and Bulgarian and can be downloaded for free.
Stimulating Communication Development in Babies With Untreated Severe-to-Profound Hearing Loss
Ready, Steady, Go For Families includes explanations and examples of strategies that parents and caregivers can use to support their interactions with their child. This advice can help them aid their child's development of early communication skills while their child is still waiting to receive a cochlear implant. Some advice includes "staying close and creating an optimal listening environment" so that their child can benefit from visual language cues and any sound they may be able to hear.
This resource includes tips and tricks families can use throughout their daily routines to promote the development of communication skills in a child with hearing loss. Ready, Steady, Go For Families also includes step-by-step instructions for activities based on daily tasks as well as simple toys that families can make at home that will stimulate their child's development prior to receiving a cochlear implant.
Even if a baby cannot hear well (or at all) yet, it is important for parents and other caregivers to talk to their baby. Seeing facial expressions and actions helps babies learn about communication. And after cochlear implant activation, babies need to her lots of speech, including interesting play sounds and music, to develop their own language skills. Using the advice in Ready, Steady, Go For Families can help families get into the habit early of talking to their baby, which will be even more beneficial after cochlear implantation and activation.
How Speech-Language Pathologists Can Support Babies Before Cochlear Implantation
In 2021, we also shared Ready, Steady, Go! Professionals, a resource to help speech-language pathologists, audiologists, and hearing health professionals better support families of babies and young children waiting for cochlear implantation. This resource provides tips about guiding families and providing them with strategies for supporting young children with hearing loss. This material includes strategies for professionals, example lesson plans with suggested goals, and practical activities with step-by-step instructions for use in early intervention sessions. Read more and download Ready, Steady, Go! Professionals here.
For more on this topic and how to use Ready, Steady, Go! For Families, take a look at the MED-EL Academy course on this topic.
The content on this website is for general informational purposes only and should not be taken as medical advice. Please contact your doctor or hearing specialist to learn what type of hearing solution is suitable for your specific needs. Not all products, features, or indications shown are approved in all countries.