Remote Care: Professional Support and Digital Resources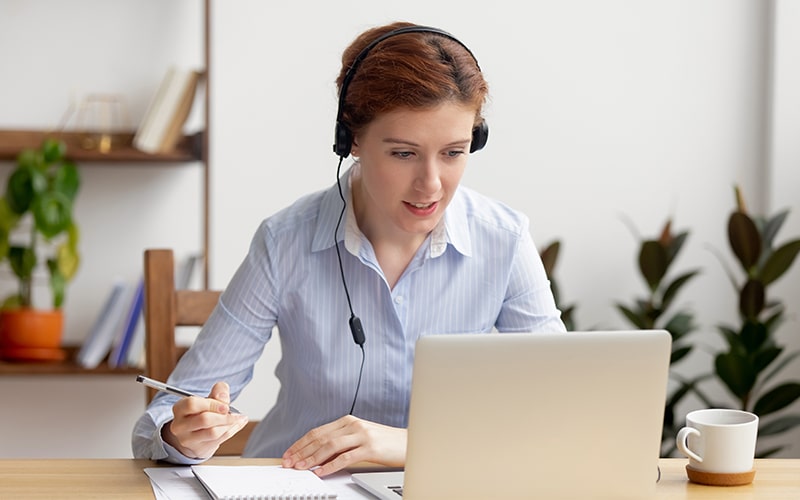 Across the globe, technology is evolving rapidly to adapt to ongoing challenges, but audiology is inherently personal—you are helping to enable your patients' connection to their loved ones and the world.
So we ask ourselves: How can we ensure the best possible ongoing care for hearing implant recipients? How can we overcome these obstacles and provide our professional partners with tools to reconnect them to their recipients?
Today, we wanted to share a collection of resources and workflows recommended by our Remote Care team. We're going to take a look at free digital resources for remote rehabilitation, remote troubleshooting, and even options for moving towards remote fitting.
If you have any questions, please let us know—we are here to support you and your dedicated work caring for recipients.
Aural Rehabilitation Through Telepractice
Our rehabilitation team has created in-depth lesson kits for professionals who are beginning and expanding telepractice service for rehabilitation. Each Remote Lesson Kit is themed and is filled with engaging rehabilitation activities for young children. Each activity has detailed therapist notes and resources specifically designed for remote rehabilitation.
These practical digital resource kits can help you start using telepractice to continue to provide quality service to families with children using hearing technology. In addition, experienced telepractioners can take advantage of the ready-made lesson plans and easy-to-share resources to minimize lesson preparation time.
These kits are designed for audiologists, rehabilitation therapists, speech-language pathologists, and any other person who works with children with hearing loss.
You can watch a detailed overview of how to use these resources in a fantastic new free course on the MED-EL Academy. In this course, Rebecca Claridge, creator of these kits, demonstrates how to use these kits for telepractice.
You can download these kits for free here:
Remote Lesson Kit #1 (Animals; EN, ES, PT, RU) https://blog.medel.pro/telepractice-rehabilitation-remote-lesson-kit-1/
Remote Lesson Kit #2 (My House; EN, ES, PT): https://blog.medel.pro/aural-rehabilitation-telepractice-remote-lesson-kit-2/
There are also loads of helpful rehabilitation tips and tricks for users over on the MED-EL Blog:
https://blog.medel.com/tips-and-tricks/
Troubleshooting and Processor Support
If your patients are having issues with their processor, our troubleshooting pages guides users through step-by-step process to diagnose and address the issues.
MED-EL Audio Processor Support
For audio processor and accessory handling tips, we have an extensive collection of helpful videos in our Hands-On series. You can share these videos with patients or parents to help them understand how to use their equipment in day-to-day life.
SONNET 2 Hands-On
https://www.youtube.com/watch?v=tBzpbgbCumc&list=PLT_–N4wea5BVavmhHfS6gDlB76rsbVWD
AudioLink Hands-On
https://www.youtube.com/watch?v=SrFFs7FPuys&list=PLT_–N4wea5AFcUaBnHlfFMwdcCXDlXth
AudioKey App Hands-On
https://www.youtube.com/watch?v=dXMYIt_WNfY&list=PLT_–N4wea5AiQgdOZeNnZfzljZ23fQgA
SONNET Hands-On
https://www.youtube.com/watch?v=VfFz0hBYs1w&list=PLT_–N4wea5Dsb48603HI8obw53bCUZ0e
RONDO 2 Hands-On
https://www.youtube.com/watch?v=mtmscL9V_5Q&list=PLT_–N4wea5B4_GWJKVMMyhjydNO1LEbM
ADHEAR Hands-On
https://www.youtube.com/watch?v=IWTQWBpLMec&list=PLT_–N4wea5CsbEdYhfZOLieZYRnBpO_B
Remote Fitting: Social Distancing
Of course, one of the most important aspects of cochlear implant care is activating and fitting audio processors. To expand care and improve support to remote and developing regions, MED-EL has been providing remote fitting support for many years.
With the current need for social distancing while still providing essential care, we have used this experience to expand our guidelines and offer support and options for remote fitting.
With MAESTRO fitting software, it is possible to a clinician to control MAESTRO through remote desktop programs, making remote fitting possible. This setup uses video chat programs (WebEx, Teamviewer, GoToMeeting, Skype for Business, or other secure hosted web service) and remote user control of MAESTRO through these apps.
By controlling MAESTRO software through a second computer, the clinician performing the fitting can be in another room, or even hundreds of miles away. This remote fitting process is important, because it gives an effective way to reduce prolonged contact while enabling clinicians to expanding access to fitting for users.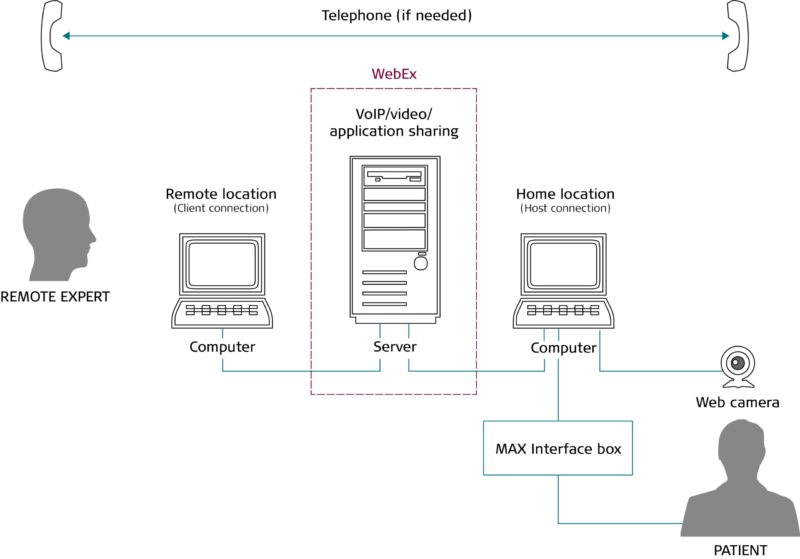 A number of clinics are currently using this concept to reduce prolonged contact and other challenges by creating a "room-to-room" remote fitting within a clinic.
In this setup, there is one room in the clinic with a computer running MAESTRO software and a MAX interface with programming cable. This computer also has a webcam and speakers, as well as a video chat program that allows remote user control.
In a separate room, the clinician uses a computer with the same video chat program and a webcam. This allows the clinician to control the MAESTRO software on the remote computer. The communication is through webcam and speakers, so a mask/PPE is not needed during the remote portion of the fitting.
This allows a clinician to briefly set up the hardware and connect the user's audio processor to the MAX interface at the beginning of a session, and then leave the room to reduce prolonged contact.
Although there are some challenges, the improved access and quality of video chat software has made this remote fitting quite effective.
In clinical experience with 46 MED-EL CI users, outcomes were equivalent, and  +90% of children and +80% of adults reported that they would recommend this remote fitting to others. Time needed for fitting was comparable to a traditional fitting.1
Contact Us
If you have any questions on remote care or need any support from our experts, please do not hesitate to contact us. Our dedicated local MED-EL support teams are here for you and will help you find the best solution for your needs.
MED-EL Remote Care Support: Contact Now
Don't forget to subscribe for all the latest updates from MED-EL.
References:
Schepers, K., Seinhoff, H., Ebenhoch, H., Boeck, K., Bauer, K., Rupprecht, L., Moeltner, A., Morettini, S., & Hagen, R. (2019) Remote Programming of Cochlear Implants in Users of All Ages. Acta Otolaryngol. 139 (3) 251-257