Introducing: MED-EL Lesson Kits for Babies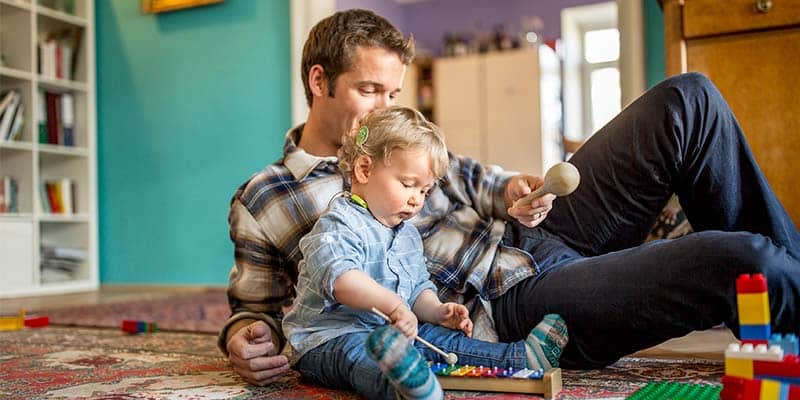 The earlier a child with hearing loss and their family can begin intervention, the better for the child's long-term communication outcomes. [1, 2]  However rehabilitation professionals may feel overwhelmed and underprepared when it comes to supporting babies in therapy. Babies can be difficult to manage in the therapy room and supporting this population requires a new set of skills, breadth of knowledge, and resources. It also requires rehabilitation professionals to engage in significant amounts of caregiver coaching and information sharing.
MED-EL Lesson Kits for Babies
The MED-EL Lesson Kits for Babies were developed to support rehabilitation professionals to provide early intervention to young children and babies with hearing implants.They are also designed to help professionals to provide guidance and coaching to families and caregivers. With this resource, we hope to offer professionals practical materials to equip them to support this population.
Each kit includes:
2 lesson plans and a group lesson plan with suggestions for goals and activities
Guidance for strategies to use and facilitate families to use to promote early communication and listening skills in their child
Detailed instructions for practical activities to carry out in therapy sessions
Printable resources for hearing implant intervention to supplement therapy activities based on routines and play
Developing a Baby's Listening & Spoken Language Skills
Therapists are encouraged to use the MED-EL Lesson Kits for Babies to deliver intervention to develop the listening and spoken language skills of babies using hearing technology, with a focus on caregiver coaching. The MED-EL Lesson Kits for Babies were developed for use with young children aged one to three years who are in the first 12 – 24 months following the fitting of hearing devices. They may be used to support individual or group intervention, or in telepractice.
Each kit has a theme and contains key strategies, lesson plans, therapist notes, and printable resources. The lesson plans contain suggestions for caregiver education, as well as examples of listening, language, speech, cognition, play, pragmatic, and literacy goals for children using hearing technology. Lessons with families of young children have a strong focus on guiding and coaching caregivers to use strategies in meaningful interactions, play, and daily routines. Caregiver education is the central focus. Goals for the child's skills are secondary and are listed in the lesson plan as a guide.
Adaptable Activities to Match Skill Levels
Each kit includes a variety of activities, each of which can be performed at two different levels of difficulty based on the child's current skills. Therapists must use their clinical judgement and ongoing diagnostic assessment to establish the level at which the child is functioning and identify appropriate, individualized goals and activities that are one step ahead of the child's current skills. The kit includes a short guide on how to choose a level. In addition, MED-EL has several resources such as A Child's Journey Developmental Milestones (Birth – 6 Years) that can be used as a guide for goal selection.
Routines is the theme of the first MED-EL Lesson Kit for Babies. The activities included are snack time, bath time, bed time, and five little monkeys songbook and puppets as well as a group lesson. The theme of routines was chosen to allow caregivers to more easily generalize activities and skills practiced in therapy sessions to the home environment.
Free Download: Lesson Kit for Babies 1: Routines
For more information on how to use it, access the Lesson Kits for Babies video tutorial on the MED-EL Academy after logging into your myMED-EL account.
Aural Rehabilitation Resources for All Ages
The MED-EL Lesson Kits for Babies are another set of resources in our portfolio of practical rehabilitation resources for professionals to support CI recipients at all ages. Take a look at the MED-EL Lesson Kits (for children), Remote Lesson Kits (for telepractice), Ready, Steady, Go! For Professionals (for pediatric CI candidates and their families) and the Adult Rehabilitation Kits for more rehabilitation resources.
SUBSCRIBE & SHARE
If you find these kits helpful, make sure to subscribe to receive links to new kits directly in your inbox as soon as they are released. Also, don't forget to share this with your colleagues or friends who might also enjoy this material.
REFERENCES
[1] Moeller, M. (2000). Early Intervention and Language Development in Children Who Are Deaf and Hard of Hearing. Pediatrics, 106(3), e43. https://doi.org/10.1542/peds.106.3.e43
[2] Yoshinaga-Itano, C., Sedey, A., Coulter, D., & Mehl, A. (1998). Language of Early and Later-Identified Children With Hearing Loss. Pediatrics, 102(5), 1161-1171.  https://doi.org/10.1542/peds.102.5.1161