Supporting Individuals With Deafblindness: Expert Tips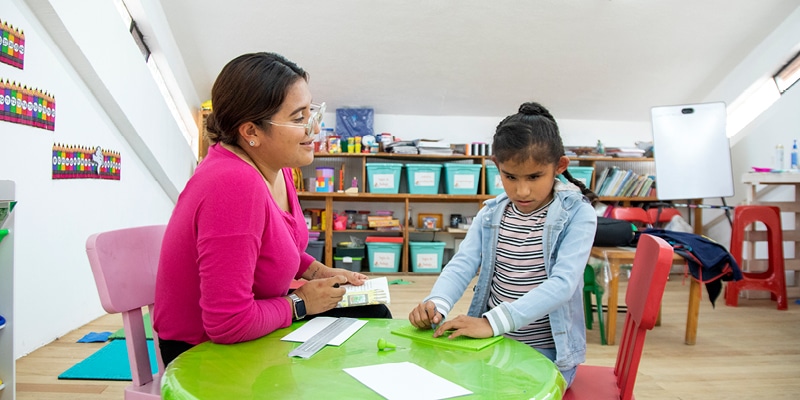 Deafblindness is a dual sensory loss involving both hearing and vision loss. As both senses are impacted, it is difficult for one's vision to compensate for their hearing, and vice versa.
Since dual sensory loss is less common than vision or hearing loss alone, individuals who have deafblindness often struggle to find appropriate support within healthcare systems. Similarly, healthcare professionals can find it challenging to address the deafblind population's unique needs.
Approximately 2% of the global population are reported to have some degree of deafblindness, with two-thirds over the age of 75 years.[7] Although deafblindess is more prevalent in older adults, prelingual deafblindness in children and young people poses significant additional barriers to communication development, education, and vocation.[8]
The effects of deafblindness vary depending on the degree of vision or hearing loss but can impact communication, mobility, and access to information. It is therefore imperative that teachers and healthcare professionals adopt a collaborative approach to ensure the best outcomes while addressing the diverse needs of individuals within this population.[2]
A Collaborative, Individualized Approach to Care for Individuals With Deafblindness
When mapping and providing rehabilitation to cochlear implant recipients within the deafblind community, it is essential to consider the adoption of strategies that will "best promote and stimulate the abilities and the autonomy of people who are deafblind, in their individuality."[3]  We recommend considering the following:
Establish a connection: Build rapport and participate in shared adventures with your client. It is through rapport that you will be able to engage in processes of discovery.[5] This allows you to further understand your client's preferred modes of communication, motivators, goals, and expectations. This may include asking caregivers how the child that is deafblind prefers or finds it easiest to communicate and what they enjoy doing; then engage in those activities and communication modes to build rapport.
Decode the individual's communicative attempts and responses to stimuli: Closely observe and map out the individual's intentional attempts at communication as well as responses to familiar communication partners and sensory stimuli. This is of paramount importance when you do assessments and programming as well as when you provide rehabilitation since expression is often not explicit.[3] Make note of the responses you observe and to what stimuli and gather this information from the caregiver.
Consider a multi-sensorial holistic communication approach: Engage in active observation and exploration of different modes of communication with your client within their preferred environments to support the establishment of meaningful and successful interactions. This may involve the use of non-verbal communication (e.g. body movements or breathing patterns), symbol systems (e.g. object symbols or tactile symbols), or language-based communication (e.g. tactile signs, sign language, braille, and speech).[6]
Plan together: Collaborate with the client and their team (e.g., caregivers, teachers, healthcare professionals) to ensure that approaches and adaptations (if required) are prepared prior to your sessions.[1] For example, if a client has been learning to anticipate vibrations following the presentation of sounds during their rehabilitation sessions, it may be helpful to replicate the activity within audiology sessions. Find out what resources, materials, and equipment have facilitated audiology or rehabilitation sessions in the past.
Allow for processing and wait time: Ensure that you are providing enough time for the client to respond. Giving them enough time to process information can support their sense of orientation within the environment and allow them to organize sensory information before responding (Fabiana & Ducret, n.d., as cited in Parker, 2017).
Promote independence: Consider steady exposure in a repetitive manner to daily routines and activities. Ensure that introductions to new experiences and stimuli are presented gradually (Miles & McLetchie, 2008, as cited in Intini et al., 2022). It may also be beneficial to conduct mapping and rehabilitation sessions within the client's home, which is a familiar environment in which the client is able to navigate independently and confidently (Heubner et al., 1995, as cited in Parker, 2017).
Actively seek information: Upskill by enrolling in relevant courses or attending webinars. Join a professional support group that focuses on the development of knowledge and skills to provide best practice approaches to the deafblind population. You could also consider a mentor who will be able to provide individualized support for specific clients.
These are a few factors to consider when working with clients with deafblindness. Most significantly, assist clients in establishing a strong circle of support. It is important to approach their queries and requests with empathy, understanding, warmth, and above all, respect.
We encourage you to identify and reach out to local support organizations for the deafblind community in your country or region for further information and advice. For example, in Australia we recommend you contact Able Australia to find out more about their online courses and training opportunities, and in the US, the National Federation of the Blind has a comprehensive list of organizations for further information on deafblindness.
Special thanks to Sarah Marshall, Senior Speech Pathologist at NextSense, for writing and contributing this article. NextSense is a not-for-profit organisation in Australia that supports people with hearing and/or vision loss, conducts research, and delivers education in sensory disability.
References
Chen, D. (2004). Young Children Who Are Deaf-Blind: Implications for Professionals in Deaf and Hard of Hearing Services. Volta Review. 104.
Erickson, K. A., & Geist, L. (2016). The profiles of students with significant cognitive disabilities and complex communication needs. Augmentative and Alternative Communication, 32(3), 187–197. https://doi.org/10.1080/07434618.2016.1213312
Intini, M., Garrino, L., Conti, A., Dimonte, V., & Borraccino, A. (2022). Deaf-Blindness through the Voices and Experiences of Parents and Educators. Journal of Deaf Studies and Deaf Education, 27(4), 373–384. https://doi.org/10.1093/deafed/enac014
Parker, A. T. (2017). Considering a Practical Orientation and Mobility Framework to Design Communication Interventions for People With Visual Impairments, Deafblindness, and Multiple Disabilities. Perspectives of the ASHA Special Interest Groups, 2(12), 89–97. https://doi.org/10.1044/persp2.sig12.89
Rowland, C. (Ed.) (2009). Assessing Communication and Learning in Young Children Who Are Deafblind or Who Have Multiple Disabilities. Design to Learn Projects, Oregon Health & Science University. https://www.designtolearn.com/uploaded/pdf/DeafBlindAssessmentGuide.pdf
(2022, April). Total Communication, https://www.sense.org.uk/information-and-advice/communication/total-communication/ Accessed on February 24, 2023.
World Federation of the Deafblind. (2018). At Risk of Exclusion from CRPD and SDGs Implementation: Inequality and Persons With Deafblindness. Initial Global Report on Situation and Rights of Persons with Deafblindness. https://wfdb.eu/wfdb-report2018/
World Federation of the Deafblind. (2023). Second Global Report on The Situation Of Persons With Deafblindness. https://wfdb.eu/wfdb-report-2022/
The content on this website is for general informational purposes only and should not be taken as medical advice. Please contact your doctor or hearing specialist to learn what type of hearing solution is suitable for your specific needs. Not all products, features, or indications shown are approved in all countries.