MAESTRO 7.0 System Software—Fast, Intuitive, & Better Than Ever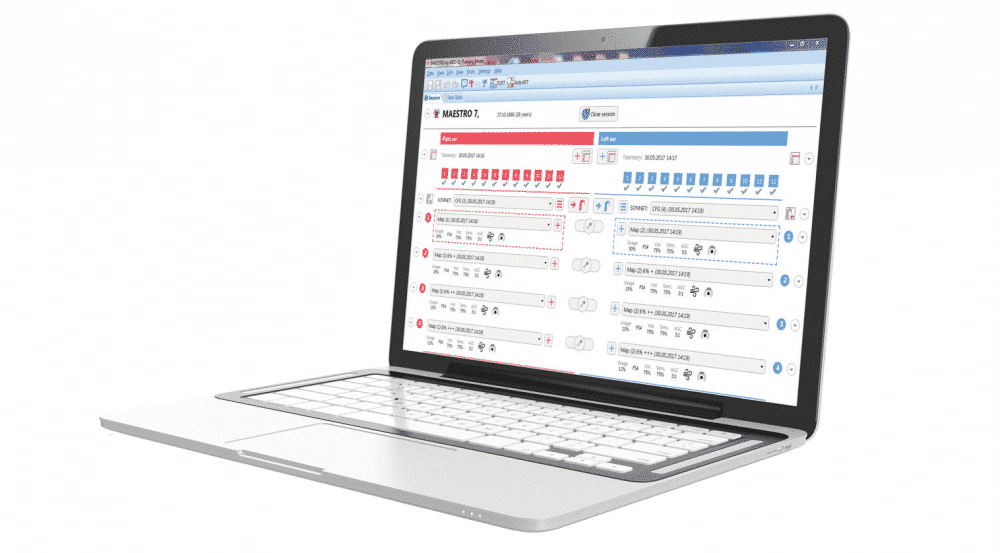 Whether you're an experienced audiologist or a clinician who's new to fitting cochlear implants, your work depends on having fitting software that meets your specific needs. That's why we're so excited to announce MAESTRO 7.0 System Software.
Throughout development of MAESTRO 7.0, we've been working closely with clinicians in the field to create our most intuitive, user-friendly software ever.
What does MAESTRO 7.0 offer you? Simply put, MAESTRO 7.0 will save you time, simplify your daily work, and help you achieve better outcomes in challenging fitting cases.
MAESTRO 7.0: What's New
If you're new to fitting MED-EL cochlear implants, you'll love MAESTRO 7.0's intuitive workflow user interface. It's incredibly easy to use, so you can quickly master all the new features with minimal time & effort.
And if you're familiar with MAESTRO 6.0, you'll find all the features you're used to, such as ESRT, plus a whole new set of advanced tools. And of course, you'll appreciate the optimized workflow, custom templates, and rapid objective measures.
Let's take a quick look at what's new.
Intuitive Workflow
The new workflow interface guides you task-by-task through each fitting session. You can easily add new users, manage patients, run objective measures, and create maps. You can even create custom workflow templates that allow you to choose which tasks are standard.
AutoART
Our new FineGrain AutoART provides rapid, precise ECAP measurements in a simple-to-use automated interface. Even better, AutoART delivers the fastest complete intraoperative & postoperative measures available, saving you time & effort.
ARTFit
With ARTFit, you can quickly create fitting maps based on FineGrain AutoART ECAP measures. This is especially helpful for creating an initial map or when behavioral measures are limited.
DL-Coil Fitting
You can now perform all objective measures and fitting through the DL-Coil—which has an integrated link-check, so you can always easily see that the coil has proper connection with the implant.
Triphasic Pulses
Our new Triphasic stimulation technology offers an effective solution for recipients who experience non-auditory side effects and previously could not be fitted optimally. This focused stimulation enables you to provide satisfactory fitting and hearing outcomes in most challenging cases.
Electric Acoustic Evoked Potential
In MAESTRO 7.0, we've introduced the first clinically available research tool with coordinated electrically and acoustically evoked potentials for monitoring hearing preservation during cochlear implant electrode array insertion.
Getting Started
In summary, MAESTRO 7.0 offers you the most advanced cochlear implant fitting software tools in an intuitive, simple-to-use interface.
To give you an inside look at all the new benefits of MAESTRO 7.0, we've recorded a series of interviews with our experts.
In this first interview, Jennifer Robinson, Audiologist and Senior Product Manager for Clinical Software, introduces the benefits of the new features in MAESTRO 7.0. Listen now to find out more about what you can look forward to in MAESTRO 7.0.
We plan to have MAESTRO 7.0 available this fall—make sure to follow our Professionals Blog for the latest updates from MED-EL.
Ready to hear more about what's new in MAESTRO 7.0? Check out these MAESTRO 7.0 interviews with our software experts.
Subscribe now! We'll be going into much greater detail on every new feature of MAESTRO 7.0 in the coming weeks, so don't miss out!
*Not all products, indications, and features shown are available in all areas. Please contact your local MED-EL representative for more information.
**Supported Microsoft Windows® operating systems: Microsoft Windows® 7, Service Pack 1 and later, Microsoft Windows® 8, 8.1, and later, Microsoft Windows® 10 and later.