How Reliable Is BONEBRIDGE? An Update on Its Track Record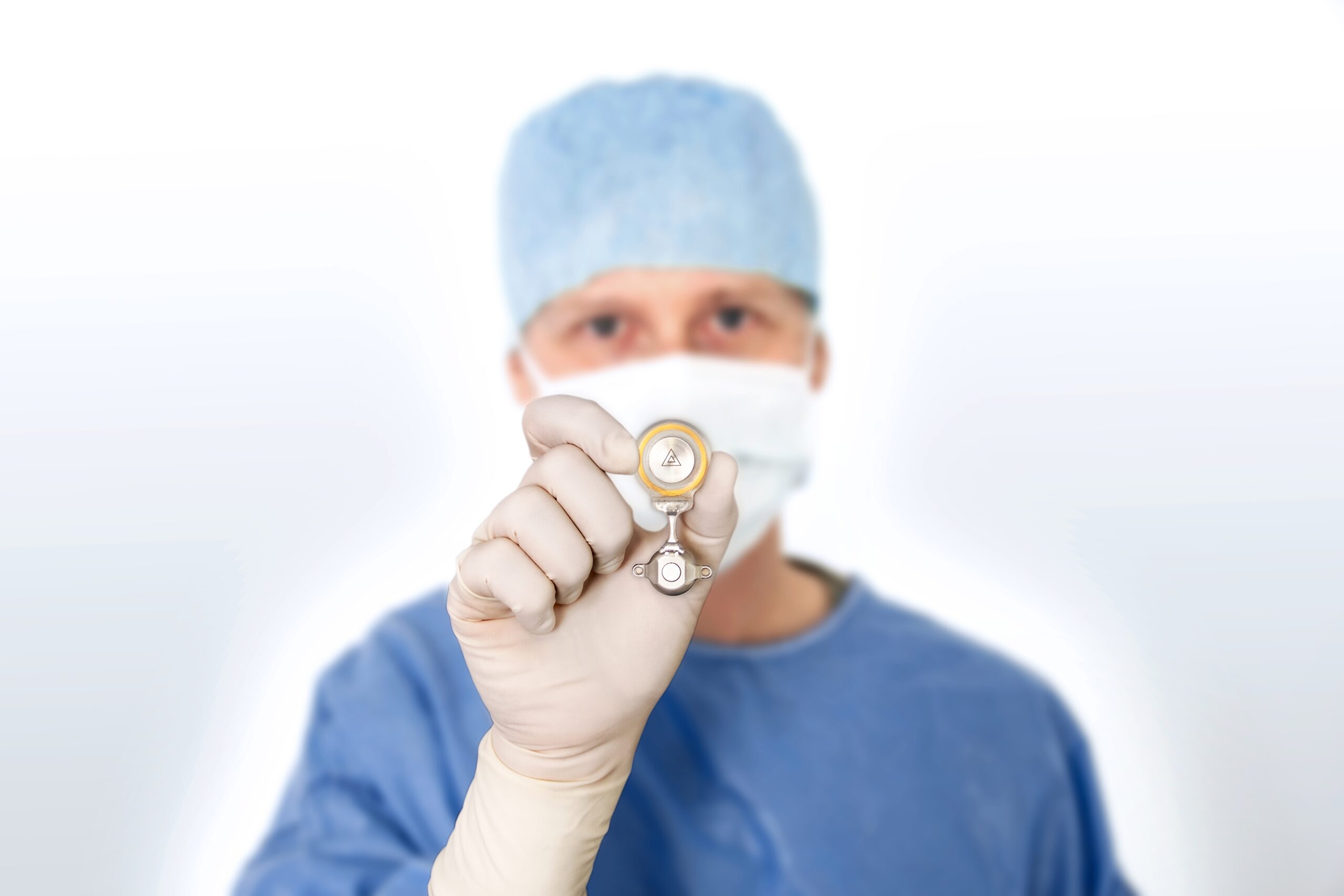 You may recall: About one and a half years ago, the new and improved second generation BONEBRIDGE, the BCI 602 bone conduction implant, came onto the market.
BCI 602 builds on the technological strengths of its predecessor, BCI 601, which was the first active transcutaneous bone conduction implant in the world. Some of the advantages remain the same, such as being embedded underneath closed, intact skin and the implant directly generating vibrations. But more key innovations were added. Take, for example, BCI 602's flatter, ergonomically shaped transducer or the implant's fast and extremely secure fixation thanks to its self-drilling screws.
Have these advancements had a real impact? And how safe and reliable is BONEBRIDGE? It's time to take a closer look at its track record.
Excellent Hearing Outcomes
The great and natural hearing results that active bone conduction implants are capable of delivering has long been known—direct-drive bone conduction ensures powerful amplification, a natural hearing experience as well as fast, long-term, and stable hearing outcomes. The last aspect mentioned, namely stability, brings another category into play in addition to hearing performance: product reliability.
How Is Reliability Measured?
If you want to assess the reliability of hearing implants comprehensively, transparently and objectively, you have to consider the cumulative survival rate. While it might sound a bit complex to some, it can be explained quite simply: This percentage expresses the statistical probability that an implant will still function properly after a certain period of time.
At MED-EL, we include all technical failures in these reliability statistics (CSR data) regardless of whether the failure is due to an external force or not.
So what does the latest data reveal? Both implants, BCI 601 and BCI 602, are extremely reliable.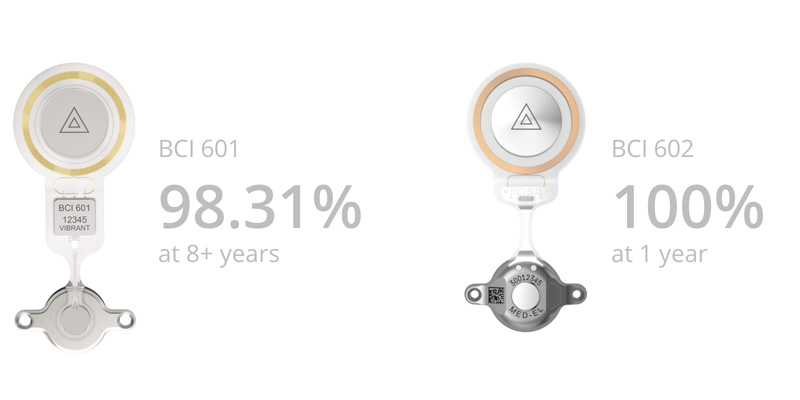 All technical failures are included, including failures that can be traced back to
external forces.
These exceptionally high reliability numbers are no coincidence. They reflect the extensive amount of research and development, the longest market experience of any transcutaneous bone conduction implant on the market, and ongoing research and innovation.
A Pioneer in Active Transcutaneous Bone Conduction Technology
A decade ago, BONEBRIDGE revolutionized the hearing solutions market as the world's first active transcutaneous bone conduction implant system. Thousands of successful implantations and satisfied users worldwide as well as numerous studies underline BONEBRIDGE's impressive long-term success.1 BCI 602, first implanted in 2019, has now also enabled thousands of people in over 50 countries to hear again.
What concrete improvements have been the result of our experience? And what makes the BONEBRIDGE not only the most advanced but also the most reliable bone conduction implant on the market?
There are many reasons for this:
Active transcutaneous technology
Many years of experience on the market
Surgical flexibility
Stable two-point fixation in the bone
Approved for MRIs at a strength of 1.5 T*
Gentle Signal Transmission
In contrast to percutaneous systems, BONEBRIDGE leaves the skin intact. The implant is placed beneath healthy skin and transfers vibrations directly to the bone. The active, transcutaneous technology protects the skin in two ways: On the one hand, there is no permanent wound that requires daily care, as is the case with percutaneous systems that often cause complications.2 On the other hand, high pressure does not need to be exerted on the skin as passive implant systems must do to transmit vibrations. All of this contributes to the fact that BONEBRIDGE has far lower complication rates than percutaneous or passive transcutaneous implant systems.3

Bone conduction systems: active & transcutaneous (BONEBRIDGE) vs. passive vs. percutaneous
Reduced Drilling Depth and Surgical Flexibility
The structure of the implant, with the flexible transition between the receiver coil and the floating-mass transducer, offers surgeons maximum flexibility when positioning the implant. This also gives the best possibility for fitting it to each patient's unique anatomy. The optimal placement and fixation of the transducer in the bone is greatly facilitated by the fact that the receiver coil part of the implant can bend up to 90° in either lateral direction and up to 30° medially. This minimizes the risk of complications during or after the operation, which could result from the incorrect placement of the implant. Several recently-published studies observed that BONEBRIDGE could be implanted quickly and without complications in all included cases.4, 5, 6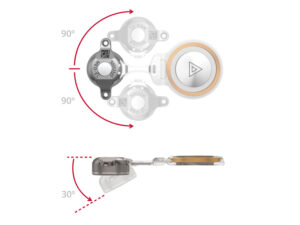 The bendable transition ensures surgical flexibility.
Secure Fixation in the Bone
The long-term reliability of BONEBRIDGE can be attributed to the fact that the transducer is embedded in the bone with our proven two-point fixation using self-drilling screws. In contrast to other bone conduction implants, BONEBRIDGE is not simply placed on the bone surface and screwed in. Instead, BONEBRIDGE is almost completely embedded within the bone. The implant can easily be placed in many positions on the temporal bone and requires a maximum drilling depth of only 4.5 mm. BCI 602's extremely flat, ergonomically shaped transducer can also be easily embedded in the temporal bone of children or adults with thin bones.7
What benefits does two-point fixation bring? On the one hand, it avoids protrusion since the implant hardly protrudes from the bone and most of it rests solidly within. This minimizes the pressure on the tissue above the bone. In addition, BONEBRIDGE is hardly recognizable from the outside, which is not the case with other transcutaneous implants that produce a significant bulge.

Secure two-point fixation with self-drilling screws
Strong Protection Against External Impact
Even more important than the cosmetic aspect, however, is stability against external impact. For example, if a child with a BONEBRIDGE implant hits their head, the implant resting solidly within the bone and its two-point fixation minimize the risk of damage to the implant. Bone conduction implants that are only attached to the bone with one screw carry an increased risk that the implant will be damaged by external influences.9 As mentioned, not a single case of BCI 602 experiencing a technical failure has been reported after more than a year, including possible damage caused by external impact.
This is not the only reason why BONEBRIDGE the ideal implant system for active adults and children. With a robust and flexible design that is suitable for nearly any anatomy and secure fixation, your patients are equipped for all situations. And last but not least, this leads us to another advantage of BONEBRIDGE: safe access to MRI.
Safe Access to MRIs at 1.5 Tesla With No Discomfort
Both BONEBRIDGE implants—BCI 601 and BCI 602—were made for safe access to MRI scans at a strength of 1.5 T.* They enable MRIs at 1.5 Tesla without additional surgery (unless required for diagnostic reasons), without discomfort and without hearing downtime. Users simply remove the audio processor immediately before the MRI scan and can use it again to hear immediately afterwards. We're also the first and only hearing implant manufacturer to offer a life-long and worldwide MRI Guarantee.**
The Ideal Choice
In terms of reliability, surgical flexibility, hearing results and user satisfaction, no other active transcutaneous bone conduction implant can match BONEBRIDGE. With BONEBRIDGE, you can rely on the world's most advanced active bone conduction implant and the one with the longest market experience. You and your patients can enjoy having peace of mind as a result.
In addition to BONEBRIDGE's exceptionally high reliability rate and no cases of technical failure reported for the BCI 602 implant, BONEBRIDGE also provides the following benefits:
Active & transcutaneous technology
Excellent hearing outcomes 4, 5, 6, 8
Shorter, faster, and safe surgical procedures 4, 5, 6
High user satisfaction and improved quality of life 5
Ideal solution for children
MRIs at 1.5 T*
The only MRI Guarantee worldwide**
Subscribe & Share
Interested in more articles written specifically for ENT professionals about our life-changing hearing implant technology?  Subscribe to the MED-EL Professionals Blog now and receive regular updates from MED-EL directly in your inbox.
More details about MRI scans and BONEBRIDGE can be found at www.medel.com/isi.
If you have other questions or comments, please contact your local MED-EL representative.
References
The BONEBRIDGE – Systematic review and meta-analysis of published evidence, 2019.
Plontke et al.: Implantation of a new active bone conduction hearing device with optimized geometry, HNO 2020 Aug, 68 (Suppl 2), 106-115.
White paper on safety outcomes of bone conduction and middle ear implants: a systematic review, rev. 5.0 (2020).
Magele et al.: Active transcutaneous bone conduction hearing implants: systematic review and meta-analysis. PLoS One, 2019 Sep 16, 14 (9), e0221484.
Sprinzl, G.M.; Schoerg, P.; Ploder M.; Edlinger, S.H., Magele, A. (in press). Surgical Experience and Early Audiological Outcomes with the new Active transcutaneous Bone Conduction Implant, Otology & Neurotology.
Yang et al: Audiological and subjective outcomes of 100 implanted transcutaneous bone conduction devices and preoperative bone conduction hearing aids in patients with bilateral microtia-atresia, Acta Otolaryngol 2020 Aug, 140 (8), 675-681.
Wenzel et al.: Changes in bone conduction implant geometry improve the bone fit in mastoids of children and young adults, Otol Neurotol 2020 Jul, 27.
The BONEBRIDGE Post-Market Clinical Follow-up Study (2019).
McLarnon et al.: Resonance frequency analysis of osseo-integrated implants for bone conduction in a pediatric population – a novel approach for assessing stability for early loading, Int. J. Pediatr. Otorhinolaryngol 2014 Apr, 78 (4), 641-644.
*The BONEBRIDGE BCI 601 and BCI 602 Active Bone Conduction Implants are MR Conditional. Recipients with BONEBRIDGE may be safely MRI scanned at 1.5 Tesla following the conditions detailed in the instructions for use.
**The terms and conditions of the MRI guarantee can be found at https://go.medel.com/mri-guarantee-terms
The content on this website is for general informational purposes only and should not be taken as medical advice. Please contact your doctor or hearing specialist to learn what type of hearing solution is suitable for your specific needs. Not all products, features, or indications shown are approved in all countries.