Even More SONNET & SONNET 2 Users Can Now Enjoy Bimodal Streaming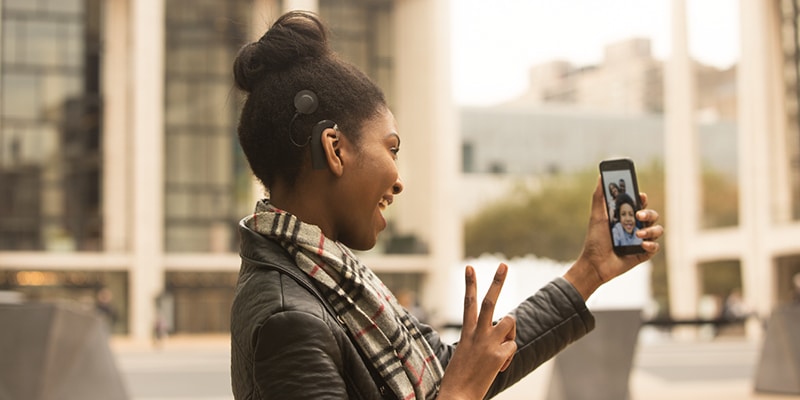 We are pleased to announce the expansion of bimodal streaming capabilities to many SONNET and SONNET 2 users with AudioStream. These users may now be able to enjoy bimodal streaming from compatible smartphones with the Android 12 operating system. This is in addition to users of other Android devices that were already supported.
Thanks to a new feature released with the Android 12 operating system, [1] bimodal streaming may now be possible from many smartphones to MED-EL AudioStream and ASHA-supported hearing aids.
Devices Suitable for Bimodal Streaming
For bimodal streaming, an Android smartphone with the Android 12 operating system or later is needed, along with a hearing aid with ASHA technology (Audio Streaming for Hearing Aid), and an AudioStream.
On our AudioStream page, we provide a list of devices specifically tested and confirmed by MED-EL to be suitable for bimodal streaming.
Other Android devices and hearing aids with the necessary technologies may also be suitable for bimodal streaming when using AudioStream.
We will continue to update the list of known compatible Android devices and hearing aids in the future, but we are unable to test all smartphones since there are thousands of Android devices and vast numbers of hearing aids available on the market.*
Bimodal Streaming From a Device With Android 12 or Later
While testing Android 12, we have learned of some helpful troubleshooting tips that we would like to share with you:
Each device (hearing aid and MED-EL's AudioStream) should be paired as one device for the left side and one device for the right side.
If the connection breaks down, remove both of the devices from the Bluetooth® settings. Then, re-pair them again one after the other (with one for the left side and one for the right side).
Please make sure that Bluetooth is deactivated or turned off on any smartphone which may be connected to AudioStream.
What can happen in this scenario is that AudioStream can lose connection with the intended smartphone and automatically connect to another one of the user's smartphones. When this happens, you cannot connect AudioStream with your intended smartphone until you disconnect it from the other smartphone.
Subscribe & Share
Don't miss any helpful updates like this one. Sign up to get the latest news from MED-EL sent directly to your inbox.
References
[1] Android Open Source Project. (2022). Combined Audio Device Routing. Retrieved November 10, 2022, from https://source.android.com/devices/audio/combined-audio-routing
*Although MED-EL aims to provide as many users as possible with seamless device compatibility, MED-EL cannot guarantee full compatibility or troubleshooting support with all devices and the information provided above should only be used for reference.
Android is a trademark of Google LLC.
The Bluetooth® word mark and logos are registered trademarks owned by the Bluetooth SIG, Inc. and any use of such marks by MED-EL is under license.