Auditory Wellness in Active Aging: An Opportunity to Change the Field of ENT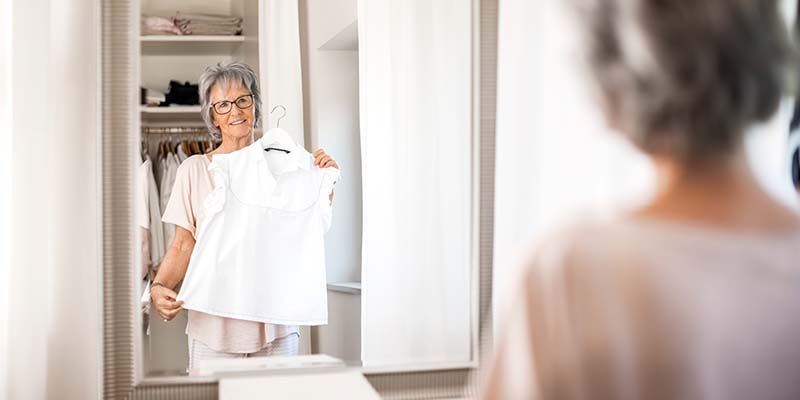 2021 marks the beginning of the United Nation's Decade of Healthy Aging, an initiative to support adults across the world to live fulfilling, inclusive, and healthier lives. We know that hearing loss can be a major barrier to achieving healthy and fulfilling final decades of life for many. In this article, we will explore how the aging population and rising prevalence of age-related hearing loss, or presbycusis, are likely to present new opportunities for hearing care professionals across the world.
New Clinical Opportunities for Adult Hearing Care
Now, with over 65% of adults over 60 living with some form of hearing loss[4], presbycusis could be the next big challenge for hearing healthcare professionals.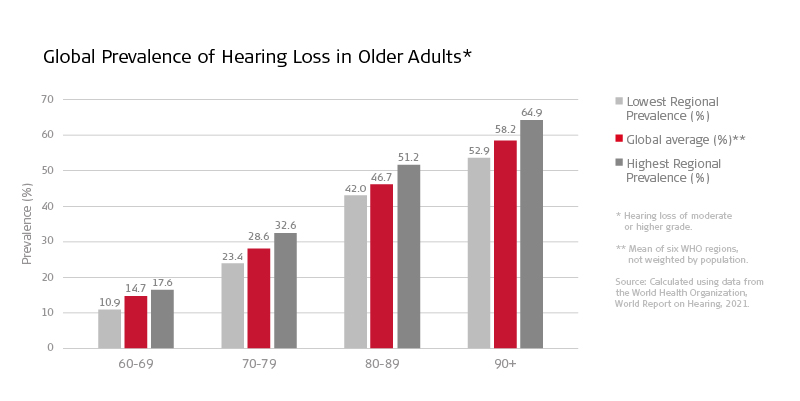 Senior Research Audiologist, Jane Opie, shares her thoughts on the opportunities this could bring for audiologists, speech and language therapists, and otologists:
"The release of the World Report on Hearing was an important moment as it crystallized how our professions can help to shape future hearing loss services. In many areas, access to hearing care professionals is critically low or severely underfunded. I believe that some of the key innovations of the future will be those that increase access to services for adults with untreated hearing loss, such as the following:

Improving access to cost-effective adult hearing screening tools. This could be the first step to supporting adults to seek effective treatment.

Creating novel approaches for alternative service delivery. Allied health professionals could bring basic audiology services directly to under-served communities.

Reducing the reliance on centralized clinical-based interventions and effective referrals through digitally-led interactions that minimize travel time and costs.

Researching core topics related to age-related hearing loss, particularly concerning cognition and other downstream outcomes, genetics, and maximizing patient outcomes.

We expect that removing the burden on caretakers will also become an important topic in the future."
The transition to translational and integrated healthcare has also helped to increase our understanding of hearing loss in adults and its connection to costly comorbidities. Research in this field has shown that untreated hearing loss in midlife is the number one modifiable risk factor for dementia, increasing the risk by 8%. This is followed by depression (4%) and isolation (4%), both of which frequently accompany hearing loss and are key barriers to active and healthy aging [2].
As auditory training is shown to have a positive impact on cognition [3], we also recently developed a free rehabilitation package for adults with CIs. The Adult Rehabilitation Kits (ARKs) support professionals to deliver auditory training, cognitive processing within listening practice, and the integration of hearing into a person's lifestyle.
With a growing number of adults with hearing loss, tools like these and access to treatment will become increasingly important. We recognize that ENT professionals need access to the latest research, innovative best practices, and tools to meet these challenges.
To help clinicians assess the wider health factors of hearing loss, we're developing a test battery designed to effectively screen and evaluate psycho-social-physical factors relevant to effective communication in older adults. We'll share more news about this in a future blog. Make sure to subscribe to the MED-EL Professionals Blog so you don't miss it.
Age Is Not a Barrier to Hearing Implantation
"Hearing devices are the treatment of choice for older people with hearing loss."
World Health Organization [4]
But are implants the right choice for older adults? Significant improvements in hearing-related health outcomes have been shown in adults who receive hearing screening early followed by the use of appropriate hearing technologies [5-7]. Importantly, older age is not a contraindication for hearing implants, whether that be cochlear implants, BONEBRIDGE, or VIBRANT SOUNDBRIDGE systems.
Cochlear implantation in adults and older adults is proven to be safe, effective, and cost-effective [8-12], with people in their 90's and beyond living with CIs. The use of local anesthesia for those deemed unsuitable for general anesthesia has been shown to not only shorten surgical time and the post-operative recovery period, but has helped increase access to hearing devices among older adults [9].
"I've always been a person who needs communication, both professionally and privately. With increasing hearing loss, however, every conversation became a horror. Constantly having to ask questions put me under enormous stress. At the age of 62, I got my first CI, and I got my second at 66. The operations went smoothly. I don't want to go without my CIs anymore. I got my old life back, and now I can communicate magnificently again. The CI gave me more fun and joy in life once again." Gerhard, bilateral MED-EL cochlear implant recipient
Reported outcomes of hearing implants in older patients are also cited as being beneficial across both objective and subjective measures. Patients aged above 60 show post-operative audiological and speech discrimination outcomes similar to younger adults [13, 14]. Evidence also highlights significant increases in quality-of-life metrics of adults post cochlear implantation: Improved communication, social engagement, emotional, mental health, and physical well-being effects are among the wider outcomes recorded [15-18].
Auditory Wellness: A Journey Together
Over the coming years, we can each play a role in championing the importance of auditory wellness and active aging. We look forward to working with you to deliver focused research, innovative technologies, and digital solutions that support access to lifelong hearing care and auditory wellness for all ages.
References