ARTFit & MAESTRO 7: Automatically Create Cochlear Implant Maps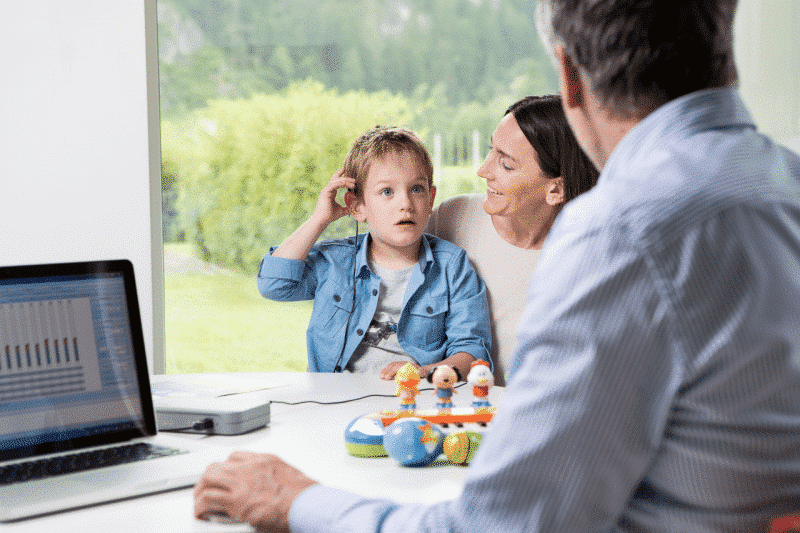 For cochlear implant fitting, behavioral fitting methods are considered standard practice. Stimulation levels of each channel are gradually adjusted until the recipient confirms the threshold (THR) and most comfortable levels (MCL) of stimulation. This method is commonly used and can be considered very effective for many patients.
However, this subjective method relies heavily on the recipient's ability to actively provide responses over an extended fitting session. If the patient cannot effectively communicate, it can be difficult to obtain accurate, consistent responses in behavioral fitting.
Behavioral fitting can be challenging in many cases, including pediatric patients. For young children or for patients who are unable to respond, behavioral fitting is usually based on observation and subjective judgement from the audiologist. This process can be time consuming and results may still not be consistent.
This is why we created ARTFit—a new tool in our MAESTRO 7 software. ARTFit lets you quickly & automatically generate objective-measure-based maps for cochlear implant recipients. ARTFit is an ideal option for fitting patients who can't provide clear behavioral measures.
With ARTFit, you can create objective fitting maps in just a few minutes—giving you far more time for patient counselling and other useful tasks.
Objective-measures-based fitting

FineGrain AutoART accuracy

Automatic map creation

Integrated safety checks

Saves time & resources

Less effort for recipient
Today, we're going to look at how ARTFit works, how easy it is to use, and how it lets you automatically create fitting maps with just a few clicks.
ARTFit: Objective Fitting
Let's start with the technology behind ARTFit. To measure how the auditory nerve responds to stimulation, ARTFit uses our precise FineGrain technology. This method quickly and automatically calculates electrically evoked compound action potentials (ECAP) thresholds for the auditory nerve.
This allows ARTFit to rapidly and effectively assess the response of the auditory nerve using objective measurements. ARTFit automatically selects the appropriate number of well-distributed electrodes, so ECAP measurements are not necessary on every electrode.
ARTFit uses this ECAP data and an ARTFit-specific algorithm to calculate the appropriate maps. This algorithm has integrated safety checks to ensure stimulation levels are reasonable and within comfortable levels.
ARTFit: Quick Mapping
ARTFit is incredibly simple to use. Starting an ARTFit mapping only takes one click. Just select the ARTFit task  on the intuitive patient overview of MAESTRO 7.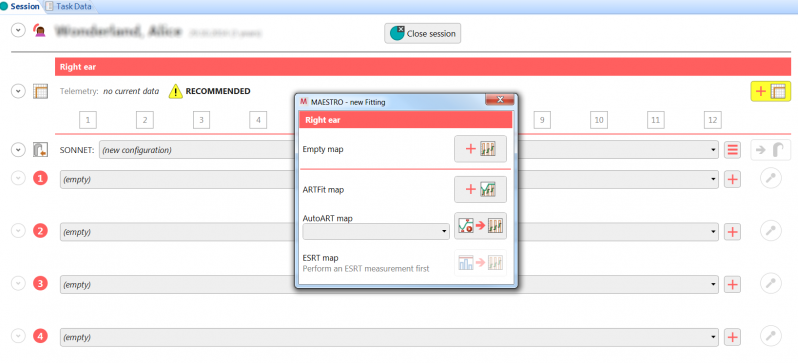 First, ARTFit automatically runs FineGrain ECAP measures across the electrode array. ARTFit selects a minimum number of well-distributed ECAPs. You can pause or skip an electrode at any time to ensure patient comfort.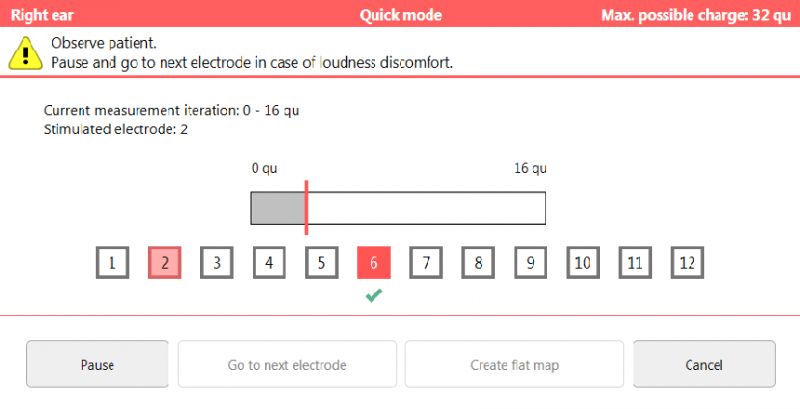 ARTFit analyzes this ECAP data and automatically creates a fitting map based on ECAP thresholds. This map is ready to activate. The only step left is setting the overall loudness and verifying the map.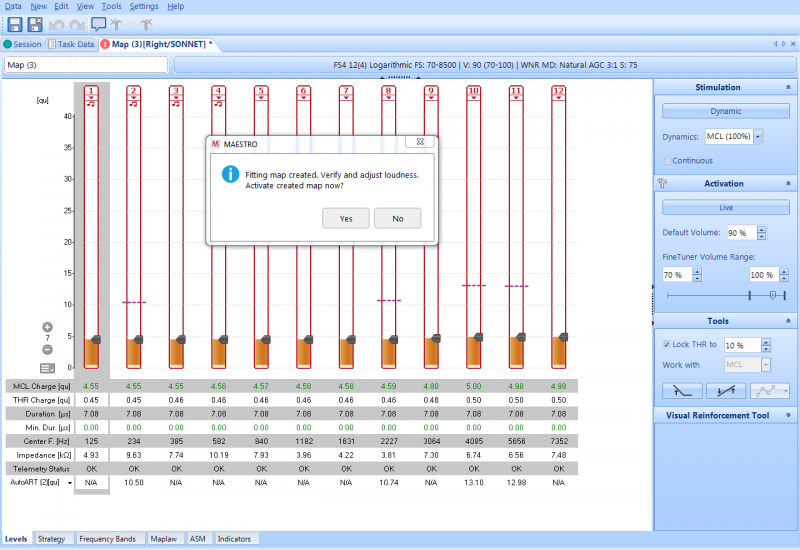 To ensure you can easily manage patient comfort, the ARTFit map begins at a low loudness level. This provides a comfortable safety margin. You simply adjust the overall loudness by globally shifting most comfortable levels (MCLs) upwards until comfortable loudness is reached.
This simple step requires only basic behavioral response or observation, so it can be done with relatively minimal time and effort.  You can also use the MAESTRO 7 progressive maps option to instantly create a series of progressive maps for your patient.
That's it—the automatic ARTFit map is now live and ready to use!
In testing, recipients with ARTFit maps performed well on speech perception tasks. Creating a map with ARTFit was significantly faster than creating a map using burst-fitting methods.1 
Benefits of ARTFit
So, as you can see, ARTFit lets you quickly and easily create reliable automatic fitting maps for your patients. This makes ARTFit an excellent tool for fitting patients who cannot provide useful behavioral measures.
Automatically created fitting maps

Less behavioral response required

Intelligent ARTFit fitting algorithm

Objective-measurement based map

FineGrain precision

Faster, easier fitting

Less patient effort

More time for counselling tasks
Subscribe & Share
Want to learn more about ARTFit & MAESTRO 7? Check out this interview with Dr. Peter Nopp, Director of Research in Signal Processing in our R&D department. (12 minutes)
Ready to start using MAESTRO 7 in your clinic? Contact your local MED-EL representative for more information!
Reference
Data on file: MED-EL (2017).
*Not all products, indications, and features shown are available in all areas. Please contact your local MED-EL representative for more information.
The content on this website is for general informational purposes only and should not be taken as medical advice. Please contact your doctor or hearing specialist to learn what type of hearing solution is suitable for your specific needs. Not all products, features, or indications shown are approved in all countries.