25 Years of VIBRANT SOUNDBRIDGE: A Success Story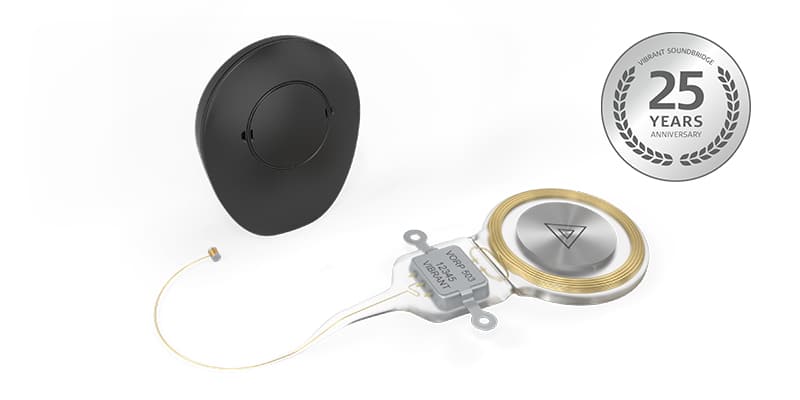 For over a quarter of a century, the revolutionary and unrivalled VIBRANT SOUNDBRIDGE middle ear implant system has helped restore hearing to thousands of people around the world. Its 25th anniversary is the perfect occasion to take a closer look at the past, present, and future of this active middle ear implant with Prof. Thomas Lenarz, one of the most experienced hearing implant surgeons in Germany. In our interview with him, he recalls the first VIBRANT SOUNDBRIDGE (VSB) surgeries, outlines what has changed over the decades, and considers future challenges in implantable hearing solutions.
Prof. Lenarz, can you still remember the first VSB surgeries 25 years ago?
In Hannover in 1997, we were the second clinic after Zurich (Prof. Fisch) to treat the first 20 patients with a VSB as part of a study. At that time, only patients with sensorineural hearing loss who had a basic indication for hearing aids were implanted. Back then, we developed a surgical technique following the strict criteria of middle ear surgery to avoid damage to the inner ear. In individual cases, special surgical procedures were required that were specially developed for this purpose.
What has happened in the field of middle ear implants since then?
Since then, the number of indications in particular has changed significantly. Today, SOUNDBRIDGE is mainly used for patients with mixed hearing loss and a middle ear component of hearing loss that cannot be improved by conventional surgical measures. This makes them dependent on mechanical stimulation close to the inner ear.
Thanks to the further development of couplers, there are now suitable coupling options that cover nearly all middle ear anatomies. In addition, we expanded use to include children and patients who have undergone a middle ear obliteration.
What has been your experience in terms of hearing results and long-term benefits with VIBRANT SOUNDBRIDGE?
We have performed a long-term analysis of our hearing results in patients with mainly sensorineural, but also mixed hearing loss. Fortunately, the hearing results are very stable over a long period of time, which is mainly contingent on the function of the inner ear.
If inner ear function decreases, the performance of the implant may also decrease; however, if it remains stable, the performance of the implant also tends to remain stable. Incus necrosis or other complications are extremely rare.
In which cases do you tend to use SOUNDBRIDGE?
We have performed more than 300 VSB implantations, at the moment mainly in patients with mixed hearing loss, but also in patients with pure sensorineural hearing loss. We also use it for patients with chronic ear canal inflammation for whom fitting conventional hearing aids is not possible.
Is VSB a good solution for children?
It's a solution for children because the middle ear stops growing. Other important points in favor of VSB in this context: It is possible to perform MRIs. Having the option of future processor upgrades without requiring re-implantation is also quite convincing.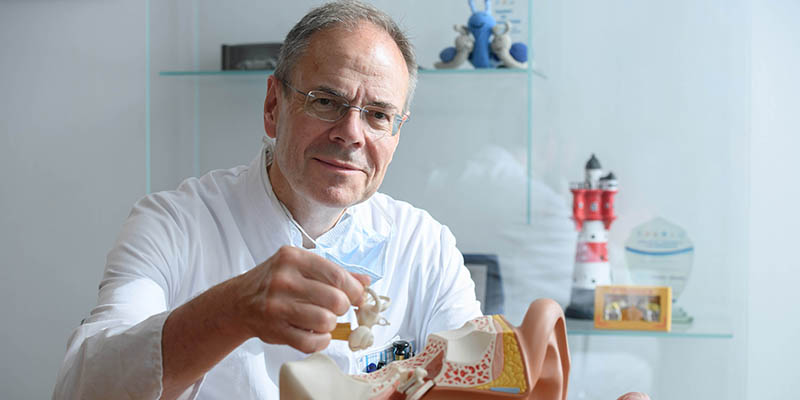 Prof. Dr. Thomas Lenarz, Director of the ENT Clinic and the German Hearing Center at the Hannover Medical School
What are unusual indications or conditions in which SOUNDBRIDGE has particularly strong advantages?
Particular advantages are that VSB can be used in children, on the one hand, and, on the other hand, the fact that it can also be used in cases of chronic otitis media and middle ear obliteration. It also offers a high degree of flexibility when it comes to coupling.
What do you appreciate most about VSB?
The surgical possibilities have improved greatly with the second generation, the VORP 503 implant, due to the various coupling options (couplers). VSB is currently the implant of choice for patients with moderate-to-severe mixed hearing loss.
Compared to hearing aids, it has a significantly higher efficacy, especially in patients with profound hearing loss, as well as in patients with chronic ear canal inflammation.
The high reliability rate is also extremely important since these patients have usually already undergone several operations, meaning that a permanently stable solution is, therefore, particularly important to them.
When and how do you decide which coupler to use in a specific case?
The decision to use a specific coupler depends on the existing anatomical situation, and it can be made preoperatively on the basis of the Cone Beam CT, or intraoperatively based on the situs. In general, there are situations in which each of the couplers are used due to differing anatomical conditions.
Where is the journey in the field of active, transcutaneous middle ear implant systems currently taking us?
In the future, a more efficient indication with regard to the transducers to be used will be an important step, as well as the refinement and further development of coupler elements and improved preoperative diagnostics for adequate prediction of hearing success.
Overall, the market is still developing, but it is larger than it may currently appear. Extension of the indications depends primarily on an even more powerful FMT that can better stimulate the low-frequency range in particular. Therefore, I hope that VIBRANT SOUNDBRIDGE will see further development in this direction in order to be able to effectively help patients with profound sensorineural hearing loss.
Thank you very much for taking the time to sit down with us for this interview, Prof. Lenarz!
———————————————————————
The Only Implant System of Its Kind in the World
As the first and currently only active and transcutaneous middle ear implant, VIBRANT SOUNDBRIDGE sets the standard in reliability, surgical flexibility, and hearing performance. On the market for more than 25 years, VSB is now used in more than 60 countries around the world.
For mild-to-severe sensorineural hearing loss, VIBRANT SOUNDBRIDGE is an ideal alternative to conventional hearing aids. With it, users can benefit from having a natural hearing experience with an unobstructed auditory canal and high wearing comfort.
For conductive and mixed hearing loss, VSB also provides excellent hearing outcomes. It bridges problems in the outer and middle ear and is suitable for patients, for example, with chronic otitis externa, atresia, or radical cavities.
VSB offers the following advantages, among others:
The only active transcutaneous middle ear implant
Excellent hearing outcomes1,2,3,4,6,8
Very high user satisfaction5
Ear canal remains completely untouched
Flexible coupler choice according to anatomy6
Ideal solution for children
MR Conditional at 1.5 T possible*
Proven reliability7,8
Compatible with future audio processors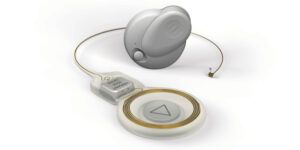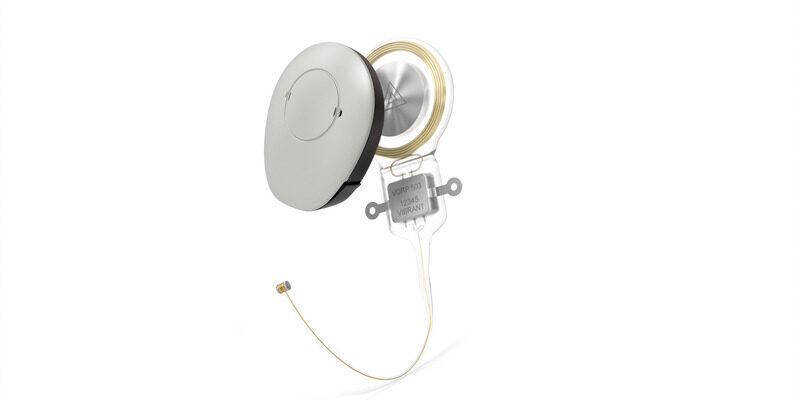 VIBRANT SOUNDBRIDGE 2009 (Amadé audio processor and VORP 502 implant) and 2021 (SAMBA 2 and VORP 503)
Subscribe & Share More on VSB
Check out our recent article on "25 years of VIBRANT SOUNDBRIDGE" coauthored by the inventor of the SOUNDBRIDGE, Geoffrey Ball: Design and Development of the VIBRANT SOUNDBRIDGE – A 25-Year Perspective.
Webinar: You can watch a recording of the VSB Anniversary webinar on the MED-EL Academy: "25 Years of VIBRANT SOUNDBRIDGE – A Story of Success"
White Paper on VSB outcomes: A comprehensive meta-analysis of audiological and patient-specific SOUNDBRIDGE results can be found here: VIBRANT SOUNDBRIDGE Outcomes
And you can also take a look at our other related blog articles:
Efficient, Reliable, Safe: SOUNDBRIDGE for Mixed Hearing Loss
SAMBA 2, the VSB system's latest audio processor
Are you interested in VIBRANT SOUNDBRIDGE?
Would you like to perform SOUNDBRIDGE implantations in your clinic? Or do you simply want to learn more about this unique middle ear implant system? Get in touch with us.
Subscribe
Would you like to read more articles written specifically for ENT professionals about our life-changing hearing implant technology?  Subscribe to the MED-EL Professionals Blog now and receive regular updates from MED-EL directly in your inbox.
References
1

Kließ, M. K., Ernst, A. , Wagner, J. and Mittmann, P. (2018), The development of active middle ear implants: A historical perspective and clinical outcomes. Laryngoscope Investigative Otolaryngology, 3: 394-404. DOI: ttps://doi.org/10.1002/lio2.215 10.1002/lio2.215

Iwasaki et al., Round Window Application of an Active Middle Ear Implant: A Comparison with Hearing Aid Usage in Japan, Otol Neurotol, 6 (2017) 145-151. DOI: 1097/MAO.0000000000001438
Mojallal et al., Retrospective Audiological Analysis of Bone Conduction versus Round Window Vibratory Stimulation in Patients with Mixed Hearing Loss, Int J Audiol, 6 (2015) 391-400. DOI: 3109/14992027.2014.986690
G. M. Sprinzl et al., Long‐Term Stability and Safety of the Soundbridge Coupled to the Round Window, Laryngoscope, Nov 2020. DOI: 10.1002/lary.29269
3

Han JJ, Rhee J, Song JJ, Koo JW, Choi BY. Clinical Predictors for Satisfaction with Incus Vibroplasty: A Preliminary Study. European archives of oto-rhino-laryngology : official journal of the European Federation of Oto-Rhino-Laryngological Societies (EUFOS) : affiliated with the German Society for Oto-Rhino-Laryngology – Head and Neck Surgery. 2018;275(2):371-378.

Rahne et al., A Retrospective European Multicenter Analysis of the Functional Outcomes after Active Middle Ear Implant Surgery using the Third Generation Vibroplasty Couplers, Eur Arch Otorhinolaryngol, 2021 Jan, 278 (1), 67-75. DOI: 10.1007/s00405-020-06064

Schwab et al., Adverse events associated with bone-conduction and middle-ear implants: a systematic review, Eur Arch Otorhinolaryngol, 2020 Feb, 277 (2), 423-438. DOI: 10.1007/s00405-019-05727-8

M. Hempel et al., A Transcutaneous Active Middle Ear Implant (AMEI) in Children and Adolescents: Long-term, Multicenter Results, Otol Neurotol, 2019 Sep, 40 (8), 1059-1067. DOI: 10.1097/MAO.0000000000002340
* The VORP 503 implant is MR conditional: Recipients with VIBRANT SOUNDBRIDGE may be safely MRI scanned at 1.5 Tesla following the conditions detailed in the instructions for use. Its predecessor, VORP 502, has not been approved for MRI scans.