Roger 21 for SONNET: Wireless Connectivity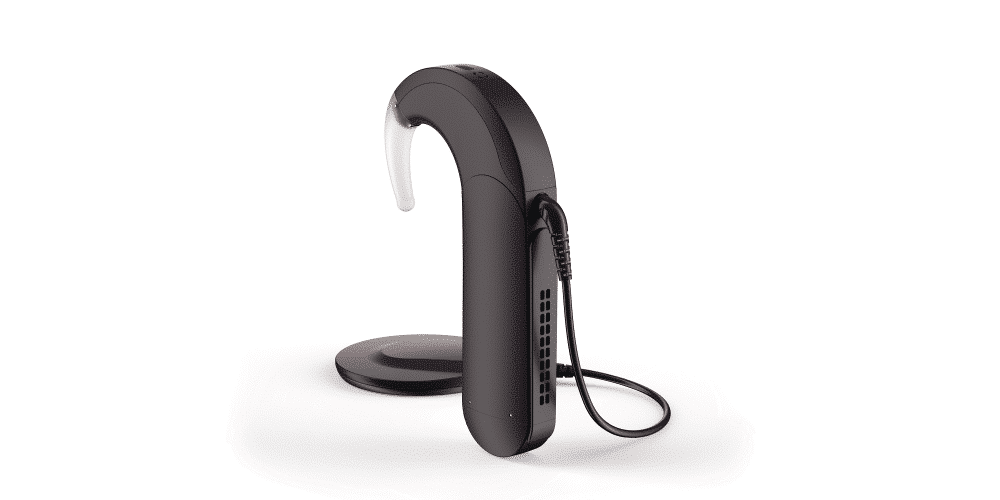 Whether it's dinner at a crowded restaurant or a busy meeting at the office, life can get noisy. This doesn't just affect speech understanding. Hearing in background noise can take much more listening effort and concentration.
Even well-performing cochlear implant recipients can benefit from the enhanced audio of a wireless microphone.  Using a wireless microphone is an excellent way to improve speech understanding by reducing background noise, therefore minimize listening effort.
That's why we're excited to announce the Roger™ 21 from Phonak.
Roger 21 is a wireless receiver completely integrated into a battery pack cover compatible with SONNET. It works with all Roger wireless microphones, offering a simple-to-use solution with excellent performance.
The benefits are clear:
The wireless connectivity and performance of Roger wireless microphones

A streamlined design that's comfortable to wear and seamlessly integrated with SONNET
Integrated Connectivity
Roger 21 is designed to match the profile of SONNET. It simply replaces the SONNET battery pack cover and is available in all 6 SONNET base colors. It's only slightly longer than a standard SONNET battery pack cover, so it's comfortable for all-day wearing.
Roger 21 is compatible with standard SONNET battery options or SONNET rechargeable batteries. You only need to remove the standard battery pack cover and slide on the Roger 21. The wireless receiver is automatically activated once you close that battery pack.
Wireless Microphones
With Roger 21, SONNET can easily connect to the full range of Roger™ wireless microphones from Phonak. You can connect with the push of a button. Let's take a quick look at what each of these options can offer.

Roger™ Pen
The Roger Pen features a directional microphone array, wideband Bluetooth connectivity for phone calls, and external audio input in a compact design. This makes it an excellent all-in-one communication option for SONNET wireless connectivity.
With the versatile Roger Pen, users can:
Focus listening for better speech understanding in noise

Hear a speaker clearly over distance

Wirelessly connect to mobile phone calls

Stream audio from the television or a tablet

Roger™ Table Mic
The Roger Table Mic is designed for better hearing in meetings at work. It's simply placed on a table to stream clear audio from all speakers.

Roger™ Clip-On Mic
The Roger Clip-On Mic is a simple, discreet wireless microphone option for one-on-one conversations. This lightweight microphone can be clipped to a conversation partner's clothing.

Roger™ Touchscreen Mic
This user-friendly wireless microphone is ideal for connecting in the classroom. It can be used with a lanyard for individual speakers or placed on a table for small-group discussions. The touchscreen interface can connect multiple receivers and microphones in a network.
SONNET Wireless Connectivity
With the Roger 21 from Phonak, SONNET users can now connect to an even wider range of high-performance wireless microphones.
Want a first-hand look at what cochlear implant recipients think of Roger 21 and SONNET wireless connectivity with wireless microphones? Check out this Roger Clip-On Mic review from SONNET user Megan, and this Roger Pen review from bilateral SONNET user Adam over on our MED-EL Blog for candidates and recipients.
Want to know more about ordering Roger 21 for your clinic? Contact your local MED-EL Representative.
Make sure you get all the latest updates from MED-EL—subscribe now!
*Not all products, indications, and features shown are available in all areas. Please contact your local MED-EL representative for more information.
The content on this website is for general informational purposes only and should not be taken as medical advice. Please contact your doctor or hearing specialist to learn what type of hearing solution is suitable for your specific needs. Not all products, features, or indications shown are approved in all countries.