Direct Streaming for SONNET Series With AudioStream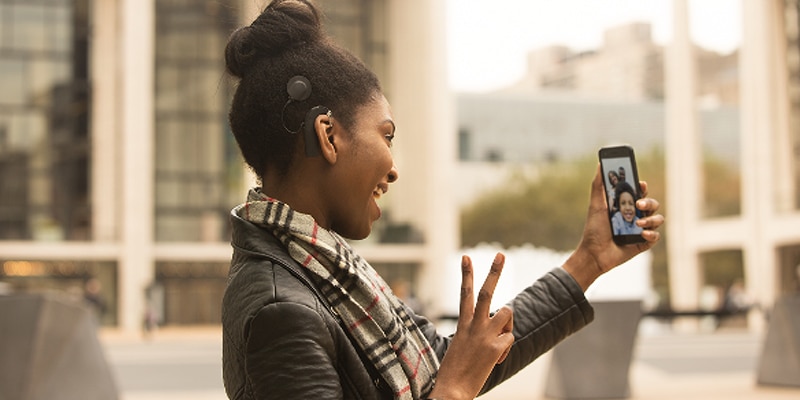 2020 might have been a challenging year, but that hasn't stopped us from pushing forward and introducing several exciting new innovations including direct streaming for the SONNET series audio processors.
Just to recap in case you missed something, here are just some of the exciting new products we launched:
In this article, we'd like to focus on how streaming and connectivity have gotten even simpler for SONNET and SONNET 2 users thanks to AudioStream.
Simple Direct Wireless Streaming Is Here
Your patients can now easily stream music and phone calls directly to their SONNET series audio processors with AudioStream. After sliding the AudioStream battery pack cover over their SONNET or SONNET 2, they will now be able to enjoy direct wireless streaming from compatible smartphones or tablets. Whether they like making phone calls or streaming their favorite music as they dance or clean around the house, they will feel freer than ever before with AudioStream.
Direct Streaming for All SONNET Series Users
Since we like to provide new features to as many of our recipients as possible, AudioStream is backwards compatible. Thus, AudioStream enables all SONNET 2 and SONNET users from as far back as 2014—farther back than any other cochlear implant manufacturer in the world—to stream high-quality sound via Bluetooth® Low Energy from compatible iOS and Android devices.* This even includes SONNET EAS and SONNET 2 EAS audio processors.
Made for Easy Handling
AudioStream is easy for all ages and types of patients to handle. Thanks to its robust titanium lock, AudioStream is completely safe for young children. What's more, AudioStream provides bilateral users sound in true stereo.
AudioStream is also made to match. It comes in all the same colors as SONNET series control units, and it even features a water-resistant design that makes it just as durable as the SONNET or SONNET 2.
AudioStream Compatibility
A compatible battery pack frame or rechargeable battery adapter is required to use AudioStream with SONNET or SONNET 2. The presence of this symbol

indicates that the battery pack frame or rechargeable battery is compatible with AudioStream.After assembly, AudioStream can be configured and updated with version 2.0.2 or later of the AudioKey 2 app for Android or iOS.
Do More With Less
Once the initial set up has been successful, your patients don't even need to use AudioKey 2 for everyday streaming. They are ready to simply slide, then stream!
While your patients will still want to watch TV at home with the AudioLink docking station or perhaps take AudioLink with them to work or school to benefit from the remote microphone feature, AudioStream will help them feel free to do a lot more with less.
For more about AudioStream, check out the AudioStream product page.
*AudioStream for SONNET series audio processors is compatible with Apple and Android devices. For a detailed list of compatible devices, refer to the technical data on our AudioStream product page.
Subscribe to Get Updates First
Don't miss important future updates like this from our MED-EL Professionals Blog—subscribe now!