MED-EL Lesson Kit for Babies 2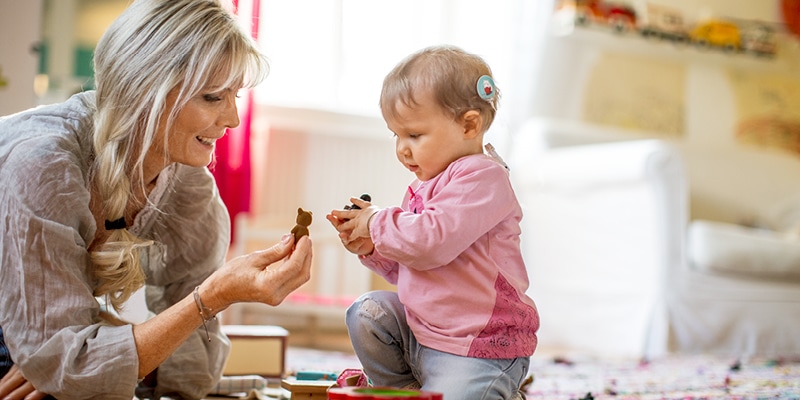 Early enrollment in family-centered intervention contributes to positive outcomes in language development for infants with hearing loss.[1,2] However, a lack of resources in various health services and regions means that not all families begin benefiting from rehabilitation services after the diagnosis of their child's hearing loss.
Group cochlear implant rehabilitation support for babies and their families may offer a time and resource-efficient alternative for the early months. Time and cost efficiency is not the only benefit though. Caregivers of children with hearing loss have described that making connections and communicating with other parents of children with hearing loss facilitated their coping and parenting experience.[3]
Benefits of Group Cochlear Implant Rehabilitation for Babies & Families
Caregivers reported that opportunities to share, face challenges, and problem-solve with other parents reduced anxiety levels and worries.[3]  In addition, group support "contributed to their sense of belonging, which also reduced their sense of loneliness and normalized the experience of parents and children dealing with deafness".[3] Zaidman-Zait makes a strong case for group cochlear implant rehabilitation support for babies and their families.
This is why our Lesson Kits for Babies also include group lesson plans to support professionals to provide group therapy intervention to this population.
Cochlear Implant Rehabilitation for Babies
The MED-EL Lesson Kits for Babies were developed to support rehabilitation professionals to provide early intervention to young children and babies with hearing implants. They are also designed to help professionals provide guidance and coaching to families and caregivers. With this resource, we hope to offer professionals practical materials to support this population.
Each kit includes:
Two lesson plans and a group lesson plan with suggestions for goals and activities
Guidance for families to promote early communication and listening skills in their child
Detailed instructions for practical activities to carry out in therapy sessions
Printable resources for hearing implant intervention to supplement therapy activities based on routines and play
The first MED-EL Lesson Kit for Babies is based on the theme of Routines. The second lesson kit is all about having a Mess. The lesson kits for babies are theme based to allow caregivers to easily generalize activities and skills practiced in therapy sessions to the home environment, meaning more carryover and utilization of strategies.
Lesson Kit for Babies 2
The activities in Lesson Kit for Babies 2 include playdough, painting, and cleaning up. There is also a storybook, 'Mouse Makes a Mess', which is written and illustrated especially to target the goals of listening and spoken communication in young children with hearing implants. Therapist notes explaining how to complete the activities and engage caregivers are provided.
Free Download: Lesson Kit for Babies 2: Mess
For more information on how to use it, access the Lesson Kits for Babies video tutorial on the MED-EL Academy after logging into your myMED-EL account.
SUBSCRIBE & SHARE
If you find these kits helpful, make sure to subscribe to receive links to new kits directly in your inbox as soon as they are released. Also, don't forget to share this with your colleagues or friends who might also enjoy this material.
References
Moeller, M. (2000). Early Intervention and Language Development in Children Who Are Deaf and Hard of Hearing. Pediatrics, 106(3), e43. https://doi.org/10.1542/peds.106.3.e43
Yoshinaga-Itano, C. (2003). From Screening to Early Identification and Intervention: Discovering Predictors to Successful Outcomes for Children With Significant Hearing Loss. Journal of deaf studies and deaf education, 8(1), 11–30. https://doi.org/10.1093/deafed/8.1.11
Zaidman-Zait, A. (2007). Parenting a Child With a Cochlear Implant: A Critical Incident Study. Journal of Deaf Studies and Deaf Education, 12(2). https://doi.org/10.1093/deafed/enl032