Hands-On: How to Assemble SONNET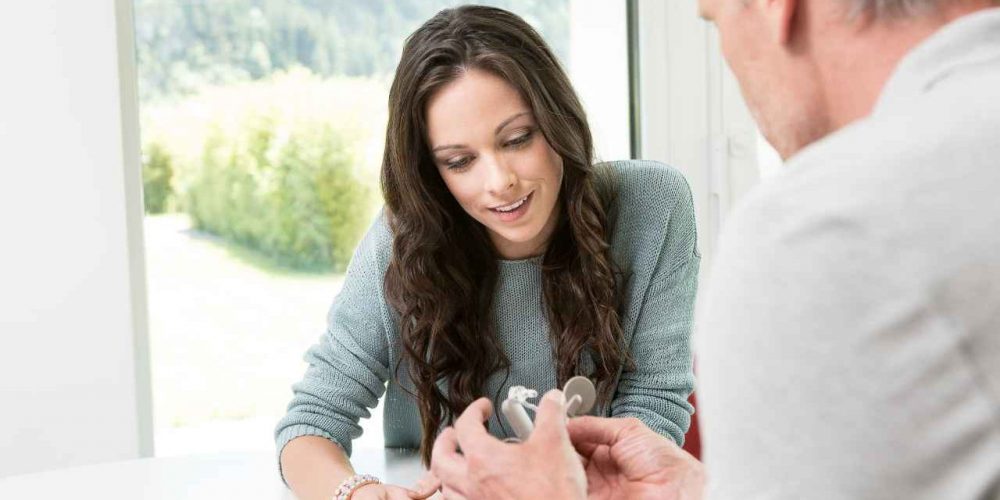 During a rehabilitation therapy session or follow-up fitting, you may need to take a recipient's SONNET Audio Processor apart. This might be for basic troubleshooting or to switch to using rechargeable batteries. Thankfully, SONNET is simple to take apart and put back together.
Let's start with the basics. Here's how to assemble SONNET, plus a few helpful tips.
To disassemble SONNET:
Make sure the lock on the battery pack cover is in the vertical unlocked position. If the lock is in the horizontal locked position, use a plastic screwdriver to turn it counter-clockwise to unlock it.

Be careful not to use too much force when you turn the lock.
Turn counter-clockwise to unlock.
Vertical is unlocked, horizontal is locked.
Slide the battery pack cover downwards to remove. This will turn SONNET off.

This is the only disassembly needed for changing the batteries.
You can use the coil magnet to easily lift the 675 batteries out of the frame.
This is a good time to inspect the battery contacts for any corrosion or build-up.
Unplug the coil cable from the SONNET control unit.

Grip the cable by the flexible reinforcement near the tip.
To remove the standard battery pack frame, press the tip of the release lever on the front and tilt the battery pack frame backwards.

This is necessary to switch to using SONNET rechargeable batteries.
Check for corrosion on the contacts on top of the battery pack frame.

That's it—SONNET is now disassembled. You're ready to reassemble SONNET. From here, you can go further by changing the earhook, changing the microphone cover, or changing the coil magnet.
Now, let's look at how to assemble SONNET.
Here's a quick video that will walk you through all the steps, including connecting the DL-Coil.
Want more helpful tips like these? Subscribe now to get every new post right to your inbox.
Have a question about working with SONNET? Leave a comment below!
*Not all products, features, or indications shown are available in all areas. Please contact your local MED-EL representative for more information.