Blend In or Stand Out: Design Covers for SONNET DL-Coil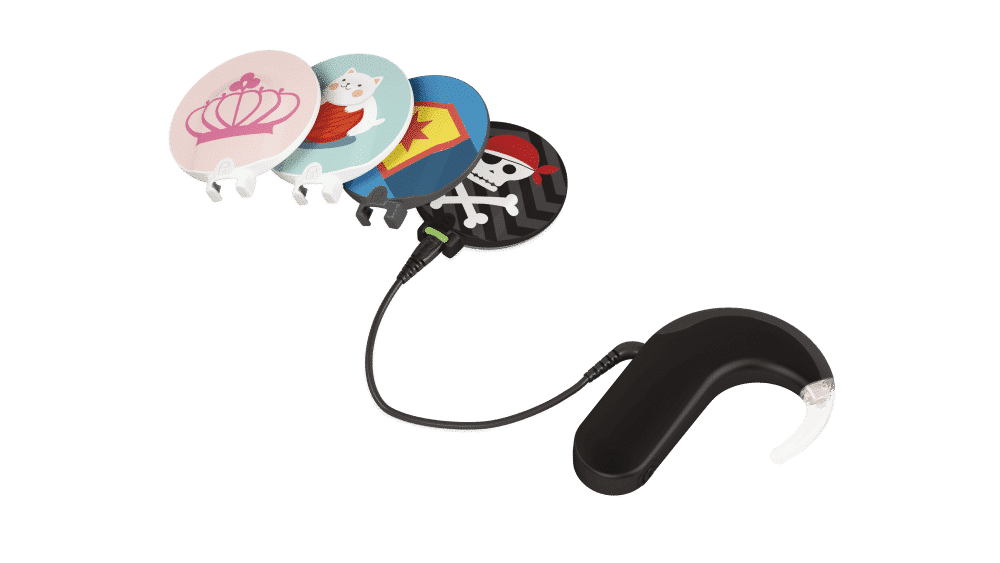 Whether you're discussing cochlear implant options with an adult candidate or counseling the parents of a child with hearing loss, you know that moment; they hold the audio processor against their head, because they want to see if it's really the right fit for them.
Of course, this makes perfect sense. An audio processor is the first thing they'll put on in the morning and the last thing they'll take off at night. For recipients, a cochlear implant isn't just a solution to hearing loss—it can quickly become a big part of their personal identity.
We believe an audio processor should supports recipients' individuality and let them express themselves. Whether it's the first day of kindergarten or just another day in the office, everyone should have a chance to show off their own unique style.
That's why we created design covers for the DL-Coil for SONNET. From pirates and princesses to artistic designs and discreet natural patterns, we've got you covered.
There are 24 great new design covers for the SONNET DL-Coil—keep reading to see how design covers let recipients make SONNET their own.
Design Covers for DL-Coil
What's the best part of having easy-to-change coil covers? Changing style is a snap!
We have 24 new design covers so recipients can show off their style. These colorful design covers are not stickers—they're printed right onto the cover for long-term durability.
All covers are available in both high and low profile: low profile for magnet strengths 1–3 and high profile for magnet strengths 4 & 5. All of the design covers are locking, which ensures a secure cable connection. The inexpensive coil covers are all available individually—so you can mix and match to fit any style.

Perfect for both children and the still-young-at-heart, these playful designs are a great way to have fun with SONNET.

For art lovers, these stylish covers are a colorful way to accent any look.

Go bold with these modern designs and natural patterns.


Not everyone wants to stand out—that's why we created these hair textures to help the coil disappear under hair. From Silver Grey to Jet Black, these design covers are ready to blend right in with hair.
DL-Coil for SONNET
Of course, the DL-Coil is more than just the best looking audio processor coil. Let's take a quick look at how the DL-Coil is packed with technology to make life easier for your patients.
With the DL-Coil, parents can easily see that the coil is on the right implant and working. The DL-Coil uses an integrated link-check function to monitor connection with the implant. The LED indicator on the DL-Coil flashes green when the coil connects with the implant, so you can immediately see everything is connected properly.
Integrated link-check function
Locking coil cable connection
5 adjustable magnet strengths
Easy-to-change coil covers
Auto power-off option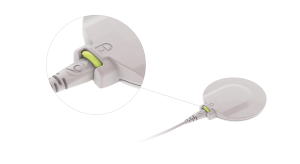 The DL-Coil for SONNET has an integrated link-check with LED indicator.
The DL-Coil has 3 parts: Coil cover, coil magnet, and coil base. This modular design makes it easy to adjust magnet strengths or change the coil cover in a snap. Remember to use a low profile cover for magnets 1–3 and a high profile cover for magnets 4 & 5.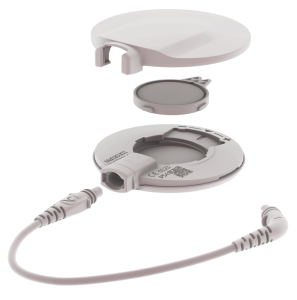 The modular design of the DL-Coil makes it easy to change magnets or swap covers.
How to Order Design Covers
Looking for more great SONNET options for children? Check out our Professionals Blog article on ActiveWear and BabyWear.
Want to make sure you always get the latest updates for professionals? Subscribe now!
*Not all products, indications, and features shown are available in all areas. Please contact your local MED-EL representative for more information.
The content on this website is for general informational purposes only and should not be taken as medical advice. Please contact your doctor or hearing specialist to learn what type of hearing solution is suitable for your specific needs. Not all products, features, or indications shown are approved in all countries.